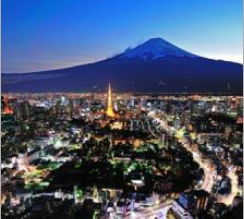 Japan's economy has been surpassed in size by that of China and more recently, by some reports, that of India too. But there are only 127 million Japanese people to share that wealth, while India and China have populations of over a billion. So Japan remains much the most financially comfortable nation in Asia.
This dominance has been established since the 19th century and is reflected in Japanese representation in the 2012 QS University Rankings: Asia. We rank 300 universities, and 73 of them are in Japan.
This happens to be exactly one ahead of China. Korea has 55 of the 300, and no other nation comes near. Japan has seven of the top 20 universities, three more than Hong Kong and four more that China or Korea.
In addition, some Japanese institutions are improving their rankings by comparison with their Asian competitors. Examples include Tokyo Medical and Dental University, up 22 places to 61.
However, the overall impression given by these rankings is that Japan is feeling the pressure exerted by the growing Asian focus on higher education.
This is certainly apparent from the top of the table. Tokyo University, which would have been regarded as Asia's top institution for most of the 20th century, fell from 4th in this ranking in 2011 to 8th here, two places ahead of its rival Kyoto. Kyoto is down three places, Osaka has fallen from 8 to 11, Tokyo Institute of Technology from 9 to 13, Tohoku from ninth equal to 14, and Nagoya from 14 to 18.
The reasons for Japan's decline in these rankings are not hard to find. Indeed, they are already the subject of agonised debate within Japan itself.
They are exemplified in the results for Tokyo University. Academics and employers both regard Tokyo as a leading Asian university, giving it a 100 score in our surveys of both groups. In addition, it has an impressive faculty/student ratio, scoring 98.4 on this measure. Its faculty are productive when it comes to research, scoring 97.8 for papers per faculty member and 98.7 for the frequency with which these papers are cited.
On paper production, Tokyo beats every university above it in the ranking by a big margin, with the sole exception of KAIST.
However, Japanese superiority is far less in evidence when it comes to our measures of international achievement. Only 4.5 per cent of Tokyo's academic staff and 8.3 per cent of its students are from outside Japan. Kyoto has even fewer foreign students and slightly more overseas staff.
By contrast, Hong Kong University of Science and Technology, top in these rankings, has a 50 per cent international faculty and gets 36.9 per cent of it students from outside of Hong Kong. Tokyo would come much higher in these rankings if it got close to matching this achievement.
The same pattern is repeated in our two final measures, university performance in attracting and sending international exchange students.  Again, Tokyo and Kyoto emerge as places where international students do not want to go, and whose students would rather stay at home.
Even so, the picture is not completely gloomy. While Keio, one of the big private universities of the Tokyo region, has 5.7 per cent international staff and 3.0 per cent international students, its direct rival Waseda manages 11.5 per cent and 7.5 per cent respectively.
Warning sign
Japanese observers agree that these statistics are a warning sign that should not be ignored. They are struck by the rise in prestige of Chinese universities, and also by the growing status of institutions in Hong Kong and Singapore, small territories with the advantage of widespread English.
In addition, Japan's international reputation as one of the world's most innovative economies has been damaged by technological success in Taiwan and Korea, typified by the emergence of HTC and Samsung as powerful competitors for Sony and its ilk.
Japanese universities have accepted that their nation's unique language, however beguiling, is part of the problem, and are using more English and Chinese in their teaching. This trend will grow. However, students living in Japan will still have to learn enough Japanese for everyday life.
More of an issue is the cost of living in Japan. While the gap between Japanese prices and those in Europe and North America has narrowed, Japan remains an expensive option by Asian standards. The Ministry of Education is looking for ways to bring more international students to Japan, and accepts that this will cost money.
Indeed, there may soon be new reasons for ambitious international students to come to Japan. The March 2011 earthquake did immense damage, but has had the unintended effect of asking uncomfortable questions about Japanese society.
The decision to abandon nuclear power after the Fukushima disaster suggests that Japan's universities will have to pay more attention to new forms of energy supply.
More fundamentally, there may well be pressure for the top universities to educate the senior managers and politicians of the future in new ways, after the perceived failings of civil servants, ministers and the bureaucrats of the Tokyo Electric Power Company. This may mean new and innovative approaches to teaching.
It remains to be seen whether Japan can succeed in this feat of national reorientation. Its effective and high-quality university system is one reason to think it can, especially its base in well-regarded research.
In addition, future social change in Japan may well make its universities more attractive to foreign students and staff. Japanese society is aging fast and needs to import more skilled people.
More generally, globally mobile students often want to work in the country where they study after they graduate. This is a problem in Japan because of the conservative attitude of major employers to foreigners.
It will be a long time before Japan is as welcoming to foreign graduates of its own universities as the US or Europe are to those of theirs. But an improvement in employer attitudes would increase the attractiveness of Japanese universities.