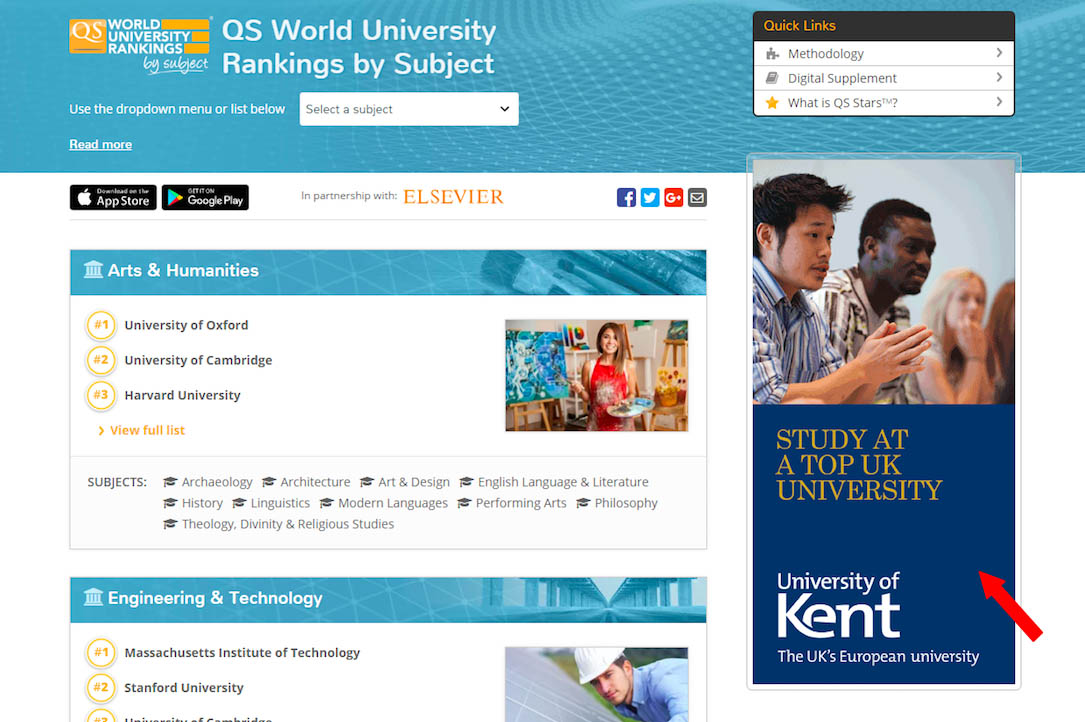 Banner advertising has been around almost as long as the internet.
Despite advances in technology and communication, online banner ads remain relevant and a key way to communicate your university brand to prospective students. There still exist, however, a number of misconceptions around them that can limit their effectiveness:
Always use images
The emphasis placed on visual content on other marketing channels might make you feel you should also take an image-led approach to banner advertising. Unlike on social media, however, image-heavy banner advertising will appear distracting rather than engaging. While images in Facebook posts and tweets are the content for which users are looking (actively or passively), banner advertising will appear alongside other content.
If your university banner ads are perceived as distracting or intrusive, it can make your university marketing look unprofessional. Use images sparingly, only selecting those that fit well with your brand and don't distract from the message of your banner ad. In fact, university banner advertising with well-crafted copy and attractive typography can be more effective and eye-catching than yet another stock image of a happy student carrying books.
Bigger is Better
By the same dint, too many ads or ads that are too large will overpower the theme of the website on which you are advertising. Another major drawback of large banner ads is the amount of time it will take for them to load on a website. With just a few seconds to capture a prospective student's attention, if your ad takes too long to load they'll have started scrolling down through the page long before even noticing it.
Our companion websites TopUniversities and TopMBA receive huge volumes of traffic from students and prospective students daily, and banner ads with heavy graphics would load too slowly to effectively grab the users attention and could even affect the overall user experience.
Test for Everything
Since running banner ads is an expense, your employer will want to know the ROI of your advertising spend, and how to increase this as quickly as possible. Therefore, there can be a temptation to test for everything so that you know how to better target your ads. The problem with testing too many variables is that it will usually lead to inconclusive results. Your data will show that there was a change in behavior, but it won't show you why.
If you do have a high volume of impressions and are gathering large amounts of data, you might want to consider multivariate testing as opposed to A/B testing, however, this does require significantly more work on your part, so be prepared.
Advertise Everywhere
The more eyes that see your banner ad, the more clicks you'll get and the more leads you'll generate, right? Unfortunately, it's not as simple as that. Banner ads are only effective when carefully targeted, especially when it comes to higher education marketing. It does your marketing campaign no good at all to advertise on websites that are not in line with your product, i.e. higher education.
Leverage Our Subject Rankings Advertising Service to Attract Targeted Candidates to Your Institution