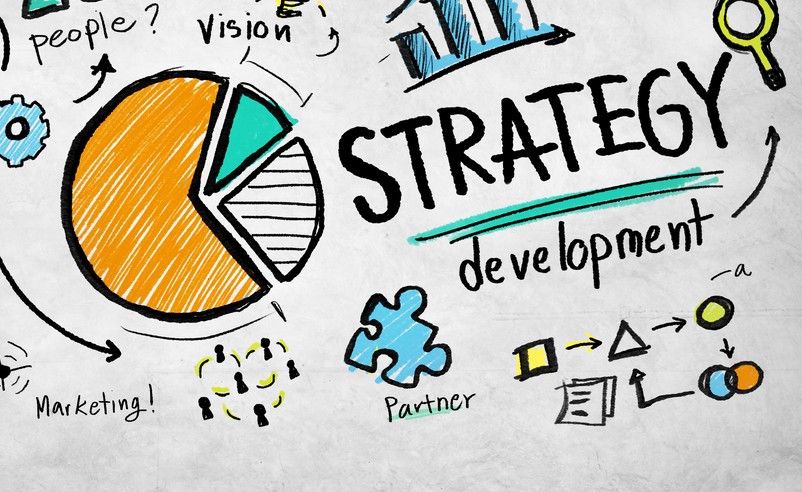 As we kick off 2016, we need to focus our energy on getting our digital marketing strategy in order. Preparing your university's digital marketing strategy for 2016 is no small task, and a detailed marketing plan – with clear, realistic and measurable objectives (including deadlines), a budget, and allocated responsibilities for 2016 – will make for a happier and more productive year.
[fusion_content_boxes layout="icon-on-top" columns="1″ title_size="24″ title_color="#ffffff" body_color="#ffffff" backgroundcolor="#74a1eb" icon="fa-bar-chart" iconflip="" iconrotate="" iconspin="no" iconcolor="" icon_circle="" icon_circle_radius="" circlecolor="" circlebordersize="" circlebordercolor="" outercirclebordersize="" outercirclebordercolor="" icon_size="" icon_hover_type="" hover_accent_color="#a3c94c" image="" image_width="" image_height="" link_type="button" link_area="link-icon" link_target="_blank" icon_align="left" animation_type="" animation_delay="" animation_offset="" animation_direction="left" animation_speed="0.3″ margin_top="" margin_bottom="" hide_on_mobile="small-visibility,medium-visibility,large-visibility" class="" id="" image_max_width=""][fusion_content_box title="QS Online Recruitment Strategies " backgroundcolor="" icon="" iconflip="" iconrotate="" iconspin="no" iconcolor="" circlecolor="" circlebordersize="" circlebordercolor="" outercirclebordersize="" outercirclebordercolor="" image="" image_max_width="35″ image_height="35″ link="http://bit.ly/2jXgj1j" linktext="QS Online Recruitment Strategies " link_target="" animation_type="" animation_direction="left" animation_speed="0.3″ animation_offset=""]
It may also be of interest to you, that you can leverage QS' online marketing strategies to boost student acquisition!
Our three student websites are dedicated to helping undergraduate and graduate hopefuls prepare for their next educational journey. Yearly, these sites attract millions of visitors, ready to engage and find out what you have to offer.
[/fusion_content_box][/fusion_content_boxes]
Here are a few steps to take to make sure your digital marketing strategy is on the right track:
1 – Analyse your current situation
Before you can make plans and set goals for 2016 it's important to take stock of your university brand's successes (and failures) in 2015. Consider employing a SWOT analysis, looking at your strengths, weaknesses, opportunities, and threats. A SWOT analysis is a simple way to identify internal and external influences that both, directly and indirectly, impact your university's success.
The internal influences – strengths and weaknesses – could include looking at your resources: your funding, donations, and budget; your facilities, campus, and equipment; your faculty, staff and alumni. How have all of these resources influenced the success of your various student marketing campaigns and how could improvements/changes have made a significant difference?
The external influences – opportunities and threats – could include market trends – such as new technologies and changes in student mobility, the activities of your direct competition, economic trends, and political regulations including changes in policies and availability of funding.
An important part of any digital marketing strategy is effective monitoring of your efforts in order to accurately track their results. Without regular and comprehensive monitoring of your university website and various social media channels, you'll soon realize that you lack the data necessary to better plan for next year.
2 – Know your audience
Over time your audience will change, and as higher education is not a repeat business, will constantly need replenishing. So as your prospective students move through to being current students and then on to being alumni, you will need to attract a new and younger audience to take their place, each with their own preferences and trends.
Creating a detailed persona that reflects your target audience will help you to create content and marketing campaigns to suit their interests. How do they consume information? Do they find online content via social media or direct search? What are they interested in and what does your university have to offer them above all the others?
3 – Set SMART goals for 2016
With a clear understanding of your university's current situation and audience, you can set marketing goals for the upcoming year.
So, what do you want your university's digital marketing strategy to achieve in 2016? Increase enrolment? Improve brand awareness? Climb higher in the QS World University Rankings?
It's important that you have some sort of quantifiable measure of success, and that your targets are realistic. A useful acronym when planning your digital marketing strategy for 2016 is SMART (specific, measurable, action-oriented, realistic and timely). Rather than simply aiming to increase enrolment registrations, your goal could be to increase enrolment registrations by 10% by the end of the year.
A strong digital marketing strategy is needed to coordinate campaigns throughout the year, targeting prospective students at different stages in the recruitment process. So in addition to setting year-long goals, you might want to consider setting quarterly, monthly and even weekly goals in order to help you achieve them. Looking at your performance in 2015 will enable you to plan where you would like to be by key points over the year.
4 – Set your marketing budget
Now that you have a good idea of the campaigns and tactics you'd like to employ in order to achieve your goals, it's time to work out how much money you need to do so. A detailed and specific digital marketing strategy will help to paint a clearer picture of where best to allocate funds. It will also go a long way towards getting approval from decision makers for budgets early on in the year.
The better prepared you are for 2016, the more you will be able to adapt to any changes that take place throughout the year – accommodating last-minute campaigns without sacrificing your overall strategy for the year.
Are you ready for 2016? Have you read up on all the higher education trends of 2015? Check out our list of must-read HE reports from 2015 to get ahead of the competition in the year ahead.