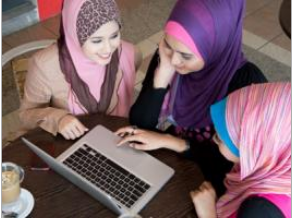 Nowadays, technology is an integral part of student university life. From high-tech lab and lecture-theatre equipment to online journals and social networking sites, you're likely to find modern technology popping up during every step of your student experience.
But while some universities stick to the standard elements – intranet, email, searchable library catalogue – others are rather more innovative in their approach.
Mobile phone apps to make student life easier and safer.
Northeastern State University in the US recently announced the launch of the GuardianSentral smartphone app, for students at its three campuses.

The application, which can be downloaded free of charge by iPhone and Android users, is designed to help students feel safer around campus. If a student feels threatened, she or he can use the app to send a 'danger' alert to campus police, including details of their current location.
There are also 'Check-in' and 'Follow me' options.
The first allows students to set a time by which they should be at a certain location; if they don't arrive within this time, campus police will be alerted. The second tracks students from one location to another, ensuring that they reach their destination safely.
While it might seem a bit strange being 'followed' by campus security services, the GPS tracking is only activated if a student turns the application on.
ETH-Zurich, in Switzerland, is also using mobile phone apps – but for information-sharing, rather than security.
The official ETH-Zurich App, recently relaunched in an updated version, allows staff and students to check the university events calendar, read the latest campus news, find room locations, and even see what's on offer that day in the various campus restaurants.
Users can also access contact details for university staff members, including email, phone and office location.
Koni Osterwalder is head of the group which implements and evaluates the use of new technologies in teaching at ETH-Zurich. He says universities cannot ignore the fact that "ICT is transforming almost every aspect of our personal and professional lives."
Lectures where everyone is part of the show
The Sauder School of Business, at the University of British Columbia, Canada, has recently undergone a large redevelopment project.
Amongst the new facilities are lecture theatres designed to put an end to the days of students seeing lectures as a time to catch up on sleep! There are large screens at the front of the room, connected to a live camera which zooms in on whoever is speaking at the time – whether it's the lecturer, a guest speaker, or one of the students.
Each seat has a button, which students press to indicate that they want to ask a question or contribute to a discussion, and a microphone, to ensure everyone can make themselves heard.
The idea is to make the space, which may hold up to 260 students, feel smaller and more intimate – as well as holding students' attention for longer.
Katriona MacDonald, associate dean of international relations and strategic planning, says faculty members are now "actively designing the curriculum around this technology."
Another option now available to lecturers at the Sauder Business School – and in many other universities too – is the use of an electronic voting system.
This allows students to vote on a question, using handsets (or 'clickers') that transmit results wirelessly to a receiver. Results can then be transformed into a graph, and projected onto the screen for everyone to see.
Online course materials available on iTunes U
Many universities are now using online software to make course materials available free of charge, not just for their own students, but for anyone with internet access.
For example, La Trobe University in Australia uses iTunes U to upload talks and lectures given by faculty members at the university. These can then be downloaded and listened to by anyone who's interested. Some are just single podcasts, others are part of a series on a subject.
Topics so far have included Australian environmental history, postcolonial literature for children, principles of physics, press and society, and the European Union in a new millennium.
Professor John Rosenberg, senior vice chancellor, says there are multiple benefits: making information available to a wider audience, giving prospective students a 'taster' of courses at the university, and encouraging staff to become more adept at using modern technology.
But the biggest advantage, Rosenberg believes, is the 'enthusiasm' generated among students and within the wider academic community. This response reinforces his belief that "it's important for universities to remain accessible and relevant to an increasingly tech-savvy student population."
Universities creating their own social media
Lots of universities are finding ways to use existing social media, such as Facebook and Twitter, but in Montreal, Canada, students have their very own specially designed online networking system.
Developed by a group of students and recent graduates, UniYu was launched in February 2012 with the aim of providing a 'one-stop shop' for students' networking needs. This includes sharing class notes and course advice, but also passing on information about clubs and social activities, and generally keeping in touch with what's happening on and around campus.
Having already launched in five Montreal universities, the UniYu team plan to continue expanding across a wider region, and also to develop more features. In future students may be able to use UniYu to sell and buy books, find apartments to rent or roommates to share them with, and post reviews of local clubs and attractions.
The team's spokesperson, Emmanuel Darmon, says, "Universities need to help students make better decisions with respect to their tutors, classes and so forth. We think technology can help to achieve this, especially if it includes a social and networking dimension."
But of course the real verdict on technology has to come from the users.