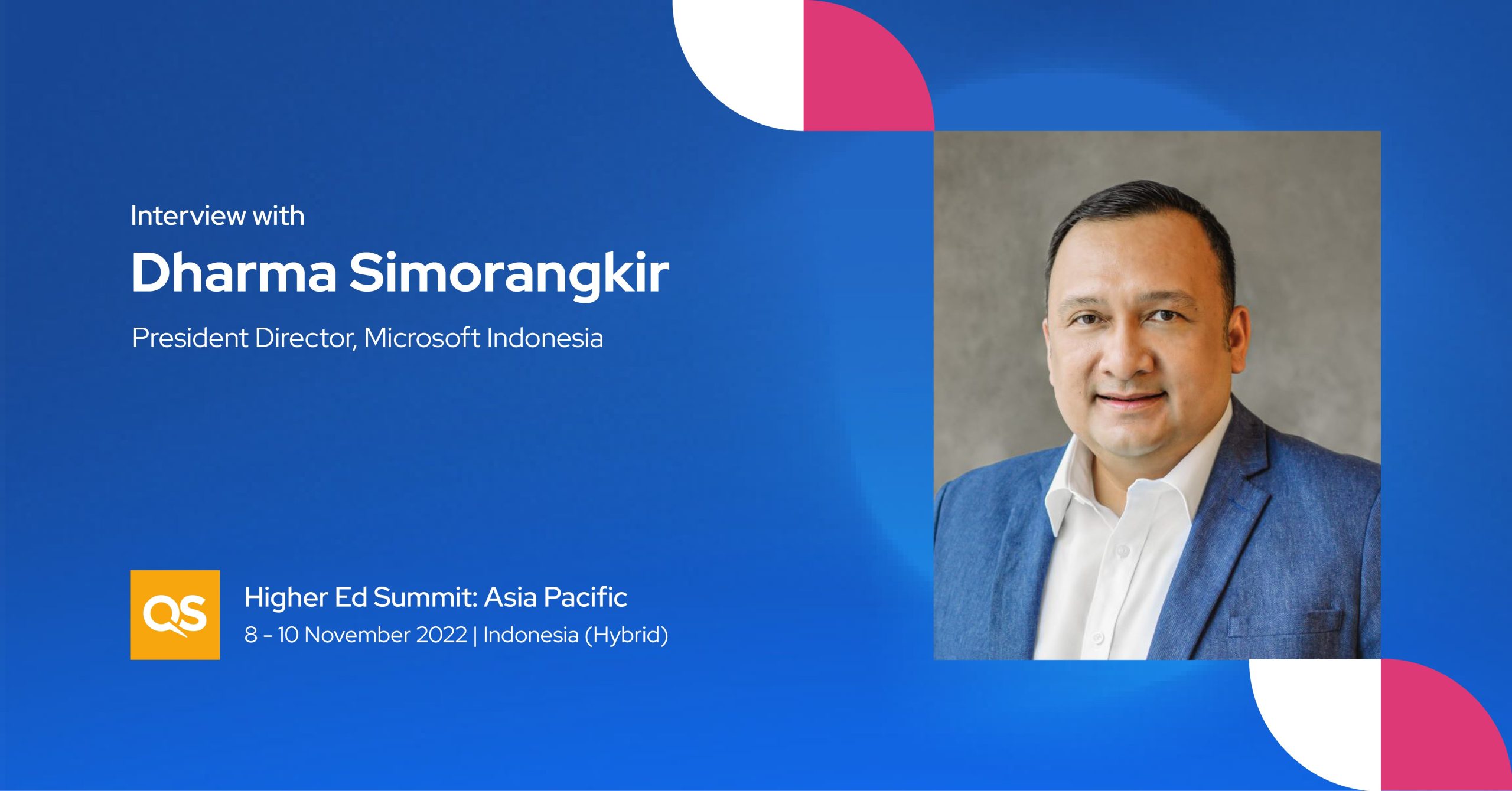 As we prepare for the QS Higher Ed Summit: Asia Pacific on 8-10 November, we reflect on the willingness of institutions in the region to adapt to today's educational environment – particularly the adoption of virtual and remote learning. 
In the wake of COVID-19, higher education institutions across the globe are shifting to new ways of teaching and learning. Having experienced unforeseeable global threats, students' preferences, expectations and perceptions of higher education have evolved.  
The QS International Students Survey 2022, which queried just under 10,000 prospective students interested in studying at Asia Pacific universities, revealed that over 21% of respondents weren't interested in online education, and 58% of those uninterested citing concerns over the quality of teaching.  This indicates a need to change perceptions of online learning at higher education institutions in the Asia Pacific region.   
To investigate further, we spoke with Dharma Simorangkir, President Director at Microsoft Indonesia – responsible for accelerating Indonesia's digital transformation through cloud adoption, providing digital skills to Indonesian businesses and helping digital-first companies scale their innovations. Dharma will be chairing 'Panel Discussion: The Unknown Unknowns (Strategic Planning)' at the QS Higher Ed Summit: Asia Pacific. 
Register for the QS Higher Ed Summit: Asia Pacific
1. During the COVID-19 pandemic and beyond, what steps did Microsoft take to ensure their digital learning tools were an effective alternative to in-person interactions?
In line with our mission to empower every person and every organisation on the planet to achieve more, it has become our goal to transform education for future generations. We aim to spark curiosity with the youngest learners and provide solid skills foundations for post-secondary students to achieve future success and employability through computing education and platforms for innovation.
We worked to design solutions that can create secure and inclusive learning experiences in which students can be their true selves. This was not about giving every student a device but about giving each student an opportunity for a great education – one that leads to success in career and in life.
Take Windows 11 SE, which complements our current Windows 11 devices for learning, as an example. It was built with feedback from teachers – who needed a simple, distraction-free environment for their students – and from school IT admins who were requesting devices that were secure, easy to deploy and manage, and perform well all day across the changing conditions of a school year.
We also developed immersive education solutions, including Reading Progress, Minecraft Education and Supervised Chat in Teams, to inspire educators in reimagining learning experiences.  
Another example is Minecraft: Education Edition – the game-based learning platform featuring thousands of hours of educational content for K-12 students to grow their confidence in technology.   
2. As a result of travel restrictions and border closures, international mobility for education, networking and collaboration in the Asia-Pacific region was significantly disrupted and for longer than most other regions. Do you think this has had, or will have, a permanent impact on the way higher education, and teaching, functions in the region and if so, in what way?
The past two and a half years or more have fundamentally changed the education landscape. As is the case for many other institutions and organisations, education institutions, including higher education, rely on technology in unprecedented ways. As a result, solutions, which were once 'good enough' for learning, may no longer meet their needs. This presents a unique opportunity to reimagine how we can use new technology for education institutions to empower educators and unlock new possibilities for all learners.
For example, insights and tools can reduce administrative tasks so educators can focus on what's most important: helping students to learn. This means taking a student-centered approach to explore all aspects of teaching and learning: curriculum, assessment, devices and spaces with a focus on understanding and meeting the needs of all students. Hopefully, this can help all students achieve their potential.
Some higher education across the region have successfully transformed themselves for future generations. This includes Binus University from Indonesia, who created an interactive laboratory environment in the cloud to enable students continuing their education amid pandemics, and Nanyang Technological University Singapore, who shifted immediately to remote learning through Microsoft Teams-hosted virtual meetings and online lessons during the pandemic
We are proud to see their innovation and humbled to be part of their transformation journey.
3. With digital learning requiring technology and tools, what do you think needs to be done to ensure the transition to a more digital way of learning remains inclusive within the Asia-Pacific region?
There are three areas that we need to look into: access to affordable internet, affordable devices and digital skills. These are the foundations for empowerment and digital transformation (including in education) across the world.
At Microsoft, we collaborate across private, public and nonprofit sectors to build solutions for broadband adoption and digital transformation that benefits people, organisations and their neighbourhoods.
Here are further examples of how we are teaming up to transform inclusive education in the Asia-Pacific region:
In Indonesia, we are working together with the Ministry of Education, Culture, Research, and Technology, to organise "The 21st Century Digital Skills Training": a free digital skilling programme for teachers throughout the country. Around 25,000 teachers from 34 provinces in Indonesia and Indonesian schools abroad have enrolled in the programme. We also worked together with the Indonesian Teachers Association of the Republic of Indonesia to organise the Innovative Teacher Training of Trainers (TOT) programme: a joint initiative that is aimed towards upskilling the teaching community. The programme has been attended by more than 100,000 teachers ranging from kindergarten to higher education from 34 provinces as well as Overseas Indonesian Schools in 13 countries as of October 2020.
4.
What role do you think educators play in adapting to virtual and remote learning?
We believe educators are at the heart of our education. Their agility in creating new ways of teaching and learning is what will transform the overall education system; how they can get the best of virtual, remote and hybrid learning to enable students to explore learning that excite them, create connections in and out of the classroom, grow confidence and voice in trusted communities and unlock opportunity for career and life.
Technology is indeed the platform, but educators are the real transformer. To that end, we are deeply grateful to all educators, who have been adapting with significant changes in the past couple of years to continue providing education to our future generations.
So, what big lessons from COVID-19 can Asia-Pacific universities learn to adjust to virtual and remote learning? What are institutions doing to improve access to education, given the lessons learned? And how can institutions respond to escalating crises like demographic shifts in their societies? 
These questions, and many more, will be explored at this year's QS Higher Ed Summit: Asia Pacific, 'The Next Big Thing: Addressing new opportunities and existing challenges in APAC higher ed', taking place virtually and in person at InterContinental Jakarta Pondok Indah, Indonesia 8-10 November 2022 .  
If you would like to hear more from Dharma Simorangkir and fellow experts in the field of higher education: