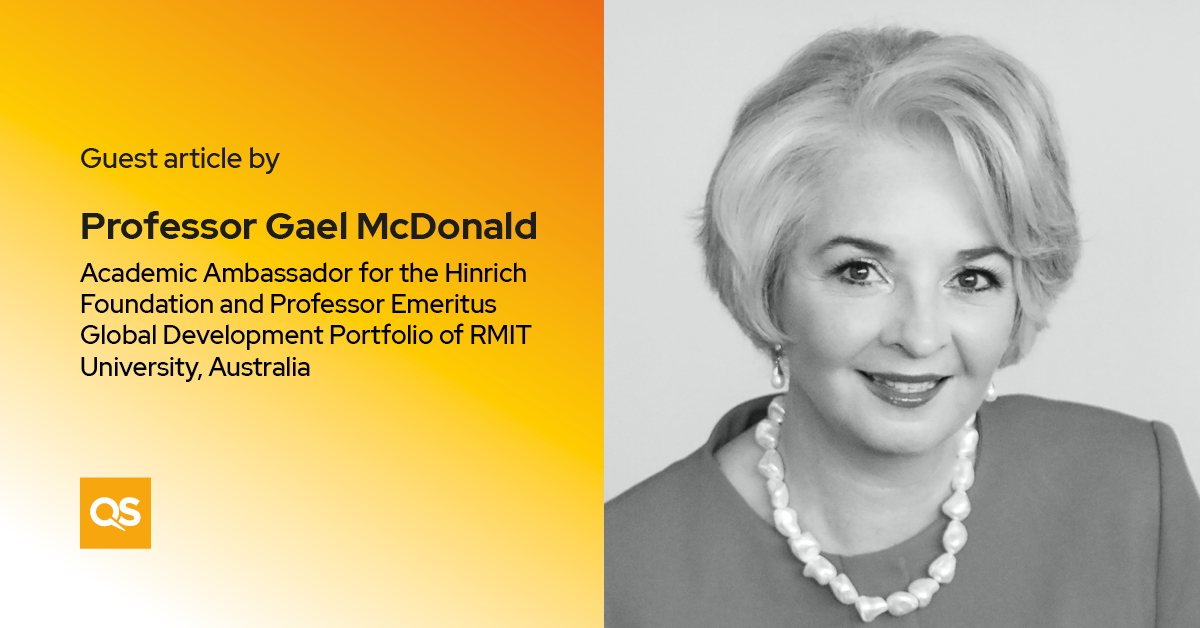 Guest article by Professor Gael McDonald, Academic Ambassador for the Hinrich Foundation and Professor Emeritus Global Development Portfolio of RMIT University, Australia.
Sustainable, mutually beneficial approaches to global trade can positively impact people, profits and our planet in remarkable ways. Executed correctly, trade can help create job opportunities and alleviate poverty. According to the World Bank, since 1990, over one billion people have been lifted out of poverty through the effects of global trade.
However, to fully reap the benefits of international trade, there is a need to properly educate talented, agile trade professionals who can navigate the complex and rapidly changing trade environment. In short, sustainable trade must be taught.
To aid those passionate about starting or advancing careers in global trade, QS launched the International Trade Rankings in partnership with the Hinrich Foundation, an Asian-based philanthropic organisation that promotes sustainable global trade through research and education initiatives. The annual Rankings, launched in 2022, evaluate 200 Master's programmes globally based on the depth of their trade-related course content, level of industry engagement, innovative teaching and graduate outcomes, among others.
The Rankings cover MBAs, EMBAs, MAs and MS's programmes to guide students to the world's best programmes for quality international trade-related education and to direct employers to the best sources of work-ready talent for careers in cross-border trade.
Trade done well
While the challenges are intense, the benefits of international trade are numerous. At the practical level, international trade facilitates consumers acquiring a wide range of goods and services not available locally, or at a lower cost than items locally produced. This can create greater specialisation and efficiency in production internationally. Increases in production and export capacity can also lead to higher standards of living in domestic markets as well as growing GDP.
Trade's interdependency is not just about the money; an often-unseen benefit is the political cooperation and stability. Trade between countries can serve as a strong incentive to avoid conflict with trading partners.
What employers need in future trade leaders
Companies operating across national boundaries are facing global value chain integration and decoupling, ever-changing trade policies, the rise of digital trade, the global pandemic and a host of other disruptions. This environment has highlighted a greater-than-ever need for advanced global trade education. Organisations active in international trade are acutely aware of the need for well-trained professionals and seek to identify educational programmes that best equip their current or future staff for real-world challenges.
Specifically, they're seeking programmes with a deliberate and clear philosophy of partnering with stakeholders to ensure relevant programme structure and course content, as well as graduates who have been exposed through multidisciplinary education to high levels of industry engagement, innovative teaching methods and relevant industry content. Vital, contemporary content includes cross-border trade, trade policy logistics and supply chain management trade financing as well as current digital applications, multi-cultural leadership and soft skills.
Ideally, learning would be experiential in nature and assessment would move away from more traditional formal exams and toward more authentic demonstrations by students to access data, undertake analysis and apply skills and knowledge. Quality programmes are those that promote learning via the undertaking of real-world tasks and problem-solving exercises provided by – and critiqued by – industry partners engaged in global trade.
Greater levels of flexibility in course delivery are also being sought to enable trade professionals to engage in educational pursuits while also remaining employed. While this seems like a lot to ask for, these expectations for global trade education are in demand by students and employers alike.
Win-win-win
Improving global trade education benefits individuals, businesses and countries to succeed in the global economy with the added value of increased economic prosperity and political stability.
International trade has enormous potential to alter the economic trajectory of both developed and developing countries, yet global trade is often highly volatile. The influence of geo-politics, a reframing of the role of the World Trade Organization, instability in the supply chain and inflation are just a few of the tremendous challenges trade professionals need to understand and prepare for. The right type of postgraduate education is needed to ensure those passionate about trade can effectively foster and intensify its many global benefits.
The International Trade Rankings shine a light on international trade programmes focused on industry-relevant content, innovative teaching, flexibility and superior graduate outcomes. The aim of the Rankings is to empower students to attain the knowledge they need to become next-generation trade leaders, to encourage universities to continue to evolve their approaches to trade education and to guide employers to the leading sources of work-ready talent.
It's win-win-win – which is the essence of global trade.