Engaging content can really help to strengthen a university or business school's brand.
Savvy content marketing can be used to demonstrate expertise and highlight what separates you from competitors. It is becoming increasingly important for universities and business school's to develop an online presence, with a study conducted by Google and market analysts suggesting that nine in ten students use the internet to research their desired study destination.
Here are some effective ways for generating attention online and, ultimately, boosting enrollment numbers through digital marketing.
Use testimonials from students 
You may want to incorporate current students or alumni reflections into your content – which is particularly helpful in the final stages of prospective student's decision-making journey.
…On your website
Including a student experience tab on your institution's website provides current students, alumni, and potentially parents, the opportunity to share their success stories. You can leverage this section to emphasize your universities selling points and use quotes or even videos to back this up.
…Or through social media
Leveraging your social media platforms is a great way to promote student and alumni testimonies – particularly when you consider the volume of students on Twitter and Facebook.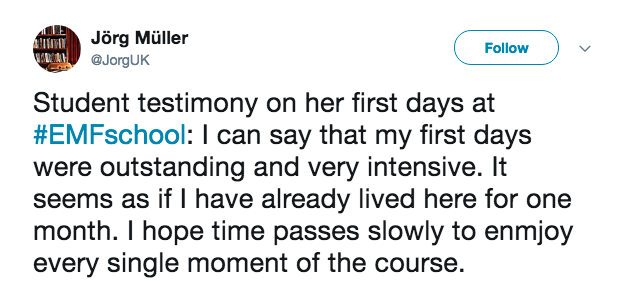 –
Set up a blog page or portal
Blogs can be used in a number of ways to improve your online presence. They present a great opportunity to keep prospects and existing students up to date with activity and developments at your school or university. They are also useful for invoking hospitable interaction and conversation.
The State University of New York
This institution has a dedicated blog page separate from their main portal – as opposed to a blog section featuring in it. The page caters to many topics of interest for prospects, including 'Campus Life', 'College Rankings' and subject-specific news and updates.
Make the most of Infographics
Infographics represent powerful, visual representations of key information that also appeal to students. They are a great tool for providing career and industry statistics to help admissions teams boost enrolment numbers. According to Google Trends, the popularity of infographics increased by over 800% between 2010 and 2012.
There are a number of ways that universities use infographics. Durham has used infographics to showcase their rankings under a number of tables posted by QS TopUniversities in 2016. Infographics can lend a supporting role in summarising a blog that highlights an institution's position in world rankings as well as subject-specific rankings.
Infographics can also be leveraged to showcase alumni outcomes. Whether you want to highlight jobs that graduates have landed or even a range of salaries and income growth. A survey in 2012 stated that 81% of employers valued employability as the most import factor when recruiting graduates. Students and institutions alike both understand the importance of alumni outcomes, so an infographic showcasing graduate success would represent a useful recruitment technique.
Virtual Reality Tours
Virtual reality tours are a great way to excite prospects as they offer something that still images can not – an atmosphere and an immersive experience. They provide a 3D tour of a university campus and its surrounding area.
The number of universities who offer 'virtual reality tours' is growing and for good reason. They are great for boosting international recruitment in particular, where students would otherwise be unable to visit the campus in person.
Ultimately, it is important to understand that your institution has useful content at its disposal. It is how you nurture it and find the right medium to promote it through that will generate the most impressions and overall success of your content marketing.
Did you know, you could secure a permanent place on our topuniverisities.com website. Contact us and utilize our Sponsored Content service today.