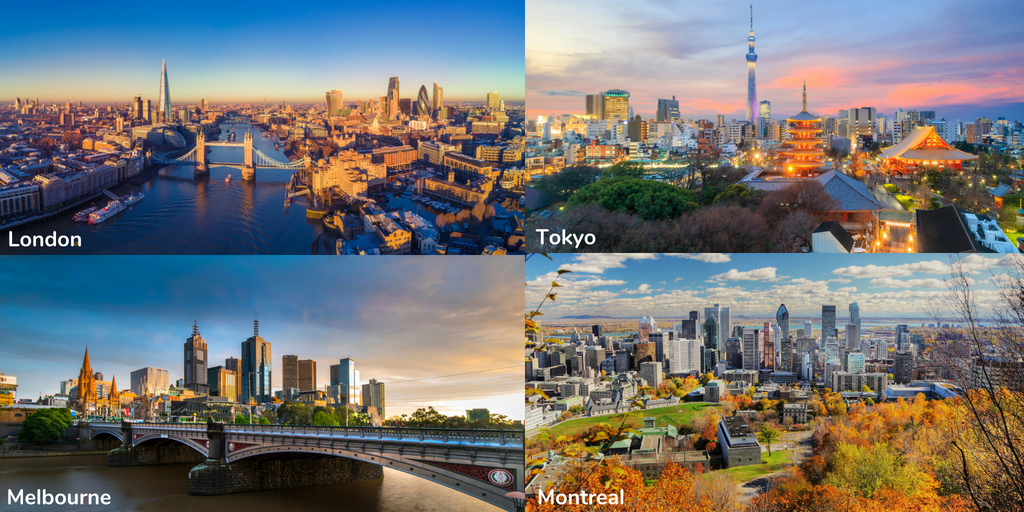 The four cities featured above placed as the Best Student Cities in our 2018 rankings.
As important as the stature of your institution is, the value of studying in a desirable city also carries significance in terms of attracting students. Research used to compile the QS Best Student Cities Rankings would suggest the following indicators factor in to the formation of leading student cities in higher education.
Desirability 
For a city to be considered 'desirable' is complex. There are many points for consideration that form an equally challenging decision-making process for students as to where represents the best city for them to study in. They are likely to seek study in cities rich with opportunity. This way they can acclimatize to their chosen city in expectation of staying well beyond their student years and into a desired career in a city with extensive possibilities.
This is becoming an increasingly important factor for students, with a university's links with industry and ability to offer placement opportunities becoming as important as a university's reputation. If a universities can offer job opportunities to alumni through strong employer partnerships, it will highlight both the institution and city respectively for their opportunities.
Affordability
A city's affordability can often be a determining factor for prospective students. They would be likely to weigh up the cost-of-living along with tuition fees in order to formulate an idea as to whether that city is, relatively speaking, a realistic and affordable study destination. With that in mind, low tuition or living costs are extremely advantageous. Cambridge's Admissions Office have publicly announced low rental costs in the city, along with inexpensive travel in recent years, to consequently improve the institution's appealability. Some institution's have offered students tips on how to enjoy their city of residence on a budget to showcase that, even in percievably expensive cities such as London, they can enjoy certain aspects at next to nothing.
The same applies for internal, or on-campus, initiatives. Although slightly unrelated to the city's overall affordability for students, it can be used in tangent with reasonable living costs. Make it public knowledge if your institution run any free extracurricular activities, distributes academic resources or perhaps have social and academic facilities that are free to access for students.
Student Experience 
To gauge student experience we must consider a number of influencing factors. Take into consideration social motivations to study in particular cities – alongside academia. Whether this is outlining iconic landmarks, or presenting unique opportunities that could be related to affluent creative industries in art or music for example, it is crucial to avoid 'selling your city short' and highlighting distinctive characteristics.
The benefits of achieving diversity in higher education and in every day city life can influence students, particularly international who may be conscious of cultural differences, with picking a study destination. The University of Manchester in the UK in fact produced research to show the city's diverse language landscape, which included an inspiring 51 different languages – a statistic likely to influence students who's native language falls into this category and may not do in other cities. Your institution may chose to implement and publicize similar research to express its city's diversity.
If you would like to see a full breakdown of the methodology used to compile our QS Best Student Cities Rankings, and be able to use this to find additional ways to highlight appealing aspects of your city to students, click here.