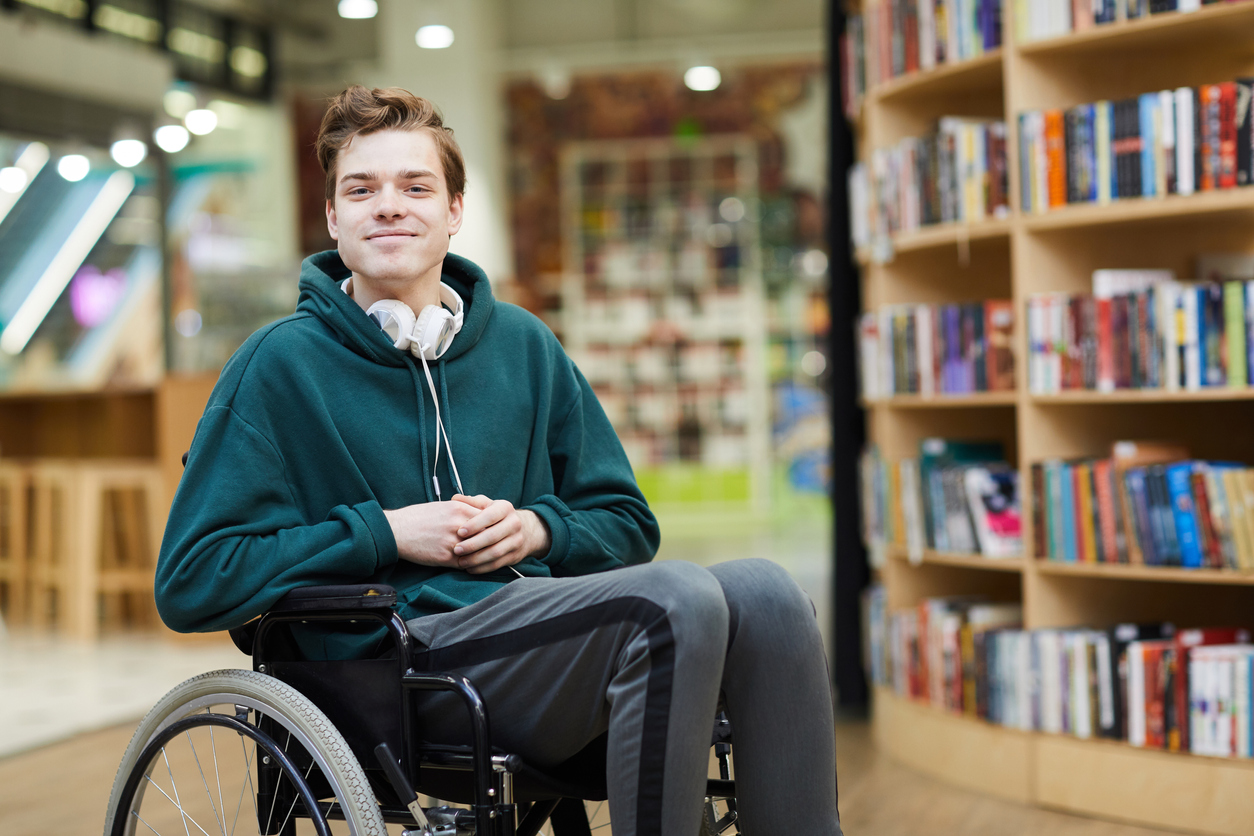 This blog explores some of the ways your institution can make higher education more accessible to students with disabilities.  
A disability is defined as having a physical or mental impairment that has an effect on a person's ability to carry out normal day-to-day activities. 
According to UCAS, in the academic year 2016/2017, nearly 40,000 students with a declared disability took up undergraduate places at UK universities.  
And in the following year, this number increased drastically to over 94,000 students. 
While these statistics are promising and they demonstrate a positive uplift in the number of people with a disability who are accessing higher education, they equally reflect a major issue with the relationship between disability and higher education.  
Speaking on these figures, Chris Skidmore, Minister of State for Universities, Science, Research, and Innovation, said: "Representing 13% of entrants, this is still below the proportion of working-age adults with a disability." 
Therefore, while figures are increasing, there is still a huge disparity between the number of disabled young people wishing to pursue higher education, compared with their non-disabled peers.  
In fact, research has shown that "disabled students are 10% more likely to have low educational expectations than their non-disabled peers with similar school performance." 
As a result, in January 2019, Skidmore called for "universities to review their offer and provision for disabled students." 
To find out more about how your university can become more welcoming and inclusive to all students, download our white paper: The State of Inclusivity in International Higher Education. 
Unfortunately, for students with disabilities across the globe, this is not just a UK issue. A study released in January of last year highlighted similar barriers in countries across the world.  
This study analyzed data from the UK, the US, Canada, Australia, South Africa, and India, and assessed their handling of higher education for students with disabilities.  
It found that the biggest influence on the number of students with disabilities enrolled in higher education is the public funding offered to students and universities.  
The introduction of schemes such as The Canada Student Grant for Services and Equipment for Students with Permanent Disabilities, and National Student Financial Aid Scheme in South Africa have contributed positively to the number of students with disabilities (SWDs) enrolled at higher education institutions (HEIs).  
The study reports: "The general consensus within the reviewed literature in sampled countries is that these sampled countries' funding mechanisms have positively resulted in a steady increase of SWDs in HEIs." 
As a result, any cuts to public funding to support SWDs has an immediate negative effect on the number of these students enrolled in HEIs.  
For example, in September 2015: "The UK government officially confirmed that it would reduce direct public support for SWDs by making £30 million in cuts to Disabled Student Allowance funding." 
And in the USA: "The US recession of 2007 to 2009 saw federal cuts, and some universities increasing their tuition fees." 
With the odds stacked against them, universities must work even harder to continue to encourage young people with disabilities to pursue higher education.  
Here are just a few ways your institution can keep supporting students with disabilities. 
Accessibility and tools  
The first step in encouraging SWDs to attend university is to ensure you have created the right environment for them to live and study with ease.  
While accessing the funds to do so might be a challenge, ensuring your campus is accessible and friendly to disabled students must be an absolute priority.  
In Australia, The Disability Discrimination Act of 1992 has helped to ensure accessibility in housing, public buildings, and transportation throughout the country. 
This extends to universities also, with the University of Adelaide standing out as being particularly wheelchair friendly.  
Some universities consist mainly of historic and protected buildings which might act as a barrier when attempting to make the campus more accessible.  
Regardless, your institution should always be looking for ways to adapt these buildings, as the priority should always be to make the majority of campus accessible to disabled students.  
Accessibility is not just about wheelchair access but also refers to those students who are visually or hearing impaired.  
The company Universal Design for Learning in Higher Education (UDL), aims to make learning more flexible so that the needs of every learner can be met.  
In terms of higher education, UDL explains: "For blind and visually impaired students, this means the availability of auditory software, large-font presentations, and/or Braille materials." 
Providing the right tools can also be incredibly useful for those students who have special learning difficulties; something that was discussed in detail in our blog: What Support Should Universities Provide to Students with Specific Learning Difficulties? 
Having good mental health and counselling services for all students is another step universities must take in encouraging and supporting students facing particular challenges.  
Inclusivity  
Hillary Mensah, a third-year student at the University of Nottingham, said: "Having a disability can make it harder to fit in, especially when it's not a visible disability, because it can be difficult to open up about your experiences." 
Creating an environment of inclusivity at your institution is therefore an important step in encouraging students with disabilities to pursue higher education.  
Endorsing sport clubs and societies that welcome students with disabilities is an excellent way of doing so.  
Auburn University in the US has a successful adapted sports program which includes an array of wheelchair-friendly sports, such as Wheelchair Basketball and Handcycling.  
They are focused on "developing fitness and sports and fitness activities for students, faculty, and staff with disabilities." 
Societies that aim to highlight the disabled person's experience, such as the Disability Rights Organization at Michigan Law School, also make for welcoming and inspiring spaces for disabled students.   
Equally, disabled students at your institution should not be limited to joining societies that only focus on disability.  
It's important that all societies at your institution welcome SWDs where possible, encouraging the growth of talent and enriching the experience of all students.  
Theater and comedy groups are an excellent pursuit for students and having a disability should not interfere with participation in these activities. 
Ali Stroker, an American musical theater performer, has not let her disability prevent her from pursuing her dreams.  
After graduating from New York University's prestigious musical theater program, she went on to make history as the first performer in a wheelchair to perform in a Broadway show.   
Institutions who encourage the formation of disability-friendly clubs and societies are going to appeal much more to SWDs, demonstrating the exciting possibilities open to all students who attend that university.  
Communication 
It's all very well putting these practices into action, but if prospective disabled students are unaware of the support that's available to them, they're unlikely to see higher education as an option.  
It's important for institutions to communicate clearly that higher education is an inclusive space, and that help is available for those with disabilities who are hoping to continue their studies.  
When a prospective student shows interest in your institution, take the time to understand their individual needs and explain what support is available to them.  
It's also important to take prospective students through the funding options that are available to them and to help them through this process.  
As previously discussed, students in the UK can apply for Disabled Students' Allowance (DSAs).  
However, the application process can take up to six weeks, with a further 14 weeks if successful for the DSA support to be arranged. 
With such a lengthy process, institutions must proactively communicate with prospective students about what needs to be done and guide them as much as possible. 
Institutions should make sure students know that the support will not stop once they arrive at university; informing them of the support services that are available on campus.  
Ulm University in Germany works with the country's Zentrale Studienberatung (central student advisory services) to provide a hub for SWDs to turn to with questions at any point during their study.  
Making sure SWDs know ahead of time that their needs will be met during their time at your institution, and the various other opportunities available to them, is likely to positively impact their decision to study at your university.  
In summary, disability is only limiting to students when universities don't listen to their concerns and actively work to remove obstacles. 
For more information on how you can make your institution more inclusive for all students, please see our white paper: The State of Inclusivity in International Higher Education.