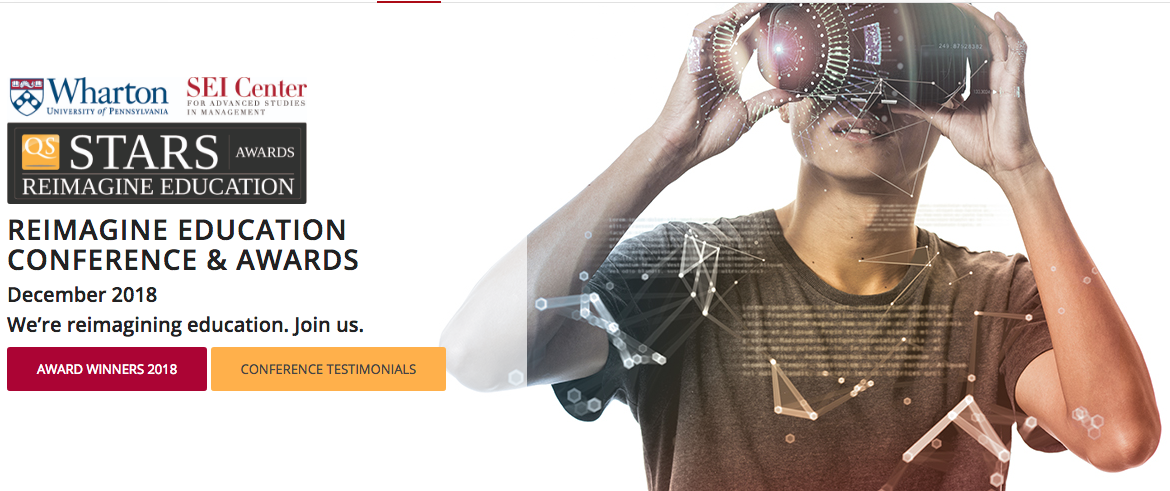 Reimagine Education is a prestigious competition rewarding innovative initiatives aimed at enhancing student learning and employability.
Technology, social change, and the increasing cost have presented multiple challenges in higher education. It has added emphasis on the need to be innovative in an educational culture that tends to be wary of change. It is for this reason why Wharton's Reimagine Education awards carry such importance in order to really highlight attempts to address the evident problems universities and business schools face.
We take a look at examples and trends in 2018 that address several Reimagine Education award categories:
---
E-Learning
9 eLearning trends that will become stronger as we step into 2018.
Our first example is VR and AR. With Augmented Reality and Mixed Reality added to the mix, we have exciting new possibilities in the immersive learning space.
With prices of wearable glasses and headsets reducing, VR and AR will become more affordable for organizations willing to experiment with them. We will see more traction as 2018 unfolds. Organizations will invest and explore more of these technologies in 2018 and beyond.
Full Story: eLearning Industry
---
Hybrid Learning
Institutions increasingly promote blended approaches to learning and, in parallel, are gathering data across all areas of the student experience. This workshop looks at the emerging relationship between data and learning design.
We aim to help participants ensure that their blended learning designs are purposeful. We seek to make explicit the pedagogic intent in a learning design and explore how data can enable us to understand whether or not learner behavior is corresponding to those expectations.
We will show how the insertion of digital activities with a clear pedagogic purpose into a learning design offers the means to support real-time interventions that can make a difference in learner outcomes.
Full Story: JISC
---
Sustainability 
The higher education sector will be more sustainable through moderating the rate of funding growth, improvements to the Higher Education Loan Program (HELP) and strengthening responsibility for recognizing and rewarding quality learning and teaching.
The Australian Government is improving the sustainability of the HELP scheme by introducing a new set of HELP repayment thresholds and rates from 1 July 2018. This will help ensure that the HELP scheme is affordable and can continue to help people to participate in tertiary education.
---
Nurturing Employability
The Embedding Employability in Higher Education Framework highlights the process, principles and premises underpinning employability and the elements which contribute to and support it.
Drawing on academic research and best practice, the framework enables an inclusive approach. Empowering staff to truly own their approach to employability is critical.
Collaboration with stakeholders is essential to inform design, content and delivery of programmes of study that support and enhance employability.
---
QS' continued, extensive research will be sure to keep up with any innovative changes in higher education and facilitate our role as key advisors.
 If you would like to find out more about innovation in Higher Educaiton, take a look at our series of Reimagine Education White Papers here.
[fusion_portfolio layout="carousel" picture_size="default" text_layout="default" grid_box_color="" grid_element_color="" grid_separator_style_type="" grid_separator_color="" columns="3″ one_column_text_position="below" column_spacing="20″ equal_heights="no" number_posts="" portfolio_title_display="all" portfolio_text_alignment="left" padding_top="" padding_right="" padding_bottom="" padding_left="" filters="yes" pull_by="category" cat_slug="reimagine-ed-whitepapers" exclude_cats="" tag_slug="" exclude_tags="" pagination_type="default" hide_url_params="off" offset="0″ orderby="date" order="DESC" content_length="excerpt" excerpt_length="10″ strip_html="yes" carousel_layout="title_below_image" scroll_items="" autoplay="no" show_nav="yes" mouse_scroll="no" hide_on_mobile="small-visibility,medium-visibility,large-visibility" class="" id="" animation_type="" animation_direction="left" animation_speed="0.3″ animation_offset="" /]