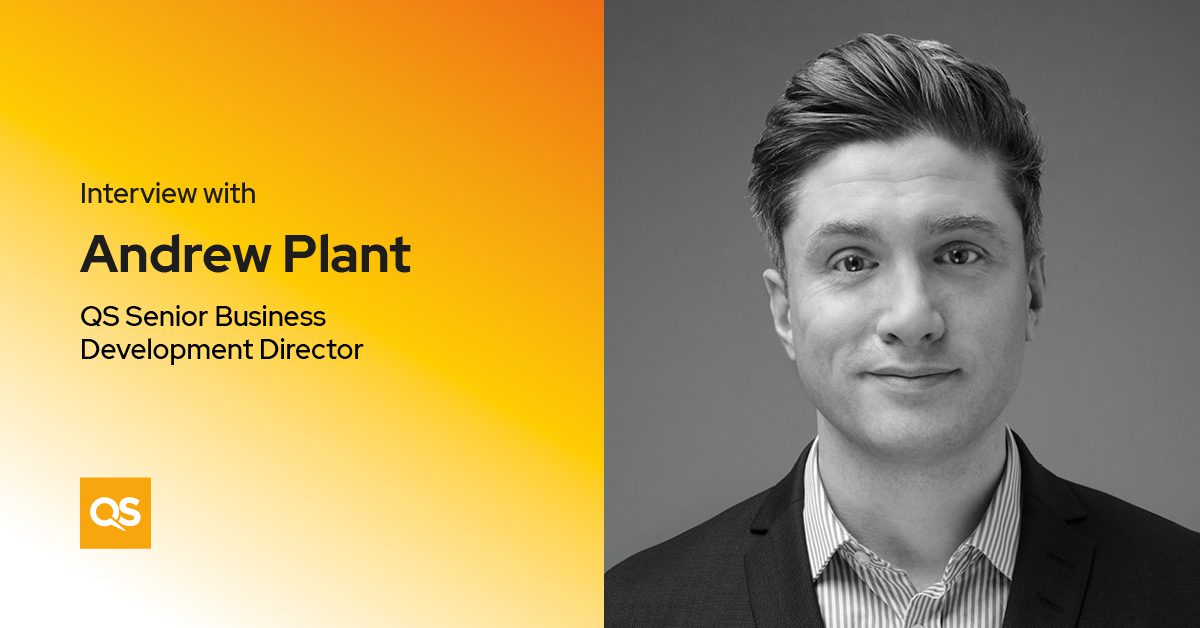 Named among The PIE's Top 50 Voices of international education in Europe in 2023, QS Senior Business Development Director Andrew Plant coined the term 'Admissues' (admissions issues) and has recently launched a travel podcast – Tales from the Departure Lounge – which reached over 1,000 downloads in just seven days.
Since he began his career in international student recruitment in 2005, he has worked in three different UK universities, visited more than 70 countries, met thousands of students and developed partnerships with universities and organisations across the globe. This week, he joined fellow leading voices in higher education at The PIE Live Europe on a panel exploring the topic of Unresolved Admissues.
We caught up with Andrew to find out more about what inspires his passion for the sector, the changes he has experienced since he first packed his banners and suitcase for an international recruitment trip and what he thinks the future holds for international student recruitment teams:
What do you like most about working in higher education?
It's an incredibly positive industry. After all, we're focused on developing (mostly) young people and shaping their futures. When I worked for universities I loved staying in touch with alumni, some of whom have become life-long friends dotted around the world. With QS, I help universities to develop strategies and tactics that support students at scale on what can feel like a daunting journey, which I find incredibly satisfying.
How did you decide on a career in international student recruitment?
Like many others, I fell into international higher education. I was working in recruitment in Birmingham in 2005 and knew some of the marketing team at Aston University. A job for an International Officer came up and the Director of the International Office asked if I'd be interested and offered to show me what it was like. She flew me to Malaysia, introducing me to agents, partners and busy education exhibitions. Over the course of the trip I saw the potential for the sector to grow, met lots of like-minded colleagues and knew that it was the sector for me.
How is the mood among international recruitment teams in the UK right now?
I think there is always an element of pressure on international teams as significant income generators, that often sit outside "core" operations with greater resourcing. Marketing to the entire world is not easy and often success itself brings additional pressure through increased enquiry and application volumes – often not accompanied by the resource needed to handle them in an optimal way. I'd say overall there is a boom in interest in the UK, which is great for recruiting universities, but everyone involved knows how easily the winds can change with even minor amendments to government policy.
What are the major changes you've seen in international student recruitment since the start of your career?
At that first exhibition I went to in Malaysia we collected student details on paper. We received applications in hard copy. Operations were small and international recruitment was peripheral in most university strategies. Skip forward to 2023 and everything is more connected, more transparent and international recruitment is often integral to how institutions operate. One particular area of change is the recent adoption of AI-assisted technology in recruitment, which is a total game-changer in terms of enhancing efficiencies and freeing up staff from laborious manual processes, especially in admissions functions.
What are the opportunities and threats for higher education in the UK over the next five years?
We're experiencing a boom in international student numbers post-pandemic which is allowing universities to mitigate the post-Brexit losses they experienced from the drop in EU students and loss of income in real terms as a result of caps on domestic tuition fees. It makes financial sense for universities to "make hay whilst the sun shines", but not rely on continued growth at current rates. Setting recruitment goals that meet financial targets over at least five years is critical, but this must be backed up by investment in the resources, technology and partnerships that will realise these goals.
What difference would partnering with QS have made to you in one of your previous international student recruitment roles?
I wish I'd known more about it! When I explain my job to friends and family I tell them that QS has invested millions of pounds in a large global human resource and a sector-leading technology stack, which universities can plug into to solve their problems. I think universities increasingly recognise that asking for external support is not perceived as a weakness, it can become a great strength and lead to amazing partnerships that solve problems, release pressure on staff and generate income, whilst ensuring every prospective student gets the service they deserve.
What advice would you give to universities looking to diversify and grow their international student numbers?
Universities often feel at the mercy of student flows, often thinking that the make-up of the student body is something that is being done to them rather than something that they can control. This simply isn't the case if they take a strategic and proactive approach to recruitment and admissions, defining geographical priorities and aligning resources to them. For example, regions of the world that are sending a university high volumes of applications can be treated as a 'hygiene factor' for recruitment, whereas those offering diversity can be given premium status – in terms of one-to-one, personalised communication and expedited service levels for their entire application journey. Being passive will result in high volume markets dominating when they don't have to, so recruitment, admissions and conversion resource should always be allocated strategically.

Do you have a backlog of applications that you need help with processing? Or do you need support with responding to and communicating with offer holders to maximise conversion and enrolment? QS offers solutions that you can implement fast and still make an impact for your 2023 intake.