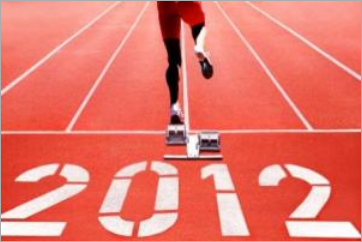 As the world's attention turns to London for this year's Olympic Games, UK universities and students are playing a major role in Olympics preparations – from hosting training camps for Olympics teams, to training as professional security staff.
With the 2012 Olympics and Paralympics due to commence on 27 July and 29 August respectively, Olympics teams from around the world are now starting to arrive in the UK for pre-Olympic training camps – many being hosted by universities.
The Australian judo team are training at the University of Wolverhampton, Sudanese athletes at Teesside University, and the Chinese swimming team at the University of Bath.
A further 11 Chinese teams are being accommodated by the University of Leeds, which will also welcome the Canadian wheelchair rugby team.
Meanwhile, the University of Warwick will provide facilities for Olympics football teams from numerous nations, thanks to its proximity to Coventry's Ricoh Arena, one of the six venues for the Olympics football tournament.
How are students getting involved?
Some may be tempted to hang around their university's sports facilities in the hope of getting close to some world-class athletes – but others will be playing a more active role in the Games.
Many UK students are volunteering their time during the Olympics, in roles such as stewarding, technology support, transport and logistics, and even featuring in the huge opening ceremony masterminded by film director Danny Boyle.
These thousands of 'Games Maker' roles were open to all members of the public, but the Olympics Committee (LOCOG) has also established a number of schemes specifically for students and young people.
LOCOG's Employment and Skills Strategy includes apprenticeships, graduate placements, student internships, work experience, young leaders training, and vocational learning.
Amongst those benefitting are students at Sheffield Hallam University's Academy of Sport and Physical Activity, who are studying a press operations course developed in partnership with LOCOG.
Many have already completed work placements at Olympics test events, while others will get a once-in-a-lifetime opportunity: interviewing athletes straight after Olympic events, and gathering quotes to be used in official press releases.
Recognition for university Olympics projects
Of course, the Olympics is about more than just the competition itself. According to the vision of Pierre de Coubertin, founder of the modern Olympics, the event should bring together sports, culture and education.
In recognition of the many ways in which the UK's universities and colleges are working towards this vision, a special awards ceremony – the Podium Awards – was held in May.
The prestigious Coubertin's Olympic Vision Award was given to Loughborough College's 'Flames' project, which is training young people around the country in leading sports and health activities.
Awards were also given in a further nine categories, including Outstanding Cultural Project, Innovative International Collaboration and Exceptional Research Contribution.
Among the gold award winners were Bradford College, for its 'Female Boxing Programme'; King's College London for the 'Scientists in Sport' outreach project; and North Hertfordshire College for 'Bridging the Gap' – which has trained students from across the country to provide professional security at the Games.