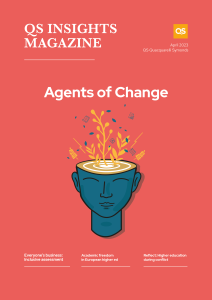 Fill out this form to read the latest QS Insights Magazine for free.
The third edition of the Magazine features a detailed analysis of the recently launched QS Online MBA Rankings 2023.
In addition to the rankings supplement, this issue of the magazine includes:
thought-provoking articles on topics such as the impact of teaching styles in higher education, the role of universities in driving global change, and the potential of AI in international recruitment.
Practical tools for implementing sustainable practices in higher education and insights into the growing popularity of online MBA programs.
A look at higher education in Ukraine one year on, and organisations that provide support.
At QS, we believe in providing our readers with thought leadership content that inspires them to take action and make a difference.
With this in mind, we invite you to explore the latest issue of QS Insights Magazine and join the conversation around the future of education and recruitment.