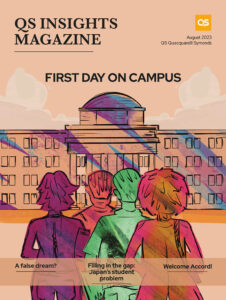 Create your free QS Insights Magazine reader account to access these and more articles in the latest issue of the magazine:
A false dream?
The UK government has taken strict action against university courses it considers to be poor quality. A closer look at how some courses may be affected.
Filling in the gap: Japan's student problem
Japan's declining population will leave it with 20% fewer undergraduates by 2050. Can the country fill up its universities with students from abroad?
Welcome Accord!
Australia's higher education sector may be heading in a new direction as seen in the country's latest interim report.
Young at heart: An interview with IFRC's Simon Missiri
IFRC's Special Representative and Director of Global Humanitarian Services and Supply Chain Simon Missiri sits down with QS to talk about work ethics, his managerial style and being open to opportunities. 
Gen Z's definition of success & goals
Flexibility. Ethical. Leadership opportunities. These are some of the values Gen Zs are looking for in their higher education journey, according to a survey.
Create your free QS Insights Magazine account to read these articles, and many more!