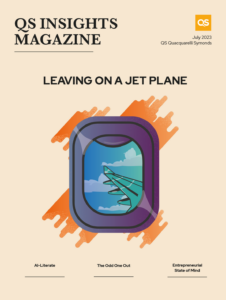 Create your free QS Insights Magazine reader account to access these and more articles in the latest issue of the magazine.
Leaving on A Jetplane:  Why aren't there many students from the typical anglophone destination countries studying abroad?
AI-Literate: How the Russell Group is addressing generative AI as the technology evolves.
The Odd One Out: Why closing the gender gap in STEM is important to Dr Laura Chaubard, Director General at École Polytechnique.
EDI in the Classroom: How equity, diversity and inclusion can be a route to responsible international education.
Entrepreneurial State of Mind: Students in Europe are aiming to exit university with the skills needed to establish their own businesses. A lookback at one of the panel discussions during the Higher Ed Summit: Europe 2023.
Create your free QS Insights Magazine account to read these articles, and many more!