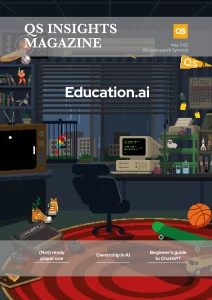 The 4th edition of QS Insights Magazine explores the cutting-edge intersection of AI and higher education.
Brace yourself as we dive deep into thought-provoking articles that challenge the status quo and shed light on the most pressing topics of our time:
(Not) ready player one: Have you ever wondered what students truly think about the metaverse? Learn more about their honest opinions and delve into the potential of this futuristic concept in higher education.
Graduate employability: We are committed to shaping a brighter future for a billion learners worldwide. In this article, Successful Graduate's Managing Director provides some insights on how we can enhance student employability at every stage of their educational journey, empowering them to thrive in today's dynamic job market.
Ownership in AI: As AI continues to reshape our world, we ponder a crucial question: Who truly owns AI-generated content? Uncover the intricate dynamics and explore the uncharted territory of AI's intellectual property rights.
Education.ai: Generative AI has ushered in new possibilities in assessment practices, but does it come with its fair share of challenges? Let's navigate the pros and cons of this technological revolution, painting a realistic picture of its impact on education.
QS International Trade Rankings: Immerse yourself in the insightful data provided by our QS International Trade Rankings and gain a comprehensive understanding of how International Trade is being taught in higher education institutions.