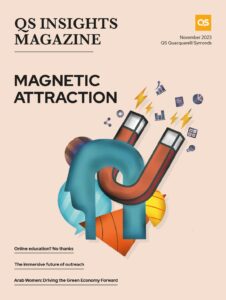 Create your free QS Insights Magazine account to access these and more articles on higher ed in the Middle East, student demands, the future of virtual classrooms and more in the latest issue of the magazine.
Magnetic attraction: From Dubai to Doha to Abu Dhabi, education hubs are sprouting up in the Middle East, offering students access to world-class education and cutting-edge research.
Online education? No thanks: Why students are reluctant to fully embrace online education after experiences during the COVID-19 pandemic.
The immersive future of outreach: Is virtual reality a gimmick, a headache, or a unique tool for accessibility and inspiration?
Arab women: Driving the green economy forward: How Arab women are key partners in building a greener future. An op-ed by Dr Haifa Al Kaylani, Founder of Arab International Women's Forum.