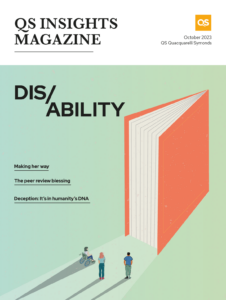 Create your free QS Insights Magazine reader account to access these and more articles in the latest issue of the magazine.
Dis/Ability:

  The struggles academics with disabilities face and how the sector can create a more inclusive environment where everyone can thrive. 

QS World University Rankings: Europe 2024: 

A look at how the rankings have changed, and how the region compares to the rest of the world.

Making her way: 

A profile on Marion Debruyne, Dean of Vlerick Business School

Why student mobility matters for the Americas

: A lookback at the QS Higher Ed Summit: Americas 2023, which was held in Santo Domingo, Dominican Republic.