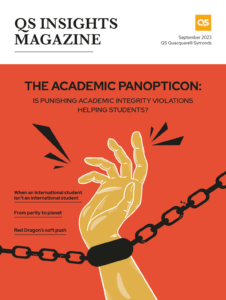 Create your free QS Insights Magazine reader account to access these and more articles in the latest issue of the magazine.
The Academic Panopticon: Subjecting students to increased scrutiny over the use of AI generated content may not be improving learning outcomes.
QS World University Rankings: Latin America and the Caribbean 2024: A look at how the rankings have changed, and how the region compares to the rest of the world.
When an international student isn't an international student: The realities of international student visa fraud and why governments are cracking down on it.
From parity to planet: Entrepreneur Christine Amour-Levar reflects on how her childhood in the Philippines has empowered her belief in the transformative power of women shaping the world's future.
Red Dragon's soft push: How China is spreading its global influence through internationalization of education.