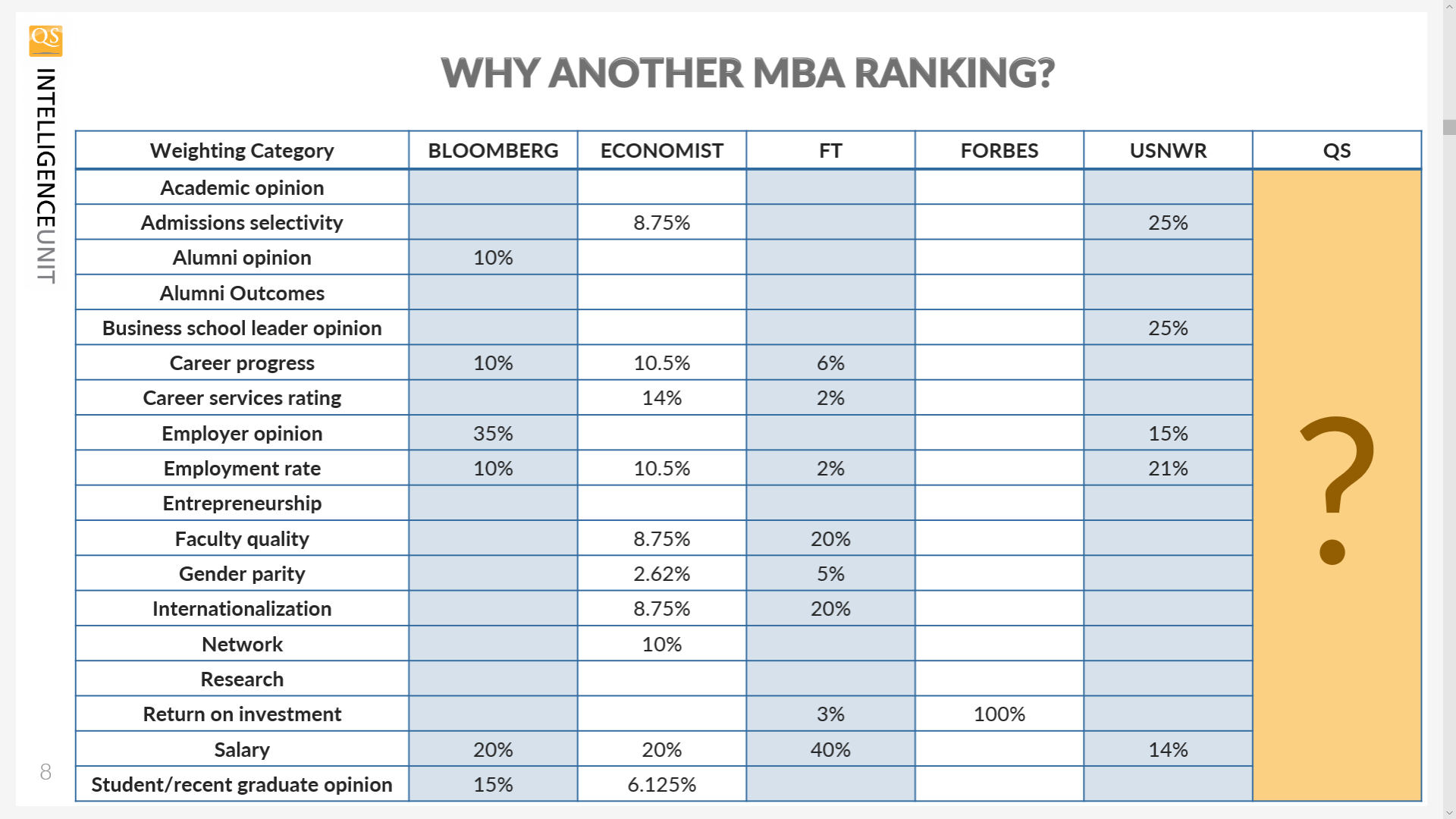 The QS Global Rankings 2018 represent our most sophisticated set produced to date. In our latest edition, 232 business programs feature, with over 250 analyzed and 60 countries around the world represented.
This, in itself, is a representation of our widened data set, with last year featuring 36 countries in comparison.
Our MBA rankings were compiled through the analysis of 13 points of criteria, broken down to formulate our five key indicators. Our programs were ranked on – Employability (40%), Entrepreneurship and Alumni Outcomes (15%), Return on Investment (20%), Thought Leadership and Class (15%) & Faculty Diversity (10%).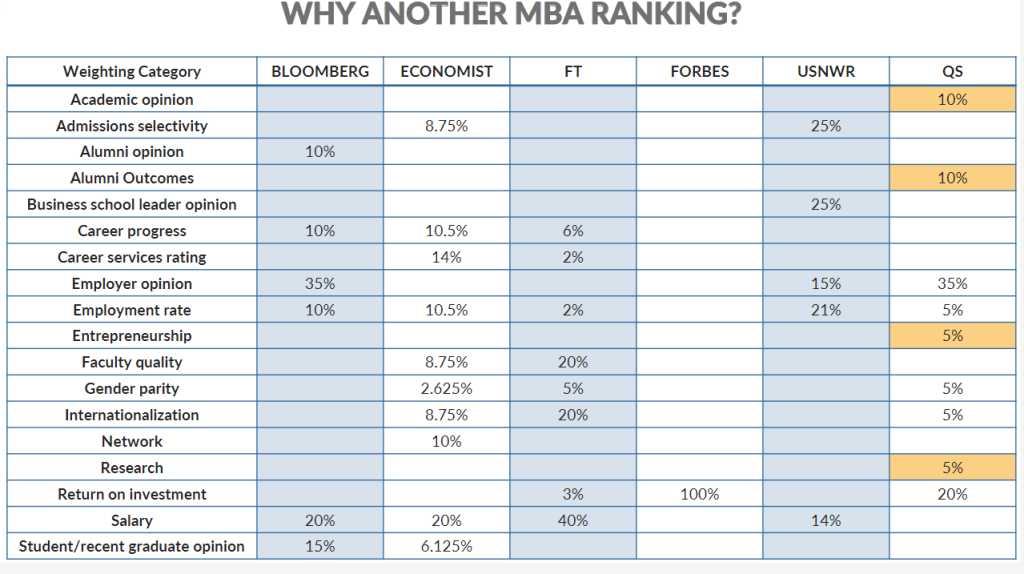 For a business school to be validated for ranking, their respective program had to have been taught primarily on-campus, full-time and have a minimum class size of 10 students. Each school would have provided QS with the relevant data that complied with the majority of our five key indicators.
The Results
These rankings were put together based on over 172,000 responses from our Global Academic Survey, and 158,000 from our Global Employer Survey, to accompany the information we had acquired from over 250 business schools, as previously mentioned.
Our results show a differentiation amongst the top business programs, dependent on each indicator used to formulate this year's rankings. Our extensive research provides each School the opportunity to highlight their excellence in certain fields and provides a useful filter for prospects looking for particular institutional characteristics.
Top 10 Overall & Per Indicator
[fusion_gallery image_ids="264709,264710,264711,264712,264713,264714″ layout="masonry" picture_size="" columns="" column_spacing="20″ hover_type="liftup" lightbox="yes" lightbox_content="titles" hide_on_mobile="small-visibility,medium-visibility,large-visibility" class="" id="" /]
–
–
This year's findings 
Perhaps unsurprisingly, the first-ever MBA program, Harvard, top the rankings as they have done consistently over the years.  From the 232 schools ranked this year, the institution's formidability was evident once again, featuring in the top 10 in three of our indicator categories This included topping the employability table.
Aligned with the success that Harvard has shown, US schools on a whole dominate the overall top 20, with 12 institutions represented. The only other nation with more than a single institution feature was France, who have INSEAD and HEC Paris occupy second and third respectively.