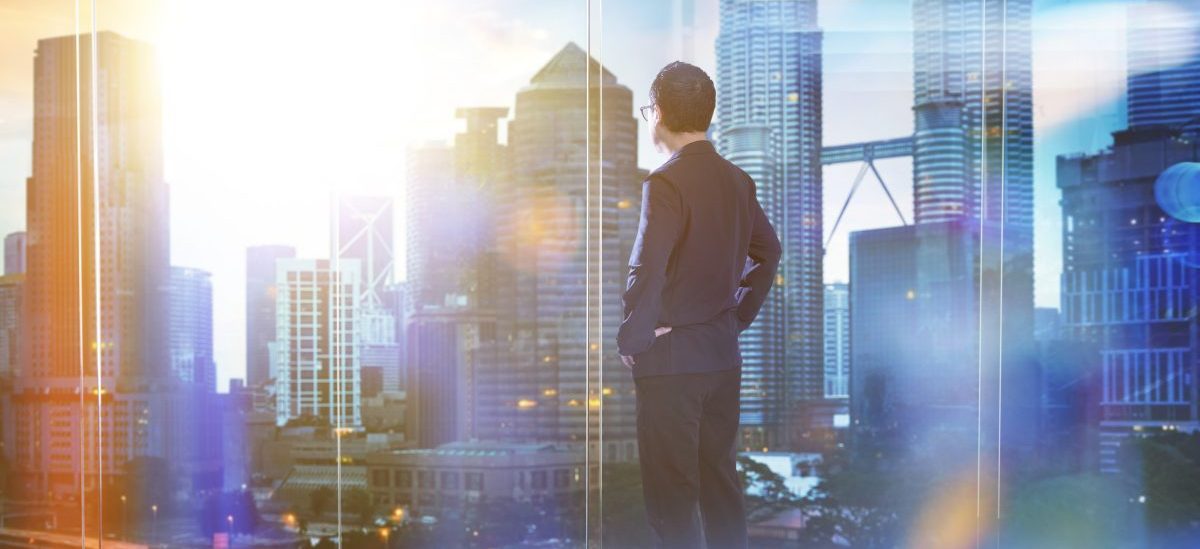 QS have today, April 25th, released the EMBA Rankings for 2018.
The tables showcase the world's leading Executive MBA courses by region or program type – that being standalone or joint. The rankings include over 143 programs, therefore providing a comprehensive overview of today's EMBA Landscape and an accurate representation of the world's leading courses in this particular field.
This year's results 
The Wharton School of the University of Pennsylvania takes the number-one position. Their course offers participants excellent employer recognition, world-class thought leadership, and market-leading career outcomes. Other findings include:
All except one of the top ten EMBA are based in the UK or US
The highest rankings EMBA courses across mainland Europe include IESE (10th), INSEAD (12th), HEC Paris (13th), and IE Business School (16th)
Asia-Pacific's highest-ranked EMBA course is to be found at Shanghai's CEIBS (26th)
Top-10 table…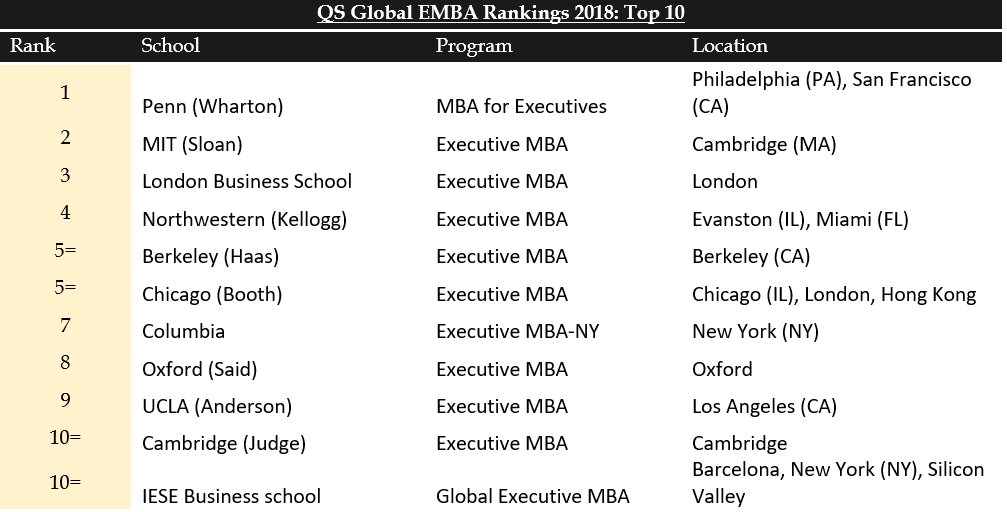 How are the rankings compiled?
Employer Reputation (30%): An investigation as to whether employers regard graduates from this prospective program highly.
Thought Leadership (25%): Whether the school has the capacity to innovate, and encourage innovation.
Executive Suite (15%): How experienced are the EMBA peers on the course and how much c-suite representation is in the program.
Career Outcomes (20%): How likely the program will support alumni careers in terms of salary increase and promotions after graduation.
Diversity (10%): Whether the program offers high levels of gender and international diversity.
Readers have the option to search for their desired EMBA through six subdivided tables, providing the options to compare program globally, within a specific region, or among joint program offerings.
[fusion_testimonials design="classic" backgroundcolor="" textcolor="" random="" hide_on_mobile="small-visibility,medium-visibility,large-visibility" class="" id=""][fusion_testimonial name="Alex Chisholm " avatar="male" image="" image_border_radius="" company="Head of Business School Analytics at QS" link="" target="_self"]
"In addition to rankings inputs this year, we also collected relevant insights from schools that are top of mind for candidates. Funding the educational experience is clearly a big consideration for today's EMBA students, especially as tuition in parts of the world continues to increase. Thankfully, many students pursuing EMBA degrees are fortunate to have financial support from their employers. Business schools reported to QS that nearly half of their students receive some level of corporate sponsorship, on average, with around 20 percent obtaining full funding. This willingness to invest in talent is a testament to the immediate and long-term value of the degree as perceived by global employers."
[/fusion_testimonial][/fusion_testimonials]
–
Have a look at the EMBA 2018 Rankings in full here.