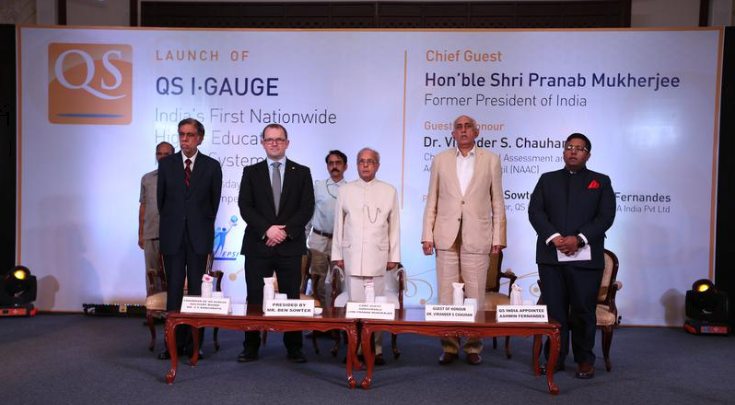 Former President of India, Shri Pranab Mukherjee launched QS I∙GAUGE, the region's first nationwide higher education rating system.
Shri Pranab Mukherjee remarked that, Quality is a primary parameter of education and rating constitute an effective tool of institutional assessment and introspection to aspire big. The former President of India and the harbinger of quality in higher education, congratulated the team associated with QS I∙GAUGE for a timely intervention in the Indian higher education sector.
What is QS 

I∙GAUGE
QS I∙GAUGE ratings have been modeled after the QS Stars international rating but adapted to capture the reality of the dynamic Indian higher education sector, while at the same time maintaining the strict quality standards that are equal with the QS brand.
The system consists of seven primary indicators and five secondary indicators, ranging from Teaching and Learning, Employability, Social Responsibility to Research and Innovation. The rating provides a unique 360-degree perspective of Indian Institutions of higher learning. In addition to globalizing the methodology, the hallmark of QS I∙GAUGE methodology is that it is evidence-driven, transparent and holistic.
With 40,000+ Indian institutions of higher learning and more opening their doors every single week, the Indian higher education system both highly dynamic and fast-moving, while still facing many challenges. QS I-GAUGE provides a common and credible yardstick to measure institutions, while empowering students, the institutions themselves, and other stakeholders to make informed decisions.
QS I∙GAUGE can function as an institutional score card and institutions will receive a detailed and confidential report on their strengths and weaknesses, providing a road map for their further development. As the rating is re-assessed every 3 years it is an invaluable tool for institutional research and planning.
QS is trusted globally by students, their parents and a diverse set of other stakeholders, including governments and the corporate sector. The Institutions undergoing QS I∙GAUGE rating will send a strong signal to their audiences: about their seriousness towards consistent performance and transparency.
Addressing the gathering, Mr Ashwin Fernandes, CEO, QS-ERA India Pvt Ltd said, "We at QS are excited about this progressive project. QS I∙GAUGE is a system, which is designed in India, considering international parameters and still localising the system to capture the diverse Indian higher education system. I am confident that this will give a much-needed boost to Indian colleges and universities, on an international footing".
If you would like to find out more on our other Ranking Analytics and QS Star Road Map Intelligence, click here.