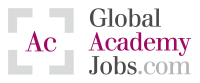 QS and Global Academy Jobs join forces to make it easier for leading global minds to find the data they need. At the same time this collaboration will help ambitious universities find the best academic talent to attract research funding.
"By working together we can strengthen, deepen and accelerate our combined offering and deliver on a shared mission of serving bright minds and leading universities", says Dan Perrett, Chair of the Board of GlobalAcademyJobs.com
"We have looked long and hard at various academic job boards and there is no doubt in my mind that GlobalAcademyJobs.com has the potential to be a strong partner. It is the only viable global board and a 'must have' for aspiring universities anywhere" states Nunzio Quacquarelli, Managing Director, QS Quacquarelli Symonds.
QS Quacquarelli Symonds was founded in 1990 and is established as the leading global provider of specialist higher education and careers information and solutions. At QS we believe that education and career decisions are too important to leave to chance, we want to ensure candidates have access to the best tools and the best independent expert information before making a decision.
Global Academy Jobs has been built by universities for universities and is the fastest growing global academic jobs board online. Since starting in 2012, Global Academy Jobs has helped universities find world class candidates for over 60,000 academic positions. GAJobs provides automated recruitment advertising for 34 leading global universities and advertising services for a further 185 worldwide.
GAJobs was founded by Perrett Laver (a global HE-focused executive search firm) and the Worldwide University Network (WUN) as a means to improve international university research collaboration. Our other partners include Universities South Africa, Universitas 21 (U21), Association of Pacific Rim Universities (APRU) and the International Association of Universities (IAU).