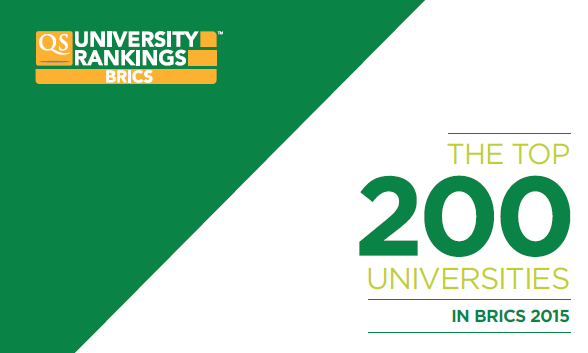 I'm pleased to announce that the third edition of the QS University Rankings: BRICS, which compares the Top 200 institutions in Brazil, Russia, India, China and South Africa, is now live on TopUniversities.com.
Why a BRICS University Rankings?
 The five BRICS countries represent over 2.9  billion people, or approximately 40% of the world population;
One in three students in the world today live in one of the BRICS nations.
They have a combined nominal GDP of over US$16 trillion, equivalent to approximately 20% of the gross world product.
The BRICS nations share a desire to grow in economic and political importance without copying the Western model of development.
This ranking show how this ambition is being reflected in their university systems.
The New Development Bank (NDB) or the BRICS Bank officially opened for business on Tuesday with an initial capital of $100 billion.
Plans are underway to establish a BRICS Network University, an initiative that will enable universities in the group to jointly develop and teach courses and facilitate the mutual recognition of qualifications and the transfer of credits between participating institutions.
Key findings
The ranking confirms China as the most likely of the BRICS nations to achieve its goal of developing world-class universities. China claims seven of the top 10 places, ahead of Brazil, Russia and India with one apiece.
Russia with 53 institutions in the top 200 is second only to China (67).  Yet only seven Russian institutions make the top 50, fewer China (21), Brazil (10), and India (9). South Africa has 5.5% of the BRICS' top universities despite comprising only 1.7% of the population of the BRICS nations. In addition, eight of these 11 are in the top 100.
Find out more
To see the full results and read about each country's performance, you can download the BRICS supplement and visit our methodology page for a better understanding of how QSIU works behind the scene.