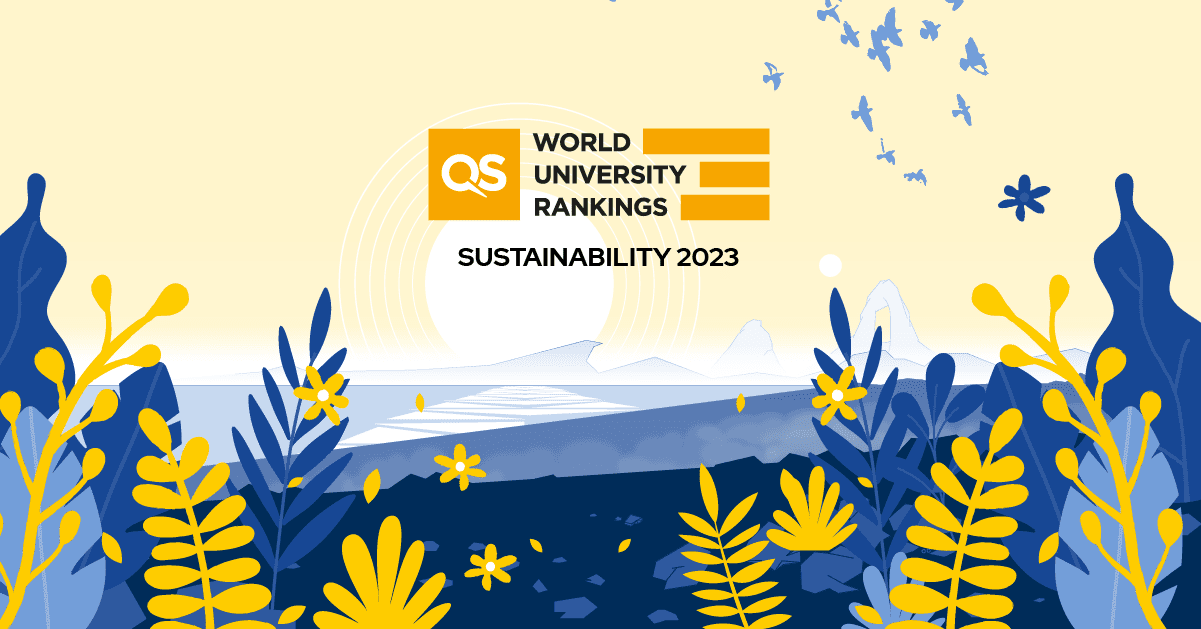 QS is providing

a framework to show how universities are taking action to tackle the world's greatest

Environmental, Social and Governance (ESG)

challenges through our new QS

World University Rankings:

Sustainability.
At QS, we know that universities are uniquely placed to lead the world in accelerating the pace of environmental and social change. 
Through research, teaching and community engagement, universities have the expertise and opportunity to drive sustainable development forward. 
It is saddening to read in the UN's most recent Sustainable Development Report that the world's progress towards the Sustainable Development Goals (SDGs) has slowed for the second year in a row. 
We believe that the incredible momentum for progress across the global higher education sector can help to reverse this post-pandemic slowdown. 
We want to provide prospective students with a clear and transparent overview of which universities are acting on environmental and social change and how. 
We want to help universities to monitor successes and benchmark progress to help inform discussions about their ESG priorities. 
This is why we're launching the new rankings, which will be published for the first time on 26 October this year. 
No ranking methodology tells every story and we'll continue to review and adapt our approach in consultation with the expert advisors on the QS Rankings Advisory Board and our global network of university staff and prospective students. 
The student perspective 
We spoke to Leigh Kamolins – QS Director of Analytics and Evaluation – to explain more about why we're launching the QS World University Rankings: Sustainability and what they'll measure. 
"Over the years, universities have been the birthplace of social and environmental progress, informing not only public policy but public attitudes over time," he said. 
"We want to provide the hundreds of thousands of prospective students we engage with across the world with a lens through which to see and compare where meaningful progress is being made."  
QS research shows that students care deeply about safety, equality, diversity and the economy of the country they're studying in. Safety and cost of living were the top two concerns about studying in a different country, cited by respondents to the QS International Student Survey 2022. 
Leigh added: "We want to ensure that the concerns that matter most to students are front and centre of the QS World University Rankings: Sustainability. We don't want to separate universities completely from the social, political and economic environment they operate within. This is why we are the first major ranking to include national performance metrics from organisations such as the UN and World Bank. Prospective students tell us that it's not enough, for example, for a university to have a policy on gender equality if the country where the university is located provides no legal protection for women or minorities." 
The sector perspective 
In 2022, institutions from across the UK came together to discuss the topic "Universities and the climate emergency: action following COP26". One of the key challenges raised was knowing where to start. It was also clear that there was no clear consensus about how to effectively evaluate progress without a common framework to benchmark against. 
Leigh said: "Many individuals have joined together to raise the profile of the potential of the higher education sector in addressing sustainable development including the UN's Higher Education Sustainability Initiative and the grassroots organisation Climate Action Network for International Educators (CANIE). There is, undoubtedly, a huge amount of work towards environmental and social progress being made in universities which isn't currently being recognised or monitored. 
"Other university staff have told QS that they want to dedicate more time to sustainable development work but they are not being allowed the time and headspace to tackle these challenges. It is difficult to balance this kind of action and direction alongside their already time-pressured roles as educators, administrators and researchers. We are conscious of not placing undue pressure on universities so this ranking is purposefully designed to not be too resource-intensive to participate in." 
"Also we know that universities need – and largely want – to take responsibility for the impact of their own operations. Universities are large, resource-consuming organisations in their own right, larger than many corporate firms. In fact, the average size of a university in the QS World University Rankings welcomes more than 20,000 students, roughly equivalent to the employee numbers at Nikon, Mastercard and Uber. This is why the new ranking will approach these questions through an ESG lens."
The gaps that QS wants to address 
"We understand that universities have multiple roles to play and we want to provide a way of evaluating progress across teaching, research and engagement. Progress will look different for different institutions in different regions but this will allow all universities to track and plan what role they can play. 
"In preparation for the QS World University Rankings: Sustainability, we have engaged more than 40 world-leading experts across 20 countries on the QS Rankings Advisory Board. We've reached out to hundreds of representatives at universities across the globe and with our data partners at Elsevier, Yale University and the Academic Freedom Index." 
What will the QS World University Rankings: Sustainability measure? 
The new ranking will evaluate the social and environmental impact of universities as a centre of education and research as well as a major employer with the operational costs and sustainability challenges of any large and complex organisation. 
The methodology will include indicators which demonstrate: 
Research collaboration between Official Development Assistance (ODA) – commonly known as overseas aid – countries and non-ODA countries.

 

Research assessment across 16 of the UN's Sustainable Development Goals.

 

Diversity among alumni, rating those universities with alumni that have gone onto make a major impact in tackling environmental and social challenges, in climate action, social policy and education.

 
Educational provision which incorporates social and environmental priorities.

 

The presence of publicly-available policies which support social and environmental initiatives. for example in improving diversity or achieving net-zero emissions.

 

A measure of academic freedom which ranks countries by the openness with which academics are allowed to research and publish.

 
All institutions are eligible to participate in the rankings, regardless of size, specialism or teaching level. We estimate around 700 will be ranked in this first edition. 
We welcome your feedback 
Leigh added: "This is not designed to be a static ranking. The sustainability space is a dynamic area which will mean we will need to adapt goals and metrics as best practices evolve and are better defined. We welcome feedback and we are committed to ensuring the QS World University Rankings: Sustainability adapts to the needs of prospective students and the sector." 
The inaugural QS World University Rankings: Sustainability will be published on www.topuniversities.com on 26 October 2022.