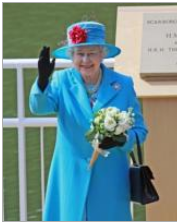 It's a big year for the UK. Not only is the country set to host the 2012 Olympics, it's also celebrating the 60th year since current monarch, Queen Elizabeth II, came to the throne. As TopUniversities.com discovers, universities in the UK are by no means being left behind in the celebrations.
Across the UK, people are preparing for street parties and tea parties; hanging up bunting and laying out red carpets; opening new buildings and projects, and generally coming together to celebrate the past six decades as well as looking ahead to the next.
Below are just a few examples of the many ways in which universities in the UK are getting involved.
At the University of Bristol, celebrations began with two special public talks earlier in May. The first of these, by Professor Jutta Weldes, was on the subject '"Dressing up and Queening it": Queen Elizabeth II, dress and British public diplomacy' – an exploration of that ever-popular subject, the Queen's wardrobe.
The second lecture, 'Sixty years a queen: The Diamond Jubilee in Historical Perspective', was given by Professor Sir David Cannadine, and included a comparison of the 2012 celebrations with those to mark Queen Victoria's Diamond Jubilee back in 1897.
The University of Huddersfield's celebrations are centred on the number 60. The university is offering 60 Diamond Jubilee scholarships to UK students, and another 60 for students from the other 53 Commonwealth nations.
There will also be 60 prizes for the top 60 graduates this year, and 60 special events, including concerts and public lectures.
Finally, to ensure that the legacy of the Jubilee year continues, the university is establishing a Diamond Jubilee Professorial Chair, and a Diamond Jubilee Research Scholarship.
Researchers at the University of Nottingham came up with a unique tribute, when the School of Chemistry decided to donate a tiny diamond that was unsuited for use in its experiments.
The diamond was just millimetres in size, but nonetheless the team were determined to try and engrave a tiny portrait of Her Majesty onto it.
They teamed up with the Nottingham Nanotechnology and Nanoscience Centre, and thanks to some pretty high-tech equipment involving accelerated gallium ions, they succeeded in creating the microscopic piece of Jubilee art.
Many universities in the UK are also hosting events at which the Queen, or other members of the royal family, will be present.
On 25 June, some 4,000 guests, including Her Majesty, will gather for a garden party in the grounds of the University of Reading's Henley Business School.The event will include a river pageant of more than 30 boats, one of them a traditional Viking ship manned by University of Reading students.
The University of Exeter, meanwhile, has already received a royal visit. On 2 May, the Queen visited the campus and officially opened the university's new £48 million development, which includes a new Student Services Centre, and a host of new and improved learning and leisure facilities.