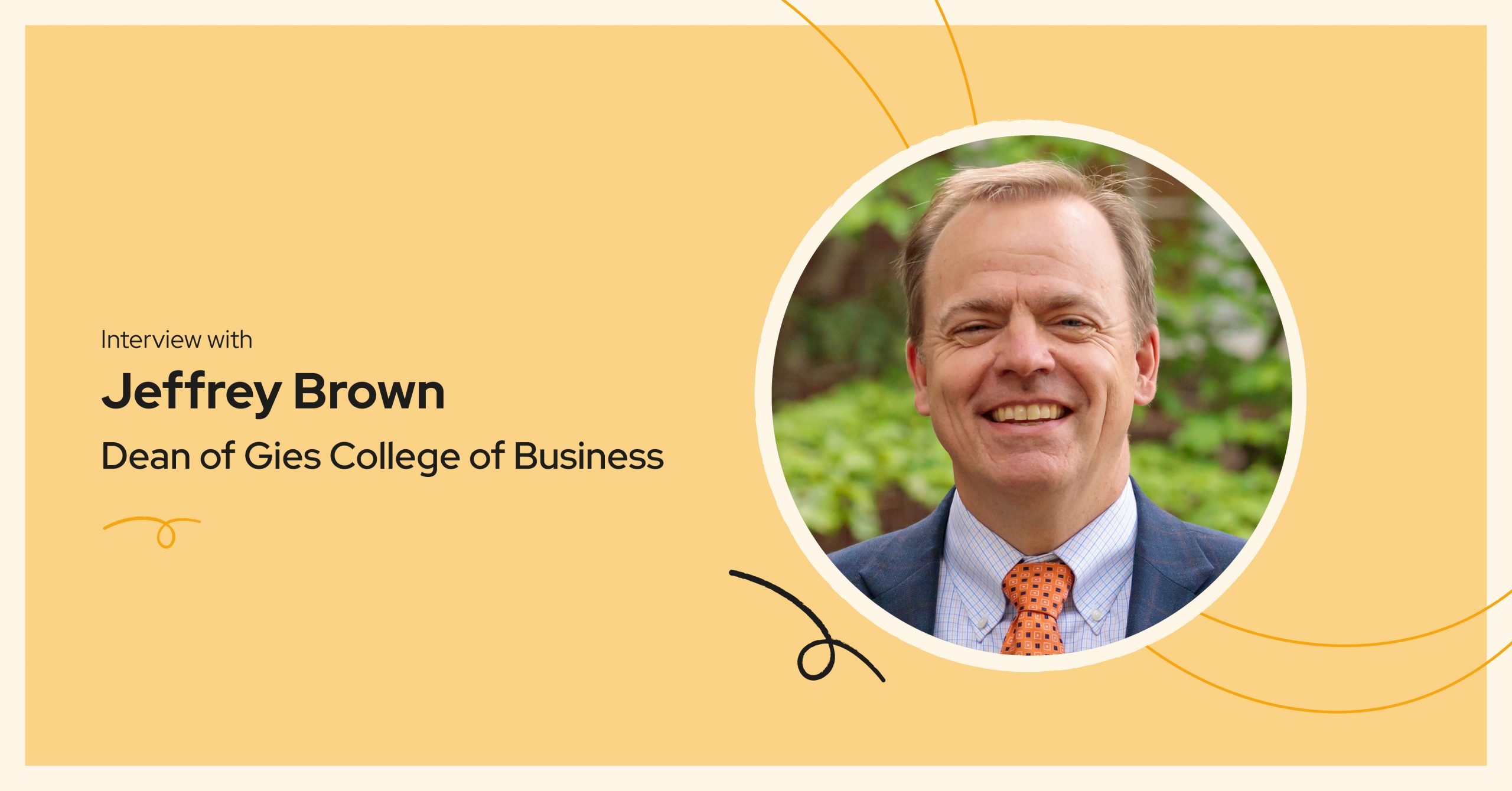 It was a bold decision back in January 2016 to launch the fully online iMBA and by May 2019 to close the residential MBA programme at Gies College of Business at the University of Illinois. 
By March 2020, business schools the world over were scrambling to move their programmes online practically overnight as they grappled to support students amid the restrictions and challenges of the global pandemic.
Professor Jeffrey Brown, Dean of Gies College of Business since 2015, explained that having an established online MBA didn't make the pandemic "easy" but certainly "easier".
The iMBA goes from strength to strength, growing from 114 students in their first intake to more than 5,400 by 2021.  
Dean Brown, a former senior economist at the White House Council of Economic Advisors, has a PhD in economics from MIT and a master's of public policy from Harvard University.
We talked to Dean Brown about some of the most pressing topics in graduate management education including the differences between online and  residential MBA programmes for both students and faculty and the disruptive potential of both education technology and "stackable" micro-credentials:
Tell us about your experience of the pandemic.
"I've been accused of knowing the pandemic was coming, which wasn't true, but we'd made the move online and we closed the residential MBAs and I'd also taken out an insurance policy against the risks of a pandemic. By the time the pandemic came along, we had four years of experience teaching at scale in a fully online classroom and we knew there were things that worked and things that didn't. What we knew didn't work was taking your face-to-face class and just teaching this online.
Understandably, a lot of schools didn't have the time to prepare but this is why many schools had a bad experience of teaching during the pandemic. To me, this approach is like if Hollywood just stuck a camera in the back of a theatre when there was a live stage performance, rather than telling the story their own way.
"What Hollywood has learned to do is to make use of the tools available to bring movies alive on screen. You can tell the same story on stage or in the studio but you have to play to the strengths of the medium."
What factors should students take into account when choosing between an online and a residential MBA programme?
"Though we are no longer offering a residential MBA programme, I do think there is a set of students for whom residential programmes make sense. The profile of our students differs between residential and online and that's important to understand. In the online world, our students tend to have much more work experience. They are also likely to be at a point in their lives when leaving their careers for two years, moving across the world or across the country is just not feasible. Many of them are doing well professionally and they want to accelerate their careers, not change their careers. They've often got busy family lives that they need to work around and we designed our iMBA specifically to be flexible and accessible so that people can study from anywhere in the world. They can watch the non-synchronous part of the material at a time that is convenient for them and we offer the live sessions at multiple times of day. We've really gone overboard to allow this programme to fit around people's lives and that also has some pedagogical advantages. We hear stories all of the time where someone will do their live session on a Thursday and they go to work on a Friday and apply what they learned the night before.
"If you look at a typical profile of an MBA candidate, they may have three years of work experience, they're in their mid to late 20s and are looking to make a career change. Perhaps they're working in real estate but they want to make a change and go into management consultancy and an MBA is among the ways for them to step out of the workforce and rededicate themselves to a new direction so they can complete the necessary work experience and internships to break into that field. The choice is a set of trade-offs and I think it really depends what people are looking for and where they are in their careers.
"When we launched our iMBA, a lot of people predicted that we wouldn't be able to create the kind of networking opportunities that are so valuable and our students have proven that wrong. They've created a phenomenal network but it is different. They are now engaging primarily in a virtual format. With the scale that we're operating at, there are very few major employers who don't have employees in our programme so we have lots of stories of students who've said that they really want to work for a major organisation, say Microsoft, and they've then found they've got classmates who work for Microsoft.
One of the advantages of the online programme relative to a full-time residential programme is that they're not former employees, they're actually working for Microsoft today.
"We also offer the traditional routes as well, such as bringing in guest speakers into the online space. But our students are generally mid-late thirties and they're not looking at a career change but to grow in their current role so there's less demand than in some traditional programmes."
Did you make any changes to entry requirements when you switched from a residential programme to an online programme?
"It depends on which metrics you look at. Work experience is always something which has been highly-valued in MBA programmes and in this aspect we blow our old metrics away. We now have on average 12 or 13 years of work experience, whereas in the old days we might have had an average of three years. This is enormously valuable to us. We believe that when you have this much work experience then test scores are not very informative. For people with these levels of work experience we don't require any standardised tests so we can't really compare them to what they were before, apart from the select few younger people who don't have the work experience yet and those scores are high but the numbers are small so they're not really comparable."
What changes did you make to your faculty when you launched the online iMBA?
"Our faculty love teaching on the online programme, partly because of the richness in the experience and conversation that comes out because people have so much work and life experience to draw from. Since the move online, we have grown our faculty numbers considerably, from around 140 to over 200 in the last six or seven years, which is a pretty phenomenal rate of growth. We don't have separate faculty for teaching online and in person.  I wouldn't say there was that much change to the type of faculty but the move online has required us to grow to meet the teaching requirements of such a large programme."
Are there specific skills that differ between how you teach online and how you teach in person?
"Lots of faculty think they have a preference but after they have experienced both their preference might be different from what they originally thought. One of the biggest factors is how comfortable a faculty member is leading a team, rather than being a sole operator. In a traditional classroom, an experienced teacher can just walk into that room as they have for many years and they don't need to co-ordinate with anyone else. When you're doing it in the online setting, there's a team. There are designers and videographers helping you to figure out how we can best communicate your learning objective: Does this topic work better for a recorded session or a live session? How can we approach grading and assessments and feedback in the online setting vs a residential setting? It takes a faculty member who is willing to be part of a team to take feedback and advice and hear ideas. Those who do best are the ones who are creative and like to be challenged and try new things. There's a personality trait there, an openness to new experiences that correlates to success in the online classroom."
Has the growth in diversity led you to make any changes to the iMBA content?
"As with any academic programme, at the college level we think about which set of courses to offer, but we defer to the faculty member leading the course for the content. I don't direct a faculty member in exactly what they teach but what I hear is that there is the demand, the desire and the openness to a much broader set of international case studies and examples. It used to be that people would primarily draw on US content if their students were primarily from the US. When we taught on graduate programmes, people would try to appeal to that audience by teaching more about China but now if there's an interesting thing going on in corporate governance or leadership anywhere in the world then there's a good chance that you have someone on the course who knows a little bit about that so I think diversity has both created a desire for more diversity in course content and made it work better in the classroom."
What do you think about the relationship between MBA cost and MBA quality and the extent to which online programmes are disrupting this?
"I like to say that we're offering a Tesla for the price of a Kia. We are providing an exceptionally high quality education and from the quality of the teaching, the quality of the faculty, the quality of the videography that we have then I would put our programme up against any in the world and that includes the schools that have traditionally elite residential programmes that have now moved online. Our programme is every bit as good and in many cases better. The difference is that we charge less than $US23,000 for the whole degree and most of these other places charge high five or low six figures to get that degree. This was very intentional on our part. We are a land grant institution, which in the US goes back to the mid-19th century where the idea was that they were trying to create access to affordable, practical education and we're one of the flagship land grant institutions to so it's very consistent with our mission to try to break down those barriers and that was really our intent. Our pricing model was not about profit maximisation, it was about mission maximisation. We could make a lot more money on this programme if it was more highly priced but that's not what we did it for."
What do you think is the next level of innovation which we'll see in online teaching and learning?
"We are making investments in technology precisely to try to stay out in front. It is hard to predict the future but I think it's clear that today's version of online is not going to be the version of online in 20 years. I think that artificial intelligence (AI) is going to assist in lots of ways, probably starting off with helping with grading and tutoring. Eventually, I can imagine AI being used in much more substantial ways. For example, this 'digital twin' or 'deep fake' technology where I can record a video of you for an hour or two and from that it becomes possible to feed in a script to a computer and have a computer-generated version of you speak the words without you ever having said the words. That technology is getting really good so you can imagine that faculty members might eventually be able to teach in a language that they don't speak. We have several student project teams thinking about the metaverse and how you might create a more immersive classroom.
"For all the benefits of online learning, it has some disadvantages. After you sit behind a screen for eight hours, your eyes can be tired and that's partly because you feel like you need to be looking at the camera or the person on the screen. When you're in a live meeting, you don't do that, you look around. I think that fatigue with sitting behind a monitor is real but I think technology will be able to solve that. I think it'll give us a more immersive experience.
"It's not so much that we're trying to invent the technology but we're trying to constantly scan the horizon to see what technology is out there and how it might solve problems for us."
Are you offering micro-credentials and what difference do you think micro-credentials are making to the way people research, assess and select traditional business programmes?
"Since we launched the iMBA in 2016, we've also since launched two more online degrees. We have an online master's in accounting and then during the pandemic we launched an online master's of management, which is essentially about half the length of an MBA. They're both growing rapidly and we're now taking the next step to break these down into smaller bites so someone can get a for-credit, transcript-able certificate in a particular area, such as accounting and finance or leadership. It's largely the same course content but you don't need to take an entire degree and for some people that will be enough. We're offering these graduate certificates which can then be stacked into a degree.
"The first students studying these graduate certificates are starting in the autumn so we will know more once we see how many people are actually using them. We think there's going to be a very large market for the stand-alone certificates in particular areas. There's going to be a number of people who do the shorter courses, perhaps make a lot of new contacts, and decide they should keep going to complete a full programme. In the extreme, you could study one of our non-credit MOOC courses and decide 'I really like that professor', maybe I'll take that course for credit and then take two more to a graduate certificate. We think this is going to become an important funnel or onboarding into our degree programmes but we are also really excited about the fact that there are a lot of people who don't need or want a degree who we're still going to be able to serve as students and learners of these programmes. We actually think there's going to be huge growth there but time will tell."