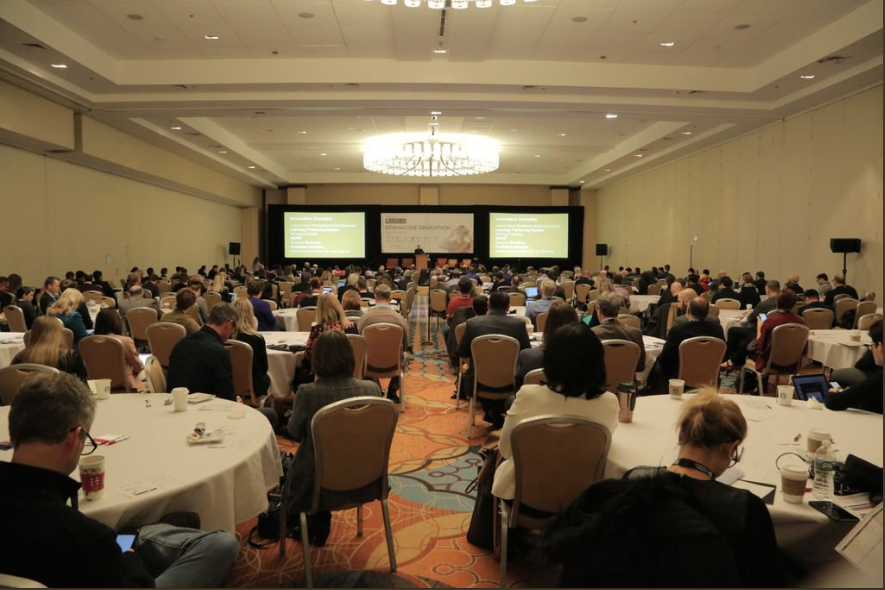 Educators are under more pressure than ever to come up with creative ways to improve education.
We recognize efforts to innovate education at the Wharton-QS STARS Reimagine Education Awards & Conference event every year. This year, we received more than 1,000 applications. Prize money was doubled from last year, and 120 applications made the shortlist. The event featured 50 speakers and sponsors, and 17 category winners. Each category winner received $5,000 in Amazon Web Services (AWS) credits.
2018 Overall Winners
[fusion_youtube id="aPrjihr9YdM" alignment="center" width="" height="" autoplay="false" api_params="" hide_on_mobile="small-visibility,medium-visibility,large-visibility" class=""][/fusion_youtube]
The big winners from the event are impressive. The National Institute for the Deaf in Brazil, won the $100,000 ($50,000 in cash and $50,000 in AWS credits) award for its hybrid course project. It aims to train teachers in the bilingual perspective (Brazilian sign language/Portuguese language), considering linguistic and cultural particularities of deaf people. The online courses are aimed at undoing some of the challenges deaf students in Brazil are faced with when going to school.
Using the online platform allows students to personalize their education. It also uses methods that are more conducive to learning as a deaf person. For example, a mental map allows students to use visuals to understand concepts.
Lab4U, which transforms mobile devices into scientific instruments, enabling students to have a "lab in their pockets," won the Reimagine Education Overall Edtech Award. Basically, teachers and students can fire up the Lab4U app to discover experiments that can be conducted using their smartphones. The idea was born out of necessity when Komal Dadlani, a co-founder, recognized the need for equipment to study science in her native Chile.
"We want to give every student the opportunity to experiment, so they can be the change makers of tomorrow," she says. "At Lab4U, we want to democratize science and change the way science is taught."
The Reimagine Education Enterprise Overall Award honors the most innovative early-stage project. Stu Brew, a sustainable microbrewery run by and for students at Newcastle University, was the winner in this category. It also snagged silver for sustainability. The brewery is a 2.5 barrel facility and a 20L experimental kit for recipe design and small-scale brews.
"Set up with sustainability at heart, hops are grown on student allotments and the brewing process uses a hot water recovery system to make the process more energy efficient," according to Stu Brew's website. "We send spent malt to a local farmer for use as animal feed and hop residue gets composted on the allotments."
Stu Brew's products are sold to on-campus and nearby venues. All sales and profits are re-invested in the business. The company partners with the university's School of Engineering. Having an established business provides students an opportunity to test their business skills in the safe haven of their campus. At the same time, they can also experiment with a social enterprise.
Previous Winners
While the most recent winners are awe-inspiring, the previous winners have demonstrated endurance. PaGamO, a 2014 winner out of National Taiwan University, is a MOOC that "gamifies the classroom" by placing students in a virtual world with territory to be conquered, but only if you have the right answers. Another previous winner, Osmosis, is a web and mobile learning platform to help medical students retain more knowledge. A 2016 winner, Labster's LabBuilder allows science teachers and students to create 3D virtual lab simulations to test hypotheses and conduct experiments. All three are dynamic and still achieving great success today.
Bringing Together Educators
What makes the Reimagine event special is the chance to discuss key developments in education, across a wide spectrum. In fact, we bring together K-12 and higher education forces, which are generally strange bedfellows. But serving as a bridge between them can help them unite and recognize similar goals. Ultimately, they both want to teach the future generation.
The evolution of education is driven by technology. Topics that highlighted the event include artificial intelligence, virtual/augmented reality, personalized learning platforms, digitized educational platforms, alternative university models, and robotics. These advances are slowly integrating into numerous industries, and education is no exception. Indeed, the next generation of learners is unlikely to recognize what we know as the traditional delivery of knowledge.
Speakers at the event enlightened the public about both the application and limitation of technology in education. William Deresiewicz, former Yale professor and bestselling author, warned delegates during the "Role of the Educator" panel. He said technology should not be considered a panacea for education's challenges, nor should it replace investment in higher education.
On the other hand, Jonathan Rochelle of Google shared what the company is doing to apply its intellectual property to education. And Andrew Ko of Amazon Web Services offered moving personal testimony about his motivation to help a tech giant, such as Amazon, to discover the intersections between its business and education.
Of course, we also learned the use of these different technologies is greatly influenced by geography and the mission of the institution utilizing it. While innovation is happening at lightning speed, calculation of its effectiveness in education is hardly occurring. In the future, we'd like to encourage experimentation and data collection to determine effectiveness and better innovate.
Follow the link below to learn more about submitting an application for next year.