We are so excited to let you know that this year's Reimagine Education Awards and Conference is taking place in December in the beautiful city of Philadelphia, PA. In this blog, we will be sharing with you why we, at QS, are proud to be hosts of the Wharton-QS Stars Reimagine Education Awards event, as well as why this event is significant to the entire higher-ed industry and how you can attend it if you are interested.
What is Reimagine Education?
Supported by Google, IBM, Microsoft, Cisco, Education Dive and many others, Reimagine Education is an initiative that aims to acknowledge and reward those most successful in creating transformational educational initiatives, enhancing student learning outcomes and/or employability.
Each year, over 1000 educational innovators from all over the world submit their projects into our 16 Award Categories to participate in our Reimagine competition.
The overall winner receives US$ 100,000 in total funding, in the form of $50,000 in cash and $50,000 in Amazon Web Services (AWS) credits. The latter prize is provided in association with our Gold Tech Sponsor, Amazon Web Services.
This year will mark the fourth annual Reimagine Education awards following the launch of QS' partnership with the Wharton School at the University of Pennsylvania in 2014.
The Reimagine Education Awards not only highlights excellence in the industry but essentially initiates a global conference for groups and individuals to share their thoughts and ideas towards enhancing the future of education.
Our Speakers
There will be over 30 guest speakers at this year's Awards and Conference. Here are a few examples of who you can expect to hear from next week: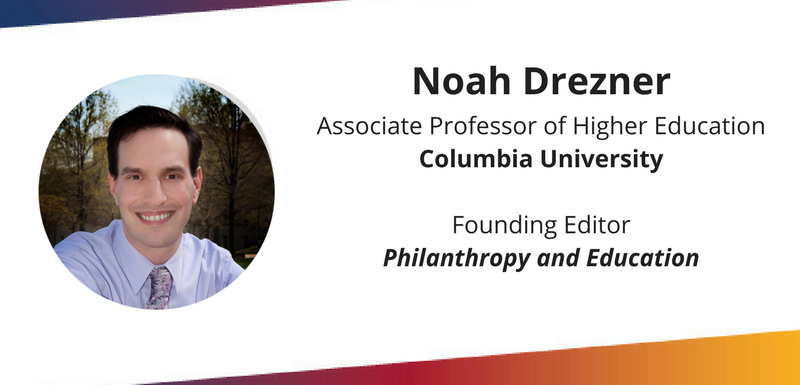 In 2015, Noah was awarded the John Grenzbach Award for Outstanding Research in Philanthropy for Educational Advancement.
The founder of journal Philanthropy & Education highlights the importance of Philanthropy in this year's 1st edition.
He went on to say: "The study of how philanthropy shapes education is an emerging field of increasing importance and having a dedicated, peer-reviewed journal will advance our understanding of crucial issues''.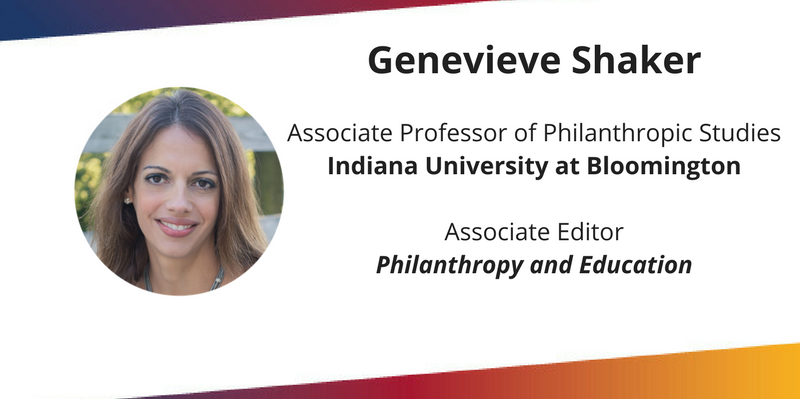 Genevieve has a Ph.D. from Indiana University (Bloomington) in Higher Education Administration. She has gone on to publish 15 industry-related books and journals, picking up numerous honors and awards along the way, most recently with the 'Society of Professors of Education Outstanding Book Honorable Mention' in 2017.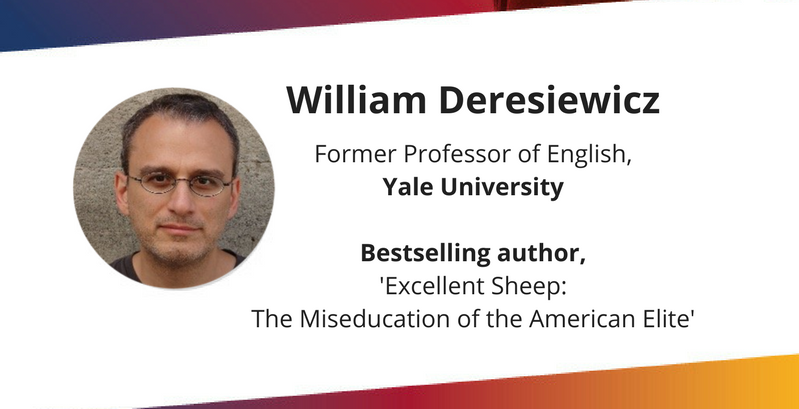 As a writer, William has been nominated for, and won, numerous awards including the National Book Critics Circle in 2012.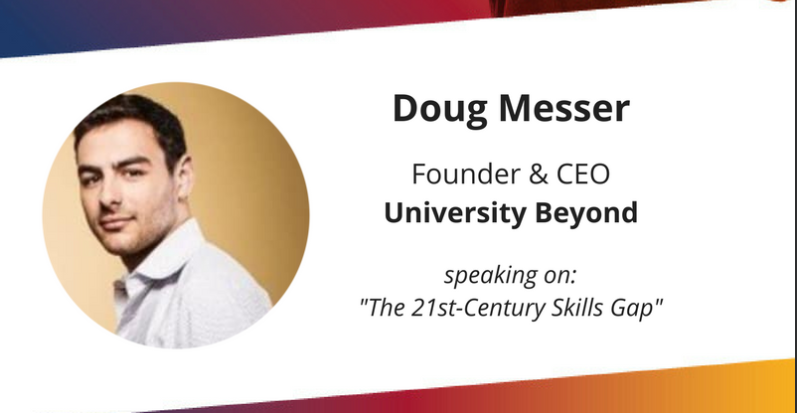 Founder of University Beyond, 22-year-old entrepreneur, Doug Messer is now working on his second higher-education focused business venture.
Our Awards
Entrants can submit their projects at no cost, and chose from a selection of 16 awards best suited to their respective proposal. They range from E-learning to Ethical Leadership.
One of those 16 coveted awards, include Reimagine Education's Nurturing Employability award. The winner's project will have demonstrated a clear link between their overall approach and improvement in employability.
Sustainability will, of course, always be of paramount importance in higher education, and Reimagine Education will be giving this award to the project that has best demonstrated their ability to enhance institutional sustainability.
In addition to commending projects that have addressed practical issues, innovative work online will also be in the spotlight.  The award for Digital Content will be presented to a web or mobile learning platform that has presented a coherent, yet innovative, framework to support students online. Similar to the other awards on offer, the winning project will be able to demonstrate a direct correlation between their activity and improvements in learning and employability.
The overall winner of this year's Wharton-QS Stars Reimagine Education Award, will receive $100,000 in total funding. The basis of this will be a $50,000 cash reward and $50,000 in the form of Amazon Web Service (AWS) credits.
How to attend the event
There are multiple options and offers if you are interested in attending this event.
QS have also provided a 30% discount code, valid for purchase of the following:
-2-day pass including Gala Dinner ($900 face value)
-2-day pass excluding Gala Dinner ($750 face value)
Sign up today and be a part of this unmissable event.
Use our promo code QSBLOG through the link shown above.
What to expect
An inciteful and rewarding day non-like any other in the educational sector will be sandwiched in between networking opportunities to start and end both days. This will provide an opportunity for attendees to elaborate on their respective projects and share innovative ideas moving forward with advancements in higher education.
Each of the 16 awards has been given a specific timeslot on Monday 4th. This will help provide analysis of their respective topic, related projects associated with each award and the announcements for the winner of each category. The day's presentations will be broken up by debates and interactive discussions.
On Tuesday 5th, our experts will be providing a detailed analysis of innovations and methods for improving higher education in their chosen field. Just a handful of some intriguing topics to feature include Machine Learning, Government Policies on the Future of Education, AI and Accelerating Innovation. The day will again provide the opportunity to partake in interactive workshops and conclude with the Gala Dinner and Reimagine Education's Grand Finale.  
If you wish to look through the event schedule in more detail, click here.
To learn more about Reimagine Education, take a further look at their website. Alternatively, keep up with their updates in the lead up to the event and other examples of exciting news, by following their Twitter account.