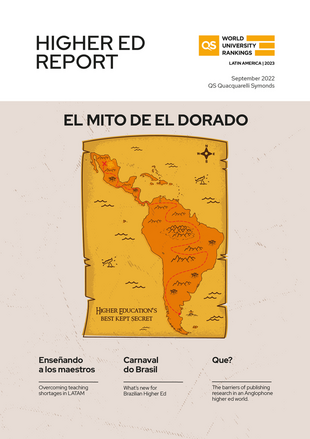 Complete the short form to download your copy of the 2023 QS World University Rankings: Latin America Higher Ed Report.
The report features:
El Mito de El Dorado: Looking into global higher ed's best kept secret, Latin American stakeholders discuss the challenges and opportunities for those looking to engage with the region
Carnaval do Brasil: A deep dive into the higher education system of Brazil in the lead up to the 2022 QS Higher Ed Summit: Americas in Vila Velha
¿Que?: How does publishing research in a language other than English impact outcomes?
Enseñando a los maestros: Latin American students' interest in studying education and teacher training is waning. How can stakeholders teach the teachers?
The 21st Century Student: A look back at some of the skills Latin American students need to future-proof their careers.
Essays: Perspectives from leaders in the region and abroad
Rankings: A full overview of the results from the 2023 QS World University Rankings: Latin America
Fill out the short form to receive your free copy.