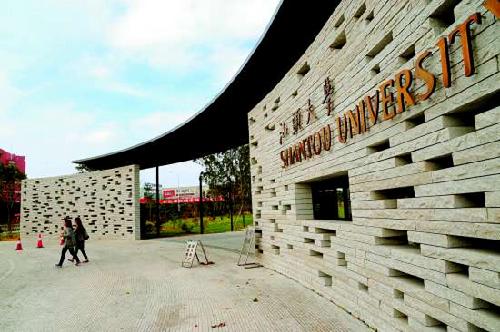 Between 24-26th December, Dr. Christina Yan Zhang, China Director of QS Intelligence Unit was invited to visit Shantou University, the only university funded by Sir Li Ka-shing, the richest  person in Asia( based on 2014 Bloomberg Billionaires Index), with a net worth of $31.9 billion.
?Sir Li Ka-Shing spoke at the annual graduation ceremony of Shantou University?
Here is an update of her visit.
I have envisaged many times in dreams to visit Shantou University. When I actually visited it, I would certainly say it is far beyond any expectation, although in a different way.
I have been a big fan of Sir Li Ka-shing since the first time I read about his story, but not by how successful he is as a business leader, but by all the great virtues he has demonstrated throughout his career as a kind and humble man. I got to know Shantou University when I was watching a documentary of Li, when 1/4 of the documentary was talking about the tremendous efforts made by all stakeholders to create Shantou University in 1981 and develop it into one of the most enterprising and emerging university in Shantou, a less-well developed coastal area of Southeast China.
Shantou was one of the original Special Economic Zones of the People's Republic of China established in 1981, but did not blossom in the same manner that cities such as Shenzhen, Xiamen and Zhuhai did.  I guess when Shantou University was first created, Li Ka-Shing would expect Shantou University to seize the great opportunity of the newly established Special Economic Zone and develop quickly. However, the overall economic development in Shantou has not been that quick as expected. This also impact on the development of the university.
(A picture of Shantou Special Economic Zone)
But this does not seem to stop people work in Shantou University to pursuit their dream to be a great university to support the local economy while aim high internationally. Throughout my three days visit in Shantou, I could feel strongly the extraordinary level of efforts and great commitment everyone in the University has made to strive for the best possible results for the university as a whole.
For example, the student who picked me up from the airport told me that all his lecturers were very friendly, they were always available to have one to one discussion with the students after lectures,  and even often took turns to invite these Masters students for home-cooked meals. This does make him feel very appreciated and close to his lecturers and the university. Another example which impress me is that when Prof. Lv Yuan, Dean of Business School, Shantou University was communicating with me on this planned trip, he sent me 153 pages of the Annual Report of Shantou University, as well as all the key documents of their university to help me to better understand the needs of the university before the visit. It takes me a proper one week to read through all the documents to have a holistic and in-depth understanding of the university' past, present and future, but it does help me a lot in preparing my presentation to the senior leadership team of Shantou University. I have visited most of the Chinese top universities which are included in QS World University Rankings in 2014, Shantou University is the only one who send me so many preparation documents before the visit. Another interesting case was a recent graduate of Shantou University who I met during my first day at Shantou University. To help provide a more relaxing atmosphere for all the students and faculty on campus, he chose to open a campus pub as one of his start-up companies after graduation. When asked about the reasons, he told me that one of the reasons is because he had enjoyed a superb experience studying at Shantou University, and therefore he would like to help existing students here to have a better experience than him!
?The 153 paged Annual Report of Shantou University which I was given by Prof. Lv Yuan, Dean of Business School, Shantou University?
I gave two presentations in Shantou University, one to the whole faculty of Shantou University Business School which was attended by more than 15 faculty members. I gave a presentation to them on their  international strategy, the QS Global 200 Business Schools Report and opportunities for collaborations. I also gave another presentation to the senior management team of Shantou University, led by Prof. Gu Peihua, the Vice Chancellor, and Prof. Dan-ming Lin Vice President of the Shantou University. Most Deans of different faculty was present to hear my presentation. I talked about various QS World Universities Rankings methodologies and their impact globally.  For both presentations, I usually talked about for 1 hour, after which Q&A sessions are provided. I was very impressed by how interested all the senior leaders are towards QS rankings in general. For both meetings, they are supposed to last for 1.5 hours, but leaders in Shantou University had been so interested in QS that they asked me a lot of questions and we enjoyed a very interesting discussion on various topics of both sides. Both meeting overran-the business school meeting last for 2 hours, while the meeting with the university last for 2.5 hours.
(Dr. Christina Yan Zhang, China Director, QS Intelligence Unit presented QS World University Rankings to the senior leadership team of Shantou University, including Prof. Gu Peihua, the Vice Chancellor, and Prof. Dan-ming Lin Vice President of the Shantou University)
(Dr. Christina Yan Zhang, China Director, QS Intelligence Unit, talk to leaders of Shantou University Business School, led by Prof. Lv Yuan, Dean of Business School, Dr. Liao XueQuan, Director of International Office, Prof. Ou Yangfeng and other professors in the school)
We also briefly talked about the proposed $130 million joint venture with Israel's leading engineering university, the Technion, which would have a campus next to Shantou University, the largest single donation to Israel since the country was founded. This would certainly help to raise the profile of Shantou University internationally and strengthen their research, teaching, enterprises and all the key areas of their long term development.
After visiting Shantou University, I have to admit, I am quite optimistic about the future of Shantou University. This university might not be located in a top tier Chinese city, it has only a history of 33 years, but the students, faculty, alumni, leaders I have met all seem to be very passionate about making the university better and better and are committed to make it happen. With joint efforts, should the right opportunities becomes available, such a young but enterprising university would surely become a rising star soon.