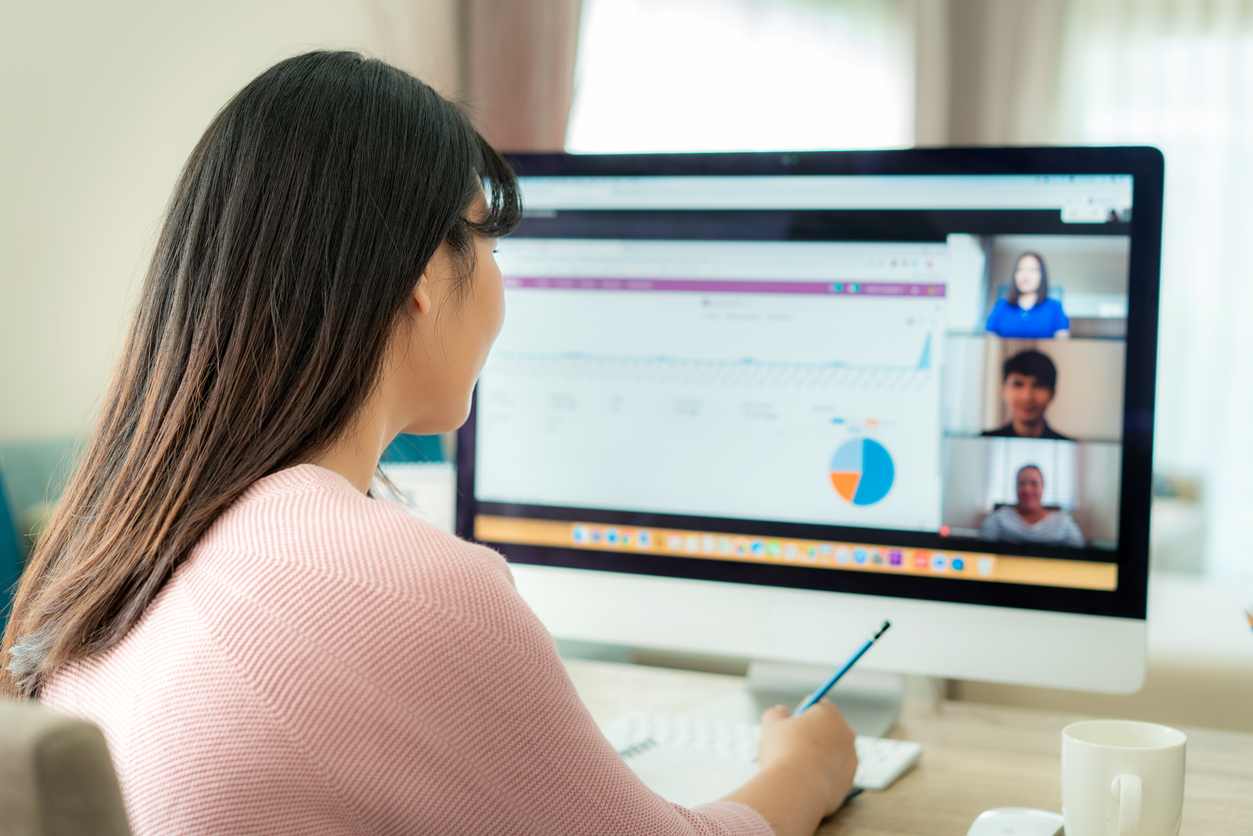 Wondering what institutions are doing to engage students at virtual student recruitment fairs? Discover the latest insights in our interview with Farzad Novin, Marketing Director for North America at QS. 
As academic life increasingly turns digital, with online classes, virtual campus visits, and video interviews becoming the norm, student recruitment events have been swift to follow suit.  
Here at QS, we have responded to the demand for connecting institutions with prospective students with a series of online student recruitment events in the wake of the global coronavirus crisis.  
In his role at QS North America, Marketing Director Farzad Novin is keenly focused on candidate recruitment for QS events around the world.  
We recently spoke to Farzad about how the QS online events have changed the traditional approach to engaging candidates, and what new challenges and opportunities institutions face with online student recruitment events. 
What are the biggest differences in recruiting students for online events versus in-person events?  
There are some key differences in promoting an online event compared to an in-person event. For one, the online events are more focused on connecting directly with the school representatives. There are fewer ancillary offerings, like networking with other candidates, getting a professional headshot, or any tangible giveaways to entice participation. 
The candidates must be made aware that there are fewer distractions, and that they will mainly focus on engagement with the participating school representatives. 
In addition, all the imagery and language that we use in our marketing has to be adjusted to best convey what the candidate should expect from an online event.  
The instructions need to be crystal clear, the tone needs to be sensitive to the current global situation and the stress that can arise as a result, and the images need to feel more timely (that is, reflecting the new remote world we're all facing right now).  
Like many others in these uncertain times, prospective students need answers to pressing questions related to their educational future. And they see these events as a great opportunity to hear directly from admissions professionals about their study options.  
What is the typical prospective student looking for when they sign up for an online fair or event?  
In the current climate, many of the candidates may be in a position of having lost (or are at risk of losing) their job; exploring their graduate degree options is a potential career reset or advancement move. 
Generally, a recruitment event's candidate is at one of two junctures in their professional or educational career: they could be coming up on the end of their undergraduate studies and evaluating a master's program, or they could be a young professional with a few years of work experience seeking to further their education. 
Those younger candidates may come from a multidisciplinary educational background or they've studied something they now realize they aren't as passionate about, or perhaps there aren't any job opportunities in that field.  
To these individuals, a master's degree is a second chance or reinvention of self. Those that are further along in their career may have hit a wall in their progression and feel they may be in a position where they could be more marketable if they acquired a more diverse skillset.  
Online event presenters have a difficult task in keeping students' attention, do you have any tips on how to keep students engaged online? 
Just be sure to bring your best self and be ready to present your programs with enthusiasm and excitement. But also, from the experiences we've had with our online events so far, we've learned that limiting the amount of time the school representatives present to the student is key; trying to engage with them in a meaningful dialogue is even more important. 
In addition, having a consultative approach is paramount in engaging and maintaining a good conversation. We always coach candidates to prepare smart questions to ask you, but you should also ask engaging questions about their educational and professional experiences and don't hesitate to get to know their personal and unique situation as well.  
Can you give some examples of best practices that you've seen from QS partner institutions? 
I think we're all at the early stages of learning how to best engage candidates at online events. But I had a chance to speak with half a dozen admissions professionals at one of QS' recent online events, and perhaps what they shared with me could be of value to other colleagues. 
One admissions officer emphasized that we are in a digital space and we need to have our multimedia game in place. So, make sure that you have engaging videos and digestible materials in PDF and other forms.  
Another good practice is having two representatives at the online event. One can speak to candidates and one can staff the chat room and answer some of the questions.  
In addition, my colleagues said that it's important to anticipate the competition and try to differentiate by highlighting your latest and greatest programs and plans. Some candidates may be in the exploratory phase, and what you have scheduled to roll out in 2021 may be just the right program for one of them. Talk about your online programs or what you hope to offer in the coming terms while emphasizing your traditional strength and the value of your on-site education. 
And most importantly, during these uncertain times, be ready to answer questions as to how your institution is adapting its admissions process and programs in response to coronavirus-related disruptions. 
What are the similarities between online and in-person events?    
There are more similarities than differences! You have the same types of candidates in pursuit of the same programs, so there is a good chance that the level of engagement is ultimately unchanged. The candidates are looking to make a connection, ask their questions, or maybe solidify their application with one of your programs. 
Instead of the candidates standing two feet apart from you and your booth, the online events allow for live visual presentations, conversations on camera, live chat functionality, instant link and material sharing, and more, so there's still a variety of ways to engage candidates.  
With our online events, there's also a dedicated QS team member who can help in navigating the system, provide all the necessary technical support, and ensure that all feedback is heard and acted upon. 
I would also add that admissions folks receive a full list of candidates for the entire event, sometimes participate in an online panel, and ultimately speak directly with candidates about their programs. Sound familiar?  
The intentions have not changed; educating and getting educated! One difference is that institutions can engage the connections immediately after the event, there's no flights to catch and no logistics to worry about. They can have their next conversation with students the following day and possibly convert them to enrollment faster. 
I would be remiss to not acknowledge that there is a key difference between meeting someone face-to-face versus online; the value of an in-person connection remains paramount. 
What should an institution look for when considering booking online recruitment events? 
Make sure that you engage experts with a proven track record in connecting students and schools at scale. Whichever event you choose to participate in, ensure that it can help you reach your immediate and long-term recruitment goals. Your event partner must have effective marketing in place to target and attract the right students for the unique needs of your institution.  
I also think that candidates' trust in the event organizer is key. Do students look to that company as a thought leader in the higher education space? Do they frequent their websites for information, tools, and resources?  
Ultimately, I also believe that institutions should find a partner organization that they feel comfortable working with over time and that will be highly adaptable as changes arise throughout this crisis, both good and bad. If there is anything that this pandemic has taught me, it's that you need to be nimble and adapt, not just in the next few months or years, but each day.