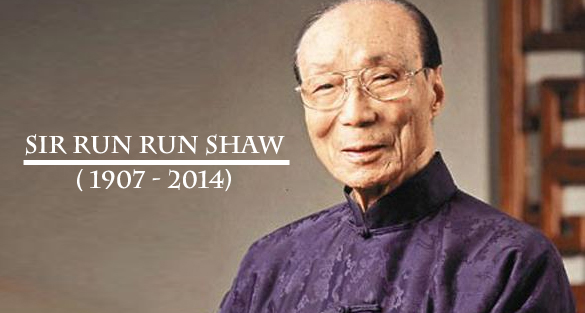 Sir Run Run Shaw, the Hong Kong media mogul died on 7th Jan 2013 at the age of 106. In the  48 hours after the news about his death, there were more than 500 pieces of news in English on the subject, and 3,500 in Chinese. Most western media associated the legacy of Sir Shaw with his success in the entertainment industry, especially his work in introducing Kung Fu movies to the west. But instead of adopting this approach, most of the Chinese media featured detailed discussion of his philanthropic activities in the education sector.
According to the official statement from the Ministry of Education of the People's Republic of China, Shaw has donated more than $ 4.75 billion HK dollars (370 million GBP) since 1985 to create more than 6013 education projects covering 31 provinces and cities throughout mainland China. This endowment, benefited tens of millions of students from primary school to university. If we also include the figure of his donation to the healthcare in mainland China, it is a staggering total of more than $ 10 billion HK Dollars (785 million GBP)
On 7th January 2013, a picture demonstrated the distribution of Sir Run Run Shaw Buildings around China become a media sensation in mainland China, it is said that a search for his name in Baidu map, the Chinese google, there are more than 30,000 education, hospital and research buildings in mainland China that are named after him. This picture was named by the Chinese netizens as the picture that "Touched the heart of China". On day after his death, there are more than 2.5 million results of weibo discussion on "The Sir Run Run Shaw Buildings" in Sina Weibo, the Chinese twitter. A current trend is for people to take photos of the lecture halls, and libraries donated by and named after Shaw, where they have spent years studying. The idea is to show their respect to this philanthropist, who is widely considered as PRC's greatest private contributor to the education sector ever.
What could the rest of the world learn from the role of Sir Run Run Shaw in his philanthropic activities in the education sector?
Figure 1:
A search for "Yifu", the Chinese name of Sir Run Run Shaw in Baidu, there are more than 30,000 results. A picture that is considered "Touched the Heart of China".Public-private Collaboration
The Sir Run Run Shaw Foundation will only consider fundraising proposal recommended by a selected pool of experts employed by the Ministry of Education in the PRC. Also higher education institutions which submit proposal for endowment are required to commit to fundraise three times the funds donated by the foundation. So once a university submits a proposal to the foundation, it will already have official backup from the municipal or provincial governments who will be committing to finance the rest of the project to make the submission eligible, or alternatively, the institutions themselves will need to finance the rest.
For example, in 1986, Sir Shaw donated HK$110 million to 11 Chinese universities. Each of those 11 Chinese universities either gets another HK$30 million from its municipal or provincial government, or manages to finance the rest itself.
Possible Actions for national policy makers:
A model, varying in detail from country to country,  could be developed between the public and the private sector to establish a joint partnership to finance the country's education sector;
Governments, and national organisations for the education sector, might consider a more open-minded and flexible approach to encourage private sector involvement in education endowment.
Lifelong, Comprehensive, Unbiased Endowment:
Universities are widely considered to be the phase of education with the biggest potential returns for individual venture capitalists, investors or entrepreneurs. The majority of fund receiving by the education sector goes to higher education, rather than to schools or further education.
However, further education has played a crucial role in the upgrading of some of society's most deprived communities. For example, it is a central part of the European Commission's life-long learning agenda.
In the case of Shaw, 80 per cent of his endowment went to schools, special schools and technical institutions, and only 20 per cent to universities.
Possible Actions for national policies makers:
HEFCE published a report entitled Philanthropy to UK Universities (the Pearce Report) in 2012. It sets the target of £2 billion a year in charitable gifts to UK universities by 2022.  The relevant national bodies could undertake a similar review process to boost schools and further education. . The recommendations of these reviews could be amalgamated to form a coherent UK national strategy for philanthropic endowment in education. Other nations could adopt the same approach.
Grassroots Endowment vs. Elite Endowment:
Traditionally, the higher a university ranks in a national or global university ranking, the more private and public funding it is likely to receive. This approach could help a country to focus most of the resources on creating world-class education institutions. But second or third tier education institutions with the potential to drive the local economy, create local jobs and bridge the gaps between different regions may not be attractive enough to private endowment.
Shaw gave funding to top Chinese universities, but also to more average ones. Some of these are at the bottom of the national league table, and have traditionally struggled to attract big donors. There is a building donated and named after Shaw in almost every university in mainland China.
Based on the online survey by Ifeng.com juts after Shaw's death, in which 85,344 people participated, in future 3, 63% of Chinese chose "the approximate 5bn HKD endowment to mainland China, where nearly every university has a building donated and named after Sir Shaw", as his greatest achievement, followed by only 16% who chose his contribution to the movie industry. As shown in Figure 2, Sir Run Run Shaw is most remembered as a Philanthropist (71%) in China, rather than a media guru (16%). 70% of Chinese think that there are no other Chinese entrepreneur whose achievement can be compared to Sir Run Run Shaw, according to figure 4.
Possible Actions for national policies makers:
Policies should be developed to encourage local business to participate in fundraising for local education institutions;
Central government might consider incentivising business (local, national or global) to provide funding to second tier or third tier education institutions. They could use relatively small amounts of funding to good effect.
Local versus Global Endowment
Shaw's  education endowment is managed through the Shaw Foundation Hong Kong Limited, the Sir Run Run Shaw Charitable Trust, and Shaw Prize Foundation Limited. It supports the local education of the Chinese in mainland China, and  through The Sir Run Run Shaw Scholarship Program for Graduate Studies, hundreds of Chinese and other Asian students have been supported to pursuit postgraduate study overseas in the US and UK, at universities including Harvard, Stanford, Cambridge and Oxford.
Possible Actions for national policy makers:
Could central government do more to encourage private sector to play a more active role in financing domestic students to study/work/volunteer overseas, especially in the world's most dynamic economies? The British economy needs to collaborate more with overseas emerging markets, especially with the BRICS, the ASEAN nations, and Africa and Latin America. This means that they need more employees who understand more about local markets overseas. It makes sense for the UK (or other western nations) to support their domestic students to have overseas experience in exchange for a few years employment with those companies.
Humanity Without Borders
When education institutions think about endowment, alumni fundraising is often their first thought. After all, why should one contribute to the development of an educational institution if one has never been educated there and benefited from this life-changing opportunity?
However, we also know that the sciences are without borders. The Brazilian Government "Sciences Without Borders" scholarship scheme is intended to send 101,000 Brazilian to study STEM subjects and the creative industries at top universities around the world.
Recognising that science knows no frontiers, when he was at his 90s, Shaw established the Shaw Prize, to recognise outstanding achievements in Astronomy, Life Science and Medicine, and Mathematical Sciences. While astronomers regularly receive the Nobel Prize for physics, and there is a Nobel prize for physiology and medicine, there is none for maths. Since its foundation of 2004, 54 leading scientists from around the world have received this prestigious prize, and seven of them later won the Nobel Prize. The total prize amounts to HK$240 million (£19 million). Due to its growing influence and prestige, the Shaw Prize has been nicknamed the Nobel of the East.
 Possible Actions for national policy makers:
When individual philanthropists consider to repaying society and educational institutions through education endowment, could they consider this principle of "Science Without Borders" and "Humanity without Borders?" They might set up a Nobel Prize or Shaw Prize- type award to support the advancement of human civilisation as a whole, rather than just the university or the country who cultivated them. What should national government and inter-governmental organisations do to encourage this approach? Tax relief already exists for most such donations in most nations.
One might object that most important disciplines are already covered by Nobel Prize and the Shaw Prize, and others such as the Kavli Prize. Well, there are six subject areas in the Nobel Prize and three overlapping areas of the Shaw Prize. The QS World University Ranking by Subject includes, 30 main disciplines which most top universities around the world offer. This leaves over 20 subjects that are waiting for the next Alfred Nobel or Sir Run Run Shaw to recognise.
Some of these subjects are hot topics for us all nowadays, including Environmental Science, Earth and Marine Science (the subject of the Vetlesen Prize), which helps to address global warming and pollution; and all the engineering and technology related subjects. We now appreciate that 3D printing, invented in 1984, only became global headline news in 2013, and other new subjects are emerging all the time. If a billionaire really wants to spare a few million dollars per year to help the world to become a better place collectively, finding the right discipline to award won't be that difficult.