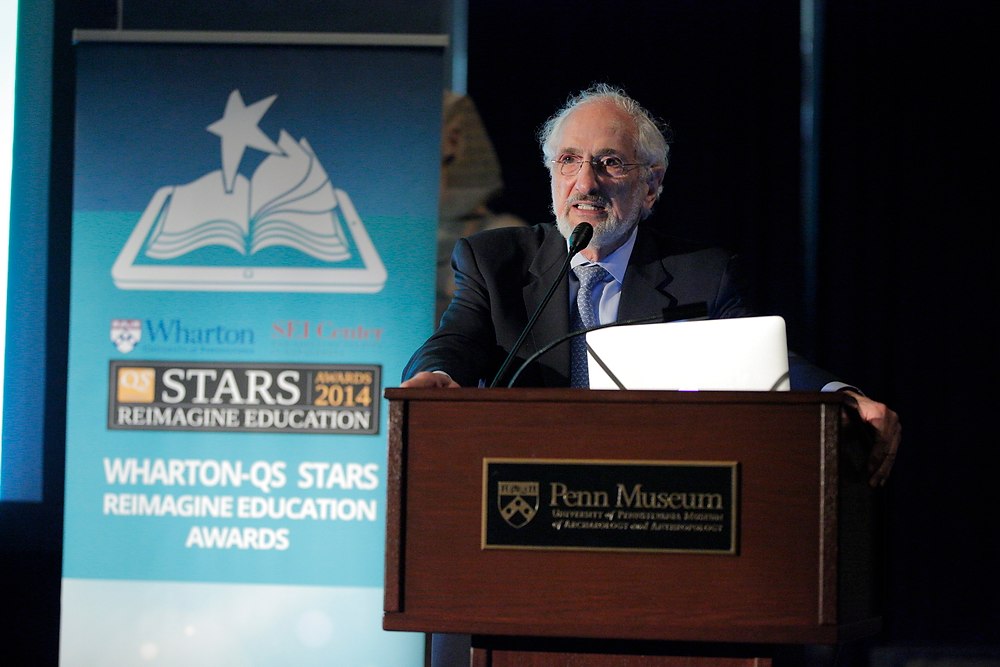 A social media platform that makes learning a game, and an animation system that brings scientific processes to life, are the world's most creative innovations in higher education. They were joint winners of the overall prize in the inaugural Reimagine Education competition, whose results were announced earlier this month at a packed conference in the Wharton School at the University of Pennsylvania. Among the speakers were a wealth of academic leaders from around the world, plus experts such as Daphne Koller, founder of Coursera, and Satya Nitta, master inventor at IBM.
Reimagine Education was designed by QS and the Wharton School's SEI Center to find and reward the most original forms of emerging higher education teaching. The competition brought in 427 completed entries from 43 countries, and was judged by a distinguished panel of academic and industry experts from around the world.
The winners received their awards at a celebratory dinner in the spectacular setting of the University's Museum of Archaeology and Anthropology. They are PaGamo, from the National University of Taiwan, and PhET Interactive Simulations, from the University of Colorado at Boulder.
PaGamo, claimed as the first-ever MOOC in Chinese, comes from National Taiwan University. It is a gaming platform for students: so far, so ordinary. But the players win territory by answering questions and solving problems. It can be adapted for any subject and has proved motivating for students across the world. Its flexibility was a specific requirement of the competition. A brilliant innovation that is not scalable for general use is not going to change the world, but PaGamo has already been used to teach maths in China and dentistry in the US, and a major US corporation has adapted it for internal training.
In the same inclusive spirit, PhET has delivered over 100 million simulations of mathematical, chemical, physical and biological processes to learners around the world, and in a range of languages. Running alphabetically from "Acid-Base Solutions" to "Wave on a string," by way of "Eating and Exercise" and "Glaciers," the simulations put a wealth of interactive material at the fingertip of any teacher or learner in the world, and at any level from elementary school to university. PhET is free, and has extensive sponsorship.
Although these winning entries were both from the world of e-learning, Reimagine Education looked at a full range of pedagogies, including presence learning as well as blended methods using both presence and distance approaches. There were also awards for top innovations from individual subject areas and from all regions of the world.
The full results of Reimagine Education for 2014 are now online at www.reimagine-education.com. We hope you'll have a look at the wealth of educational ideas there.
More importantly, we hope you will think about entering Reimagine Education in 2015. Entries will be welcomed from the (northern hemisphere) spring onwards, and we intend to hold the second Reimagine Education conference in December 2015.