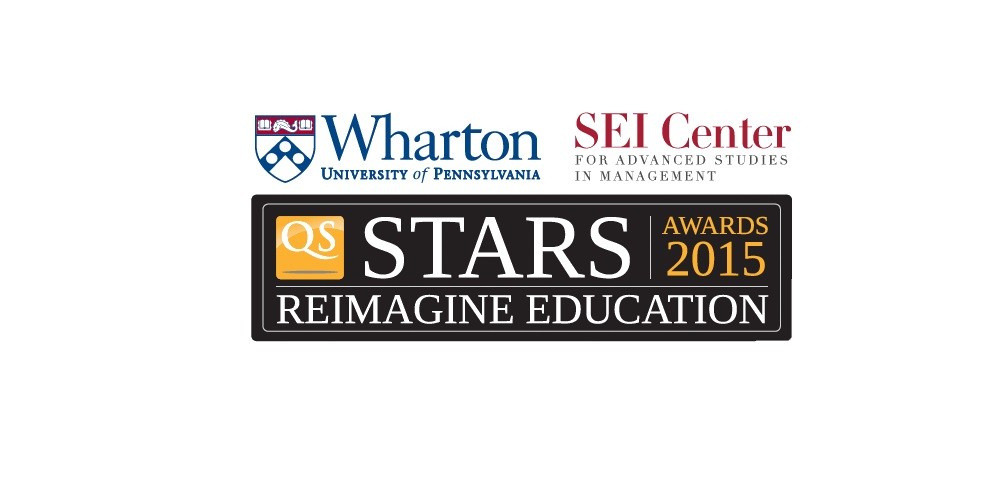 Today sees the culmination of the 2nd annual Wharton-QS Stars Reimagine Education conference 2015, taking place in Philadelphia. Billed as the 'Oscars for Higher Education,' this global competition seeks to identify the most innovative pedagogies that will enhance learning and/or improve the employability of higher education students around the world.
Reimagine Education is an event for all forms of innovators, whether they are professors, companies or individuals; all that is required is a great idea that looks to change the world through higher education.
Last night, the awards ceremony awarded some of the world's most innovative new projects designed to improve pedagogy and/or employability, with the overall winner receiving a US$50,000 prize.
The Wharton-QS Stars Reimagine Education conference has brought some of the world's most influential educational figures, companies, and universities to Philadelphia. Over 300 delegates have congregated in the city to discuss innovation in higher education, consider ways to improve pedagogy and employability, and reward the best projects that fulfill these aims.
Reimagine Education conference 2015 details
The event has been hosted at three locations near the renowned University of Pennsylvania, and has taken place in partnership with the Wharton School – the business school of the same university. Other leading sponsors include the SEI Centre for Advanced Studies in Management and IELTS.
The event features guest speakers and competition judges from academia, university leaders and EdTech entrepreneurs. Among the attendees are: William Rankin, Director of Learning at Apple; Jaime Casap, Chief Education Evangelist at Google; Andrew S. Rosen, Chairman and CEO of Kaplan; Caroline Howard, Senior Editor at Forbes, and Sean Coughlan, Education Correspondent at BBC News.
See the full list of judges and speaker here: http://www.reimagine-education.com/the-judges
Over 150 projects were submitted this year, aiming to win prizes in fourteen highly-contested categories. The overall prize of US$50,000 was split between two winning entries: Osmosis and Kaizena. Ben Sowter, Director of the QS Intelligence Unit and one of this year's judges, said of Kaizena:
"Kaizena has revolutionized (or productized as they call it) feedback. The Kaizena system blends teacher and peer feedback, personalizes it, rationalizes it, lowers the burden of providing good feedback for the teacher and heightens the precision of received feedback for the student.
Not only that, but it enables both groups to track and analyze the nature of the feedback they are giving and receiving – enabling the teacher to modify their lessons if they find themselves giving too many students the same kind of feedback, and students to more quickly identify development areas.
And it's cool."
Of Osmosis, he says:
"Osmosis is an innovative platform which leverages the reality of varied learning styles to help "diffuse" medical knowledge into the minds of its users. Osmosis plugs into your class schedule and automatically recommends supporting materials, videos, flashcards, relevant papers and memory triggers through its online platforms and mobile apps to support and secure your learning. In short, it makes our doctors better, faster. And is already being used by tens of thousands of students. What could be more important than that?"
Why is Reimagine Education important?
For centuries the model of education has remained fairly static. There has always been a strong focus on teaching as opposed to learning, with teachers and professors often tasked with presenting lessons to rooms full of students based on curriculum requirements and in preparation for exams.
Reimagine Education tasks innovators in higher education with looking at learning from a different point of view, and with the incredible advances in technology in recent years, the structure of lessons and learning no longer need be standardised.
Jerry Wind, director at Wharton's SEI Center for Advanced Studies in Management, spoke on why the Reimagine Education program was initially introduced:
"Learning is the essence of education. The increased interest in learning is highly desirable and overdue. We were motivated to launch our global program — "Reimagine Education" — to understand more about all the initiatives being taken around the world to help innovate pedagogical approaches, particularly in higher education. We want to understand what people are doing out there."
Find out more about Reimagine Education 2015 and join the Twitter conversation with #ReimagineHEdu.