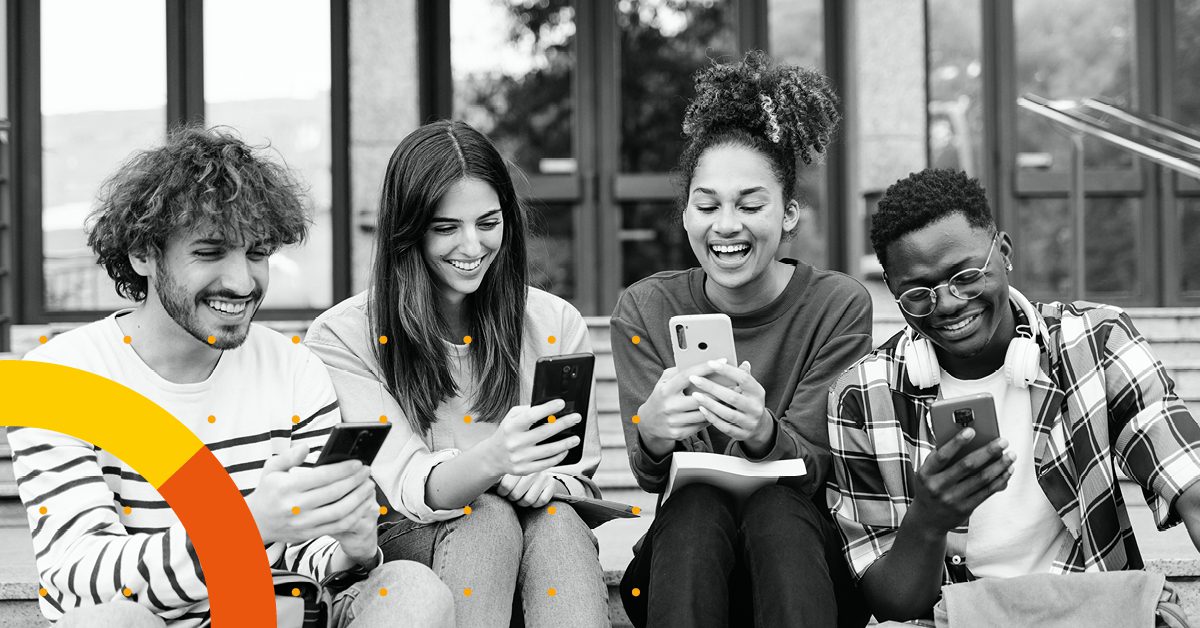 With so much potential for engagement and interaction with prospective students through social media channels, how can institutions decide where and when to invest their team's time and resources?  
We've analysed data from the latest QS International Student Survey – the world's largest survey of prospective international students – to understand the importance of social media channels in influencing choices in study destination and course. 
In addition, we've spoken to QS Social Media Manager Dannielle Noonan and QS Commerical Lead Kesh Patel for their expert views on where universities can have the most impact on social channels and which content is most likely to resonate.  
So, how important is social media in student decision-making relative to other tools and channels?
The results show that social media continues to play a vital role in study destination research for the majority of prospective international students: it's in the top five information sources for many major recruitment markets including India and China.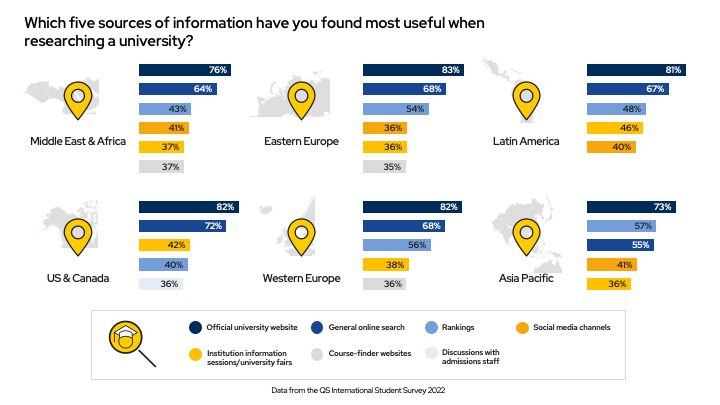 Prospective students from Western Europe, the US and Canada do not rate social media in their top five research tools. Instead, they place greater value on direct interaction and engagement with university staff, with 36% of North American respondents citing discussions with admissions teams and 36% of Western European respondents saying they valued information sessions from institutions and university fairs.  
How has social media platform choice evolved over the past five years?
As you might expect the popularity of Facebook as a research tool has declined significantly over the years, with 58% of prospective international students identifying it as a research tool in 2018, compared with 34% in 2022.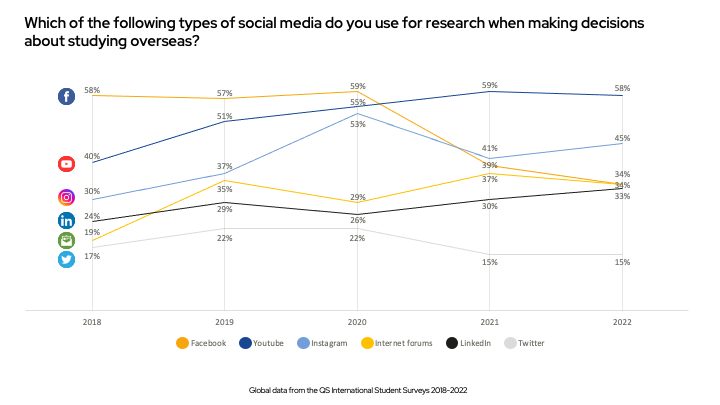 Conversely, reliance on YouTube as a research tool has increased throughout the years, with 58% of international prospective students using this channel in 2022. Engagement with Twitter has remained relatively stable over that time while Instagram has fluctuated more over this period with a high of 53%. 
QS Commercial Lead, Kesh Patel, gives his perspective on why YouTube is such a popular choice for prospective students: "For the higher education sector and student recruitment, young people today are looking for that authentic opinion from someone they trust. They want to see and imagine what it would be like on campus as a student. As it's not always possible to be there in person, YouTube provides the perfect alternative."  
Instagram is another major influence on student decision-making – whether future students watch reels to get insight on the best spots for students to study on campus, or tips on how to balance their studies more effectively, a growing number of institutions are turning to student influencers to raise brand awareness, increase engagement and connect with target audiences. 
"Universities that allow their students to take over their platforms on a regular basis will interact and engage with prospective students effectively," adds Kesh. "This approach works particularly well when the student is in the conversion phase of the applicant journey." 
In the US and Canada, prospective students are expanding their research methods – with 26% of respondents turning to the user-led discussion and news platform Reddit to help with their study choices, and 20% to TikTok.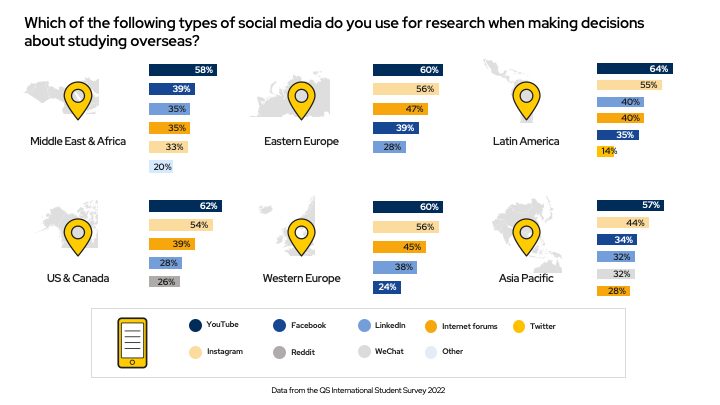 TikTok is also becoming an established channel for student engagement for many universities – with the University of Cambridge at nearly 100k followers, University of Sydney at 47.6k, University of Glasgow at 21.5k and Penn State University at 15.9k.    
Speaking on the rise of TikTok as a research tool, Dannielle Noonan, Social Media Manager at QS, said: "Short-form videos are key on all social media platforms. "While static images do have their place in an institution's social media strategy, they are less likely to be shown to your audience." 
Taking a closer look at leading markets for UK institutions, it will come as no surprise that 75% of prospective Chinese students prefer to conduct their research using WeChat – Weibo was their second top choice with 61% of responses.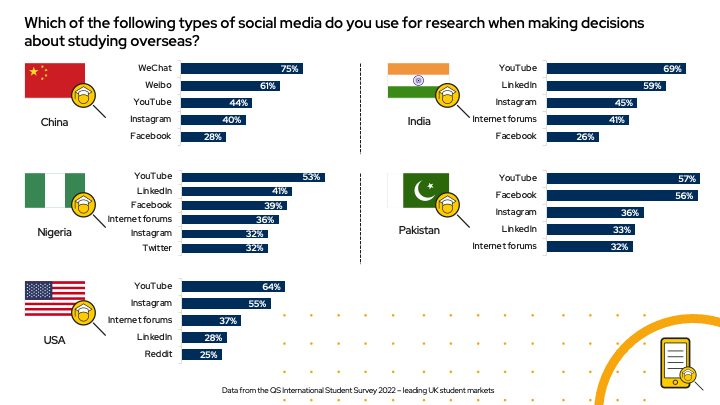 What are some of the most effective ways institutions can use social media for student recruitment?
Here are our top three tips for how universities can build meaningful relationships and engagement with prospective students on social channels: 
Create authentic content 
"Authentic content that captures the student voice and celebrates students' achievements is bound to resonate with both prospective and current students," explains Dannielle Noonan. 
According to social media analytics platform Rival IQ's 2022 Higher Education Social Media Engagement Report, Belmont University was recently one of the top trending universities on TikTok. The university accumulated more than 1.5 million views as a result of one particular video in which a first-year student showcased their move-in day – capturing enthusiastic moments with the university's resident life staff (out of hours and support and advice team). 
According to Rival IQ, Belmont University managed to build this engagement by "being genuine and fun, reminding colleges and universities that videos don't have to be highly produced to go viral." They continued, "Institutions earned tons of likes, comments, and shares on TikTok this year by handing the phone over to those living life on campus, who helped keep things young, fresh, and on-trend." 
Refine your social media campaigns 
Social media is an incredibly versatile student recruitment tool which can be used throughout the enquirer and applicant journey to attract, inform, convert, enrol and retain students. As a result, it's necessary to learn which platforms and formats your target students are most likely to engage with. According to Danielle, institutions "shouldn't be afraid to experiment with different formats like Instagram Reels, YouTube Shorts or whatever comes next, as social media algorithms generally prioritise accounts that embrace their platform's newest features." 
When it comes to the challenge of maintaining student engagement, Kesh adds: "One thing that I often see institutions overlook is retargeting. Institutions often spend considerable budgets on email campaigns and display advertising but often overlook reinforcing the message through retargeting activity on social media." 
Be highly responsive
"Our International Student Survey results tell us that students don't like to wait for a response to their enquiries and this applies to direct messaging on social media too," says Danielle, "so it's vital that your institution's social media accounts are responsive to comments and messages." 
While it's challenging for institutions to have the resources to remain active on every social channel at all times, it's important to keep a close eye on changes in student behaviour and changes in the social media landscape and be active on the channel which is most important to the students you want to engage and enrol.