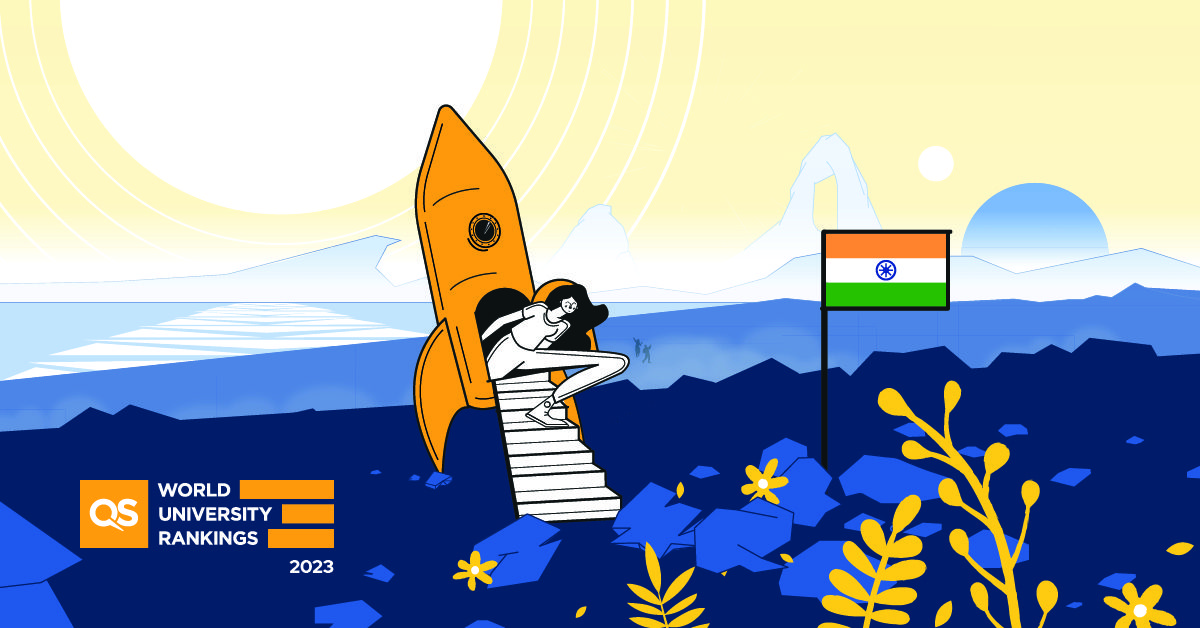 India is the best

–

improving location

in the 2023 QS World University Rankings. To find out why,

we spoke with

Professor

Suhas

S. Joshi, Director of the Indian Institute of Technology:

 
The 2023 QS World University Rankings (WUR) are now live – with India holding the title of the best improving location (for countries with more than 20 institutions). All Indian institutions from the top 500 managed to improve their rank, despite the challenges brought on by the coronavirus pandemic over the last two years.  
India has one of the largest higher education sectors in the world – with 1043 universities, 42343 colleges and 11779 stand-alone institutions – and is known for its outstanding expertise in science and technology. In 2020, the Government of India launched its National Education Policy, with the hopes of addressing some key issues that persisted within the sector. According to the policy, weaknesses in the country's higher education offering include its rigid separation of disciplines, limited access in socio-economically disadvantaged areas, limited teacher and institutional autonomy and lack of competitive, peer-reviewed research funding across disciplines.  
While it's difficult to know whether this policy, which "envisions a complete overhaul and re-energising of the higher education system", is yet to have an impact on the sector, it's clear that the performance of India's stand-out institutions is increasing year-on-year. The 2023 WUR saw Indian institutions performing well in a number of key indicators, with the Indian Institute of Science receiving a perfect score for Citations per faculty, the Indian Institute of Technology Delhi scoring an impressive 84.8 for Employer Outcomes, and the Indian Institute of Technology Bombay being awarded a staggering 86.5 for Employer Reputation. 
The Indian Institute of Technology Indore is a newcomer in this year's rankings – making it into the top 400 for the first time.
To understand a little more about how they achieved this success, we spoke with Professor Suhas S. Joshi, Director at the institution:
1. How does it feel to be featured in the 2023 QS World University Rankings?
 "We are very happy with our debut ranking as it indicates that we are emerging on the horizons of eminent technical institutes in India. This global recognition reflects how successful our research and academic processes are at having an impact on the outside world. With research being our focus area, our score has been exceptionally high on the citations per faculty. Improving research infrastructure is our top priority and we are working on this.  
We need to build on our academic reputation by strengthening our outreach drive and by ensuring that our research is relevant or meaningful to society. As far as Employer Reputation is concerned, it indicates how institutions prepare their students for successful careers and which institutions provide the most competent, innovative and effective graduates. In this context, we had extensive interactions with our students over the last few months. Several ways of strengthening our students' careers as well as their skills, culture and value system have emerged out of these discussions. We have instituted several ways of enhancing the students' learning experience by introducing Rural Immersion Programmes, Design Thinking & Entrepreneurship courses, Tinkerers labs and Maker Spaces, to create well-rounded students. Overall, we need to work to further improve upon these indicators."
2. In your opinion, what might the rising success of Indian institutions this year be attributed to?
"One of the core strengths of the Indian population is its never-ending drive to seek knowledge. India has been a home to the world's oldest universities that were the centre for higher education and cultural exchange in ancient times. Thus, Indian educational institutes have a rich heritage of research and learning.  
With modern learning, Indian Technological Universities (IITs) have adapted well to the changing environment – with more focus on research and development, as well as entrepreneurship and innovation. Besides their mathematical and analytical rigour, Indian Technological Universities are focusing on making their education relevant to the needs of the society. Overall, our education system prepares our graduates in technological as well as allied skills that propels them to be at the helm of affairs of major global companies."
3. The higher education sector in India faced significant challenges as a result of the coronavirus pandemic. What is your hope and predictions for how Indian institutions will recover post-pandemic?
"IITs have looked at the pandemic as an opportunity to focus more on research, innovation and 'out-of- the-box' thinking for helping the people tide over the pandemic. During the pandemic, a large number of COVID-19 related research projects were carried out at IIT Indore and the IIT community came together to assist the local administration and society in their relief work.  
All these are reflected in our education system too. The system adapted many new concepts such as projects-based assessment and learning, viva and discussions-based evaluation of courses, flipped classroom-based teaching, open book examination and so on. Whilst the students missed opportunities to work together in camaraderie, the pandemic could not prevent them from conducting online talks including TEDx, cultural, technical programmes and even online sports events. The moment pandemic permitted, the students were allowed to come back to the campus and pursue their studies, examinations, sports and other recreational activities offline in a physical mode."