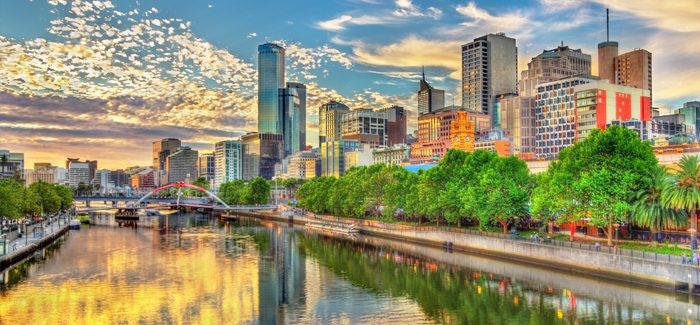 QS have today, 8th May, released the Best Student Cities Rankings for 2018.
This is the 5th edition and most extensive ranking set of its kind – with over 50,000 student responses. Our multifaceted analysis provides insight into the world's leading student cities and, in turn, represents a comprehensive overview unlike any other.
For the first time, since its formulation, London has emerged as the world's best student city. This meant that 2017's front-runner, Montreal, Canada, had to settle for 4th spot this time around.
Findings from this year's results
Tokyo has achieved their highest position since the Rankings were formed. They ranked 2nd overall and produced world-leading scores for Employer Activity and the second highest for Desirability
Both Germany and Australia can boast two of the world's top 10 student cities. Melbourne is joined by Sydney (9th, up 13 places), while Munich (6th, up from 9th) leapfrogs Berlin (7th, down from 6th) for the first time since 2015
US cities have experienced significantly lowered ranks amongst QS' Student Mix, Affordability, and Employer Activity indicators. 13 US cities are ranked. All but one have seen their rank for Student Mix drop. The same can be said for our Affordability indicator – 12 out of 13 have fallen. 9 of 13 see their rank for Employer Activity decline.
The above has led to no US entrants in the top 10 – Boston remains the nation's best student city but still fell from 8th to 13th this year
Top-10 table…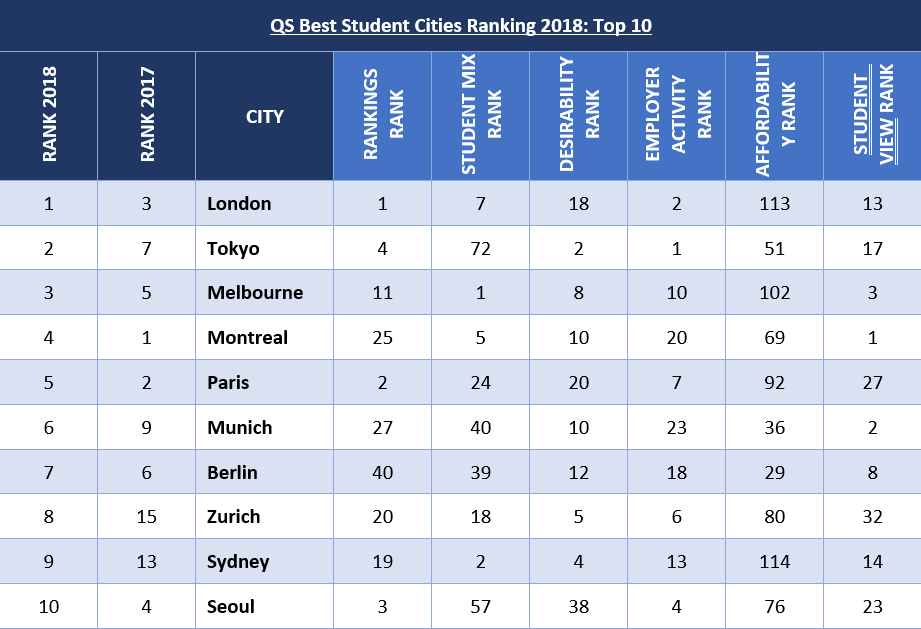 How are the rankings compiled? 
We have constructed our rankings using six, equally weighted indicators, each measuring different contributors towards student decisions and their higher education study destinations. They include:
Rankings (16.67%): A measurement of whether each city has a wide range of high-quality, globally-ranked institutions.
Student Mix (16.67%): A measure of whether international students are well-represented among the student population.
Desirability (16.67%): This indicator was built on the basis of whether students would want to study and live in the city. It was measured by fellow student survey respondent opinions as to whether they would wish to live there. It also considers if the city is clean, free from corruption and safe.
Employer Activity (16.67%): We considered whether the city's economic state would be likely to lead to employment after graduation. We also considered unemployment rates and whether employers regard graduates from the city's universities highly.
Affordability (16.67%): A measure of living and study costs in that particular city.
Student View (16.67%): We also looked at whether students enjoyed their time in their respective city. How many respondents expressed a desire to stay after graduation or, alternatively, more inclined to move away
The indicator groups above incorporate data from a range of publicly-available sources. They include the Economist's Liveability Index, the Numbeo Pollution Index, the Mercer Cost of Living Index, the Big Mac and iPad Indexes, and weighted data from the QS World University Rankings.
Take a look at the QS Best Student Cities Rankings 2018 table in full here