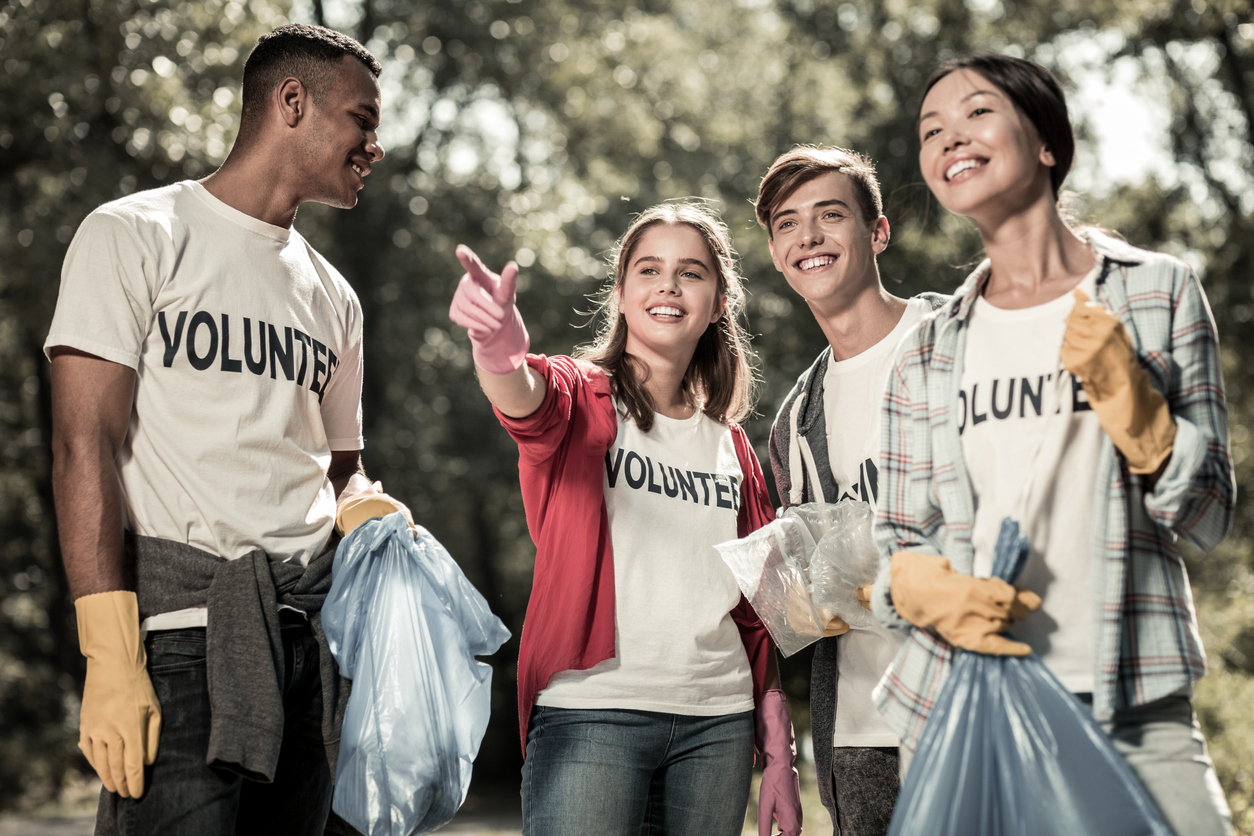 Volunteering can be an incredibly beneficial way for students to utilize their spare time at university. This blog explores why, and how your institution can encourage it.  
There are many reasons why a student should consider volunteering.  
In giving up their spare time to local and global community causes and projects, students can help to improve the lives of some of the most vulnerable members of society. 
Charities rely on the work of volunteers to function, and students who choose to assist can feel uplifted by the thought that they are keeping charitable projects afloat.  
So, what are the benefits of volunteering for your students?  
Skills development 
In addition to the philanthropy element of volunteering, it also provides a space to learn a variety of skills.  
Soft skills, such as communication, empathy, time management, and teamwork, are commonly gained through volunteering work.  
Volunteers are often put in unfamiliar scenarios; requiring them to learn new processes fast and problem solve under pressure. 
Bethany Maggs, a psychology and counselling graduate from Teesside University in Middlesbrough, UK, volunteered at Redcar and Cleveland Mind, whose mission statement is "to support the mental health and wellbeing of everyone in our local communities."   
Speaking on the skills learnt from her experience, Bethany said: "Through volunteering, I have learned that I can manage a caseload and push myself out of my comfort zone." 
Alongside the acquisition of new skills, Bethany also highlighted the positive impact volunteering can have on your studies; particularly if your subject area is related to the volunteering project.  
"I was able to better my understanding of what I was learning about in lectures, as experiencing clients who were suffering from mental health conditions is so different to just reading about them." 
For international students, volunteering is a great way to practice a new language and gain insights into the work culture of their host country. 
To discover more insights about graduate skills development in today's market, download a free copy of our report: The Global Skills Gap Report 2019.  
Social and career opportunities 
Volunteering can also help students make friends, socialize, and network. 
Nicholas Lindsay, a graduate from the University of Queensland in Australia, volunteered at the Oaktree Foundation. 
For Nicholas, a highlight of the experience was the relationships he formed. In particular, "the Queensland road trip team's growth and bonding as the road trip went on." 
Volunteering can also have a positive impact on a student's future employment prospects. 
Not only does it give students a better idea of what they might want to pursue as a career, it can also be incredibly attractive to future employers.  
Careers platform Reed highlighted how volunteering experience on a CV can help graduates get through to the interview stage of a job selection process, demonstrating a student's dedication to meaningful activities. 
While there are clearly many benefits to volunteering, students are unlikely to participate if these benefits aren't clear to them. 
Below are just a few of the ways your institution can encourage students to give up their spare time for a good cause.    
How to nurture volunteering in your students 
It's important that steps are proactively taken to demonstrate to students the many benefits of volunteering. 
Case studies are an excellent way of inspiring students to volunteer; acting as proof that it's likely to be a valuable and worthwhile experience.  
The UK Council for International Student Affairs has a practical guide for encouraging international students to volunteer, which validates the importance of one-to-one communication between student and volunteers.  
According to the survey, the most successful promotional method for recruiting volunteers is events (24%), such as orientation talks, welcome events, and international freshers' fairs. 
These events provide students with the opportunity to speak to volunteers in person, listen to their experiences, and hear the benefits first-hand.  
One respondent of the survey even asked their volunteers to "wear bright yellow t-shirts during events and orientation week, thereafter small yellow enamel logo badges" to ensure they stand out to students.  
Once convinced of the benefits, students will need to be directed to the options available to them.  
While there are many non-university led volunteering schemes that students can pursue, forming connections with local charities and projects will open up additional opportunities for students.   
Imperial College London has an A-Z guide dedicated to potential volunteering opportunities on their website. 
The website also directs students to campus societies such as Amnesty International and Activities for Children with Disabilities, both of which encourage volunteering as part of participation.  
To nurture volunteering, some universities have chosen to reward students for their efforts, such as Monash University in Australia who developed the MSA Rewards. 
Students who log a certain amount of volunteering hours receive these rewards, which "provide members with access to a range of exclusive discounts and offers from on-campus and off-campus businesses." 
Another method of inspiring students to volunteer are the awards available to students with particularly impressive volunteering experience.  
Not only can your institution develop an award system of their own, but students can be entered into more large–scale awards, such as the National Student Volunteer Award. 
Celebrating the hard work that students do is an important part of promoting volunteering schemes.  
When encouraging students to give back to the wider community, it's important to reflect on how your institution could become more socially conscious itself.