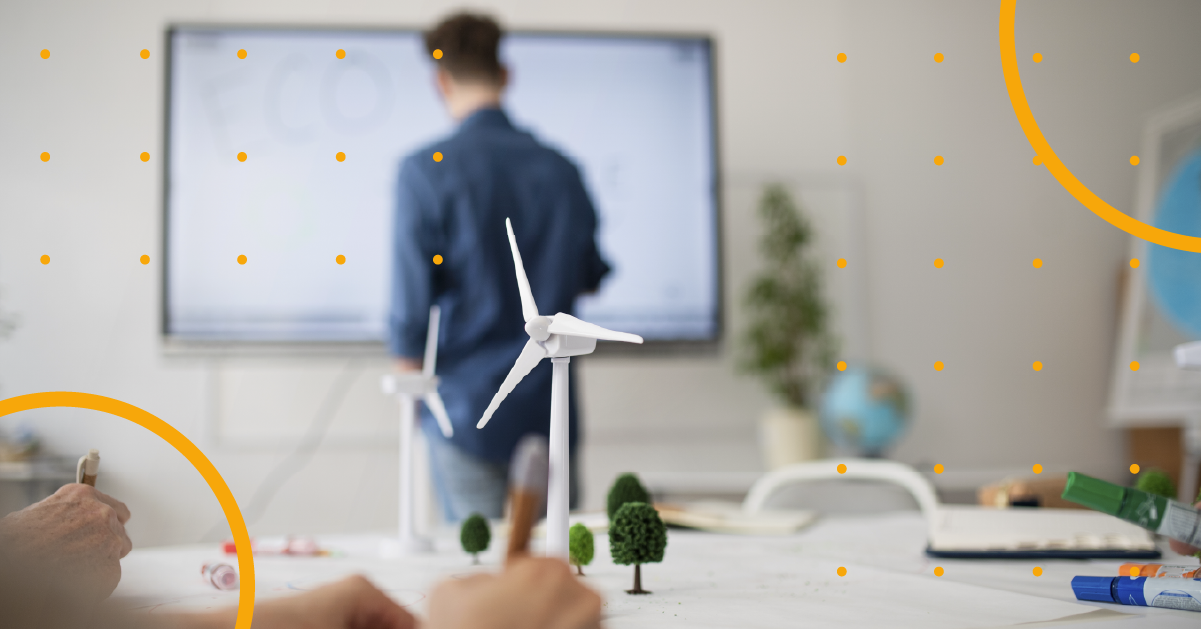 Welcome to the third in our series of guest articles from experts in graduate management education – as we face increasingly complex, global issues like climate change and world hunger, our society relies on the development of business leaders who can truly effect change.
In the QS International Student Survey 2023, thousands of potential business school applicants were asked to choose what aspect of sustainability was most important when researching schools and programmes.
The results revealed a significant trend: 65% of respondents cited the importance of sustainability-oriented teaching in shaping their choice of institution.
The aspiring business leaders prioritised schools that embed sustainability within their curriculum, equipping students to become responsible, future-focused leaders.
This data underscores the growing importance of sustainability in business education and the need for schools to integrate this into their teaching methodologies and cater to the expectations of the next generation of business leaders.
Guest blog: How sustainability may reshuffle cards for business school leadership
By François Collin, Chief Sustainability Officer at HEC Paris
Why is sustainability vital for the future of business schools?
Business schools must embrace the great causes of the coming decades.
We are living in a pivotal period, with consequences on our societies and on peace which have never been faced before. Humankind is compelled to invent new models that are resilient, resource-efficient, respectful of living ecosystems and social justice. Lessons from the past will be of little help and new paradigms will be needed regarding economics and the role of business in society. A new form of leadership will be needed to meet these challenges and bring about the innovations and breakthroughs that are essential. To what extent are business schools today acknowledging that this is setting their strategic agenda and priorities for a few decades to come?
A committed and visionary youth is emerging, and an intergenerational pact is needed to bring solutions to life.
There is an amazing 'ferment' going on among young people, and we can tell at HEC Paris that it is palpable among France's and Europe's young elites. These young talents, who are breaking with yesterday's promises, are going to invent tomorrow's society, but they need to be encouraged, supported and trained today to deploy their potential. Any transformation must be built through education. This creates an extraordinary mission for business schools to pave the way for new business leaders to emerge and be empowered to deal with radical changes.
Businesses are one of the quickest and most effective levers for action on sustainability.
The ecological disasters caused by economies built on energy and unlimited resources can be repaired by economies inspired by new paradigms. At a time when the global governance of states is coming up against almost insurmountable difficulties, when politics is bogged down in identity-based and defensive withdrawals, businesses and entrepreneurs can provide laboratories for innovation and concrete, rapid changes. Waiting for regulation to impose new rules of the game is not the most inspirational option. It is time for business to show evidence of its ability to have visions beyond bottom lines and co-build actionable solutions. How business schools create value will be shown by their ability to anticipate and stimulate a coming Copernican revolution.
How business schools may become levers of action for sustainability
INSPIRE: By launching major research programmes that will have a direct impact on business transformation.
Research in economics, management, finance and social sciences is more essential than ever to invent new models and practices. This research must be carried out in close collaboration with companies, which act as laboratories for experimentation. It must also be multidisciplinary beyond management sciences.
EMPOWER: By profoundly transforming their teaching so that every graduate and every executive in training becomes a driving force for change.
Business school programmes must train 100% of their students in leadership and transition practices, by integrating the theme at the heart of all core courses, and by offering specialisation paths. Executive education can also help decision-makers create and grow solutions to global challenges, and support collective and individual transformation.
DEPLOY: By mobilising the entire alumni and entrepreneurship ecosystem around sustainability issues.
Business schools have an extremely powerful potential to multiply their impact thanks to their worldwide alumni networks, by continuing to train and mobilise them. Business schools also often have expertise in incubating and accelerating start-ups, bringing responsible and regenerative solutions and innovations to the heart of new businesses.
COOPERATE: By creating alliances between institutions to leverage their actions on a global scale.
Cooperation between business schools makes it possible to federate the incredible collective intelligence produced by each eco-system to meet ecological and social challenges. Europe's leading business schools have taken the climate issue head-on by creating Business Schools for Climate Leadership Europe: Cambridge Judge Business School, HEC Paris, IE Business School, IESE Business School, the International Institute for Management Development (IMD), INSEAD, London Business School, and Saïd Business School (University of Oxford). The same initiative is being taken by the Deans of major business schools in Africa and Asia.
SHOWCASE: On each of their sites, business schools and universities must be exemplary in terms of decarbonisation, resource management, responsible practices for food, purchasing and digital policies.
Campuses must become role models of energy sobriety and the use of renewable energies, preservation of natural capital, ecological transition, and living together beyond all differences.
It is in their ability to provide solutions to major ecological and social challenges that the intellectual and scientific leadership of academic institutions will be distributed for decades to come. And cards may well be reshuffled.
In the blog series to date, we've heard expert perspectives on how business schools are driving change in sustainability from:
Want to find out more about how QS Consulting can support your business school's strategic ambitions? Speak to our team today to learn how you can benefit from our data-driven insights and expertise in graduate management education.