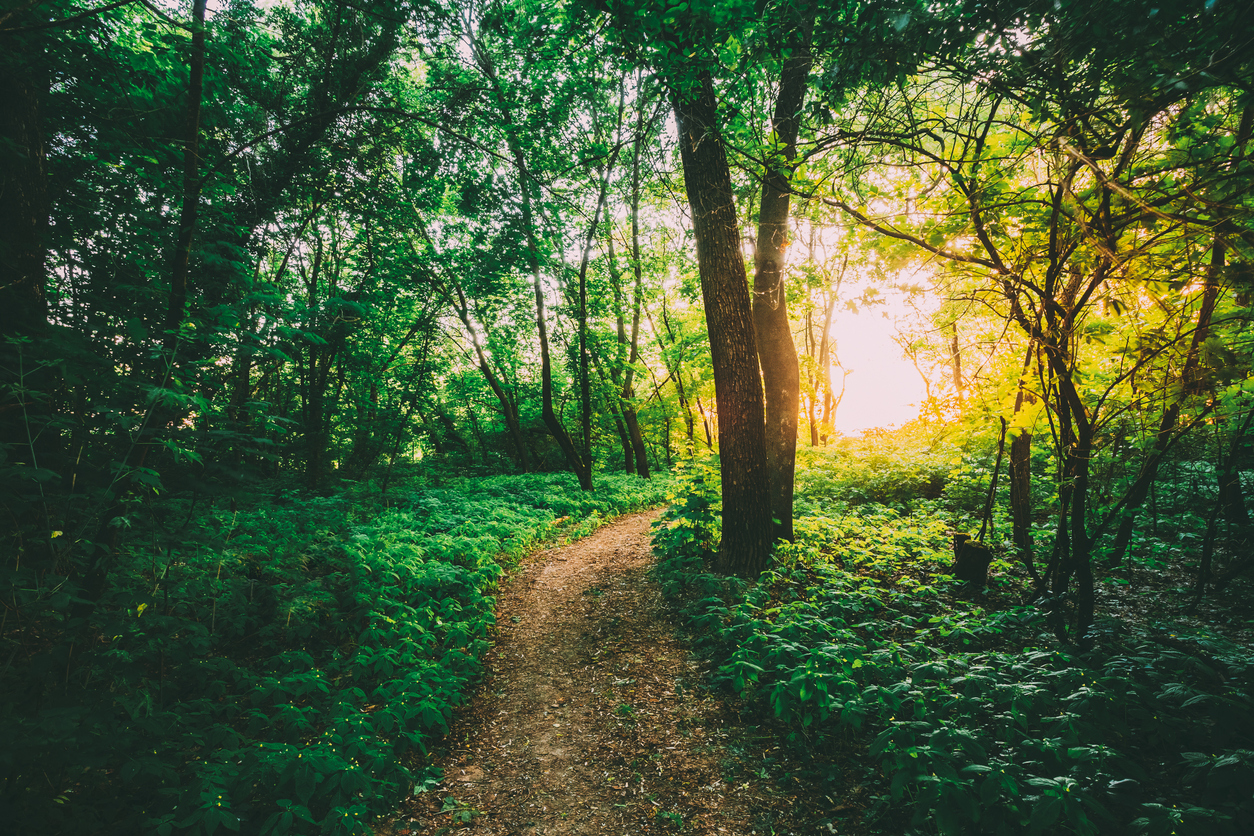 Encouraging students to spend more time in nature should be a priority for your institution, particularly during this unsettling time. Explore why it's so beneficial for students below.  
The coronavirus outbreak has had a huge impact on our anxiety and stress levels, with many experiencing new concerns about their health, finances, and future.  
Alongside these anxieties, mobility restrictions and health risks have forced many to spend even more time indoors than usual, something that will remain a feature of our new, post-coronavirus reality. 
With so many new and evolving factors to consider during this time, it can be easy to prioritize managing these changes over taking time to slow down and spend time outdoors.  
In celebration of World Nature Day, we want to highlight the positive impact nature can have on the higher education experience.  
While there is still a degree of uncertainty surrounding how institutions will manage the upcoming academic year, it's likely that a large majority of students will be beginning the year remotely.  
Instead of in-person lectures and an event-filled introductory week, students and teachers will be utilizing online platforms to conduct welcome sessions and begin the teaching process.  
While mobility restrictions and social distancing rules remain in place in many countries, universities will be unable to rely on their campus environment to motivate students to spend time outdoors.  
Universities will need to find inventive ways of encouraging students to spend time amongst nature, such as virtual outdoor fitness sessions, outdoor-focused study topics, and simply by educating students on the benefits of doing so.  
Here are just some of the reasons why your institution should be encouraging its students to get out of the house and spend time in nature.  
Inspiration and creativity  
Many higher education institutions utilize in-person communication to encourage the development of ideas and opinions, whether that be during a lecture, seminar, or group study session.  
In a time where university students are having to study remotely from home, it can be difficult to find alternative ways of boosting creativity. 
Virtual learning platforms can certainly help develop dialogues between staff and students, but research by the University of Kansas has also shown the positive impact that spending time in nature can also have on innovation.  
About 120 participants took part in the study where they spent time among nature in areas such as Alaska, Colorado, and California. 
The study concluded that "people from all walks of life show startling cognitive improvement, for instance, a 50% boost in creativity, after living for a few days steeped in nature." 
Health 
As explored in our previous blog: How Universities can Encourage Healthy Habits and Improved Fitness, university students can significantly benefit from following a healthy lifestyle.  
Spending time among nature, whether that's going for a leisurely walk, exercising, or gardening, is a great way to get the body moving and staying active. 
A review by the University of Exeter found that exercising outdoors was deemed more enjoyable than doing so indoors. 
According to the study, "exercising in natural environments was associated with greater feelings of revitalization and positive engagement; decreases in tension, confusion, anger, and depression; and increased energy." 
This meant that people were more likely to be consistent with an exercise routine that was set outdoors than indoors.  
For many living in urban environments, spending time in nature is also a much-needed escape from the high levels of pollution they are so often surrounded by.  
For those who don't have access to rolling fields and vast green spaces, just visiting the local park can provide temporary freedom from heavy pollution.  
A study by Transport for London shows how a green space in an urban area can reduce air pollution nearby.  
The report states: "Within parks, trees are very beneficial to the dispersion of pollution: they disturb the flow of air around them and increase the mixing of the more polluted air at street level with cleaner air above." 
Stress and anxiety 
According to a study by Proceedings of the National Academy of Sciences (PNAS) in the US, spending time in nature can do wonders for our mental health.  
After completing a 90-minute walk outdoors, participants of the study demonstrated "reduced neural activity in an area of the brain linked to risk for mental illness compared with those who walked through an urban environment." 
Reducing stress and anxiety is particularly important in university students as they face many new challenges such as coursework, exams, relationships, and new social pressures.  
A study by UNI Health found that 80% of those studying in higher education reported symptoms of stress or anxiety, and during the coronavirus outbreak, anxiety levels have risen in young people. 
Evidence suggests that taking as little as 20 minutes out of your day "to stroll or sit in a place that makes you feel in contact with nature" can "significantly lower your stress hormone levels." 
For guidance on how your institution can help students manage their stress during this time, please see our previous blog: How to Help Students With Anxiety. 
Environment  
Not only does spending more time in nature improve your own wellbeing, but it can also have a positive effect on the environment.  
A study by Environment International suggests that those who live in more urban areas are less likely to adopt "green" habits such as "recycling, buying eco-friendly products, and environmental volunteering." 
The study was part of a wider move to get more green spaces in urban environments by demonstrating that reconnecting with nature may be associated with "greater pro-environmentalism." 
As well as protecting our planet, spending more time in nature can improve a student's mental and physical wellbeing; something that's even more important in this unsettling time.  
For more information on how your institution can prepare for the challenges that have arisen as a result of the coronavirus pandemic, check out our report: How Universities can Support and Protect Prospective and Current Students in the Upcoming Academic Year.