Breaking! On February 28th, 2018, we released the eighth edition of the QS World University Rankings by Subject
The research project enumerates the world's leading institutions for the study of 48 different subjects and five Subject Groups.
The portfolio – the most extensive of its kind – is designed to provide a crucial comparative guide to university performance for students both aspiring and current, parents, career & study advisors, and academia.
–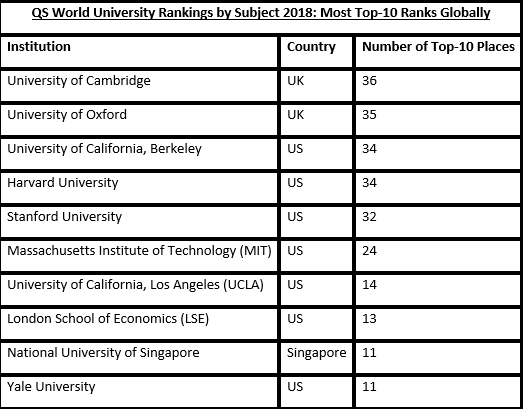 Key Findings:
The United States' higher education system records more drops than rises
The United Kingdom's universities remain resilient in the face of Brexit, taking 10 number-one ranks – two more than last year
The University of Cambridge takes more top-ten ranks than any other institution (36)
French universities continue to flounder, with more regressions than progressions
National University of Singapore is Asia's standout institution, taking 11 top-10 places
China's rate of improvement has slowed, as has Russia's
–
The QS rankings currently lead the higher education industry with consistent innovation and growth, progressively affecting the way students and institutions engage. Now in its 13th year, the QS rankings continue to produce authoritative, independent global rankings and evaluation of institutions worldwide.
All our data is based on high-quality research and innovative analytic approaches. Our solid relationships with tens of thousands of higher education institutions and employers enable us to build our rankings using data from over 1.2 million academic papers, as well as 70,000 academics and 40,000 employers' responses.
The QS rankings provide methodical evaluations of key areas of higher education institutions, ultimately offering potential students expert advice proven to align students with their chosen path.
We greatly value QS for the clarity and quality of the data you use and for the stability which enables us to see and understand trends over time. This, we think, gives your rankings a comparative advantage and considerable authority.
Our Expertise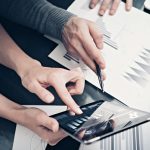 QS's Intelligence Unit division is at the forefront of developing and successfully implementing methods of comparative data collection and analysis used to highlight institutions' strengths.
Conducting its first industry-leading research in 1990 when it commissioned a global survey of MBA employers, the QS World University Rankings® quickly followed and is now the most established research project operated by the company.
Balancing the increasing public interest for comparative data on universities and organizations, and the growing demand for institutions to develop deeper insight into their competitive environment, saw the formation of the QS Intelligence Unit (QSIU) in 2008 as an autonomous department of QS.
Keenly committed to rigorous integrity, undeniable value, and accessible presentation, QSIU strives to be the most trusted independent source of global intelligence about the higher education sector.
QS is growing its London, Singapore, Mumbai and Bucharest operations to deliver to the increasing demand for detailed analysis from many institutions in the market. If you would like to learn more about our professional data analysis services, please review the boxes below.
Rankings Tracker
Learn more
Analyse your performance, and the performance of your competitors, in the QS rankings
Academic Reputation
Learn more
Further analyse your institution's academic performance and brand perception.
Employer Reputation
Learn more
Understand your institution's employability performance and standing with employers.
QS Stars Ratings
Learn more
Promote your institution with QS's most innovative rating system: QS Stars
Market Insight Service
Learn more
Receive direct feedback from prospective students by conducting focus groups.
Academic Branding Portfolio
Learn more
Establish your brand on a global scale with our educational supplements and guides.
Rankings Methodology
The QS university and MBA rankings attract a great deal of interest and scrutiny each year. The London School of Economics bears little resemblance to Harvard University in terms of funding, scale, location, mission, output – so how is it valid to include them both in the same ranking?
They do both aim to teach students and produce research and it has always been the assertion of QS that this ought to provide a sufficient basis for comparison.
QS uses a number of academic indicators by which to measure institutions, depending on the specific ranking in question. These include:
Academic Reputation – A score based on the reputation of an institution.
H Index – An index that attempts to measure both the productivity and impact of the published work of a scientist or scholar.
Citations per Faculty – Citations, evaluated in some fashion to take into account the size of institution, are the best understood and most widely accepted measure of research strength.
Staff with PhDs – The indicator is based on a simple proportion of each institution that hold a PhD or equivalent terminal degree.
Given that employability is one of the primary reasons for pursuing higher education, employment based indicators feature prominently in the QS rankings:
Employer Reputation – A score based on the reputation of an institution to employers.
Employers' Presence on Campus – The number of employers who are actively present on a university's campus.
Graduate Employment Rate – The percentage of a university's graduates that are employed up to twelve months after graduation.
Alumni Outcomes – An evaluation of how successful alumni of institutions have been.
There are also a number of student specific rankings:
Faculty/ Student Radio – The number of staff in relation to the number of students
Student exchange inbound – The internationalization of the student body
Internationalization is a key part of modern higher education life, the QS rankings employ a number of factors to analyze how outward-looking an institution is:
International Faculty Index – The proportion of faculty members that are international.
International Student Index – The proportion of students that are international.
Do you have any Rankings questions?
Get in Touch
Get in touch with us and we will be happy to help with any inquiries