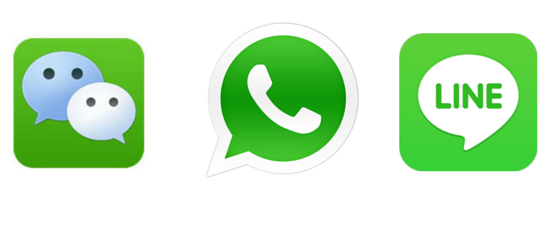 For those times when email just isn't instant enough, there are a selection of instant messaging (IM) apps found on many a student's smartphones – the most popular being WhatsApp, WeChat and LINE. According to MSL Group Asia, instant messaging apps are projected to account for approximately 75% of all mobile messaging traffic by 2018, far ahead of email and traditional SMS. The individual popularity of these apps varies from region to region, with WeChat being the dominant IM service for China and LINE being the chat app of choice for SE Asian countries such as Thailand.
Access to higher education marketing for international students
Since these are both huge markets for international student recruitment, it's wise to start incorporating them into your higher education marketing strategy sooner rather than later. The individual differences in apps will have some influence on your marketing strategy but not a great deal; the benefits and applications of IM marketing are the same across all three.
1 – More intimate and private messaging
IM apps are more intimate than communication via other social networks, making them preferable when sharing more personal information. Sharing payment details, grades or personal circumstances over Twitter is a definite no-no, however, messages via WhatsApp are delivered directly to the user's phone and, without a web-based platform, are more secure and private.
2 – Constantly connected and cost-effective
"Sorry I didn't reply, I ran out of credit." A phrase we've all used before (whether it was true or not) and one that is no longer applicable to the ages of IM apps like WhatsApp. Students are always able to receive and reply to instant messages either via subscribed data plans or by accessing Wi-Fi networks either at home or on university grounds.
This constant connectivity eliminates the cost-per-message element of traditional SMS communication, allowing for more messages, questions or inquiries to be sent without the student having to even consider the cost. It also means that there is effectively a 100% 'hit rate' for sent messages, speeding up response time. According to the wireless association CTIA, the average text message is read in 90 seconds while emails average 90 minutes; meaning that when you incorporate IM in your higher education marketing your turnaround for conversations will be significantly faster.
3 – Instant notifications
One of the reasons for the success of instant messaging is given in the title – the fact that it is instant. Unlike social media channels, there is no login page, password requirement or platform to navigate towards. As such the content of your message is displayed in front of your target audience's eyes within seconds, allowing them to respond or react that much quicker.
4 – Less demand for content
Other channels such as social media networks require content to be created and shared regularly in order to increase engagement. The intimate and personal nature of instant messaging means that in this case, less is in fact more. Less content and fewer messages sent will make the power of the messages more effective. This means that IM, as a marketing channel, requires fewer resources (beyond having people available to send messages) keep it active.
5 – Group chats
WhatsApp group chats are used regularly by student social and study groups, something which universities can easily and effectively leverage. This can be especially useful when contacting students in specific courses, lectures or study groups to keep them instantly informed of events and ways their university experience could be improved.
Read more articles about digital marketing on our blog.