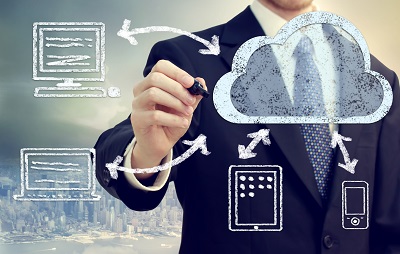 Improvements in technology have placed digital platforms at the very heart of how we access and share information. This has had a notable effect on traditional course delivery, as well as leading to a proliferation of online degree programs.
In the coming years, it's likely that further developments, like the internet of things (IoT – which refers to the interaction between the internet and physical objects) will lead to further changes in higher education delivery. As the IoT develops, along with technology in the areas of cloud computing and big data analytics, the potential impact on teaching and research in higher education cannot be underestimated.
1 – Cloud computing
Cloud computing has gained popularity with the increased use of mobile and tablet technology and, as such, has already made its stamp on the way in which universities function. Crucially, it allows for the shared access of files, applications and other online resources between staff, administrators and students. It's also a fundamental element to hosting IoT applications.
Millennial students, the most tech-savvy students in the history of higher education, are now the dominant force in most universities and are keen users of cloud technology in their studies and research.
2 – Instructional technologies
Massive online open courses (MOOCs) and distance learning degrees are all already heavily reliant on instructional technologies, which have also permeated traditional courses in the form of the 'flipped classroom'. Electronic classrooms can be equipped with lecture capture systems and web streaming that allow students to access lectures and instructional videos whenever they need to, as well as allowing students based overseas to attend classes online and to take an active part in lessons.
As online and distance courses become increasingly popular, learning managements systems will only become more important, while developments in the IoT will allow for the delivery of a more comprehensive list of services.
3 – Mobile applications
Mobile apps can facilitate and support the learning, evaluation and assessment of students. Typically, students will turn to these applications to take advantage of learning resources, manage their assignments and work on projects. Some apps are also used by instructors to teach highly specialised concepts, scientific simulations and complex physical and social topics.
The true success of existing applications will be gauged over the next few years, but it seems likely that there will be a greater dependence on mobile applications to teach or further explore subjects on course syllabi, making notebooks and handouts a thing of the past. These apps, of course, have great potential to be utilized as part of the IoT…
4 – Research computing
The cost of hardware has diminished significantly in recent years. As a result, the potential scope of research has increased drastically, and even smaller universities can take advantage of big data and other online resources to produce prominent work.
Research in STEM subjects, in particular, look set to become increasingly reliant on the IoT. Unmanned Aerial Vehicles (UAVs) and open source systems (OSS), for instance, are often at the centre of research taking place in engineering labs and are increasingly connected and controlled via the IoT. Therefore, the IoT's importance to the STEM subjects seems certain to rise.
As the cost of higher education continues to rise, technology offers numerous opportunities to widen access to higher education. Digital courses are often (but not always) available at more affordable prices than their on-campus equivalents. They also provide options for those who are unable to study far from home or those who would benefit from learning at a more flexible pace. It also means that the campus experience and methods of in-person teaching are constantly re-evaluated to ensure that delivery is efficient and cost effective.
As technology improves and is taken up by other industries, there will be an expectation for higher education institutions not just to keep up, but to stay ahead of trends and developments in order to best prepare their students for employment.
Interested in reading more about new trends in higher education technology? Check out our blog.