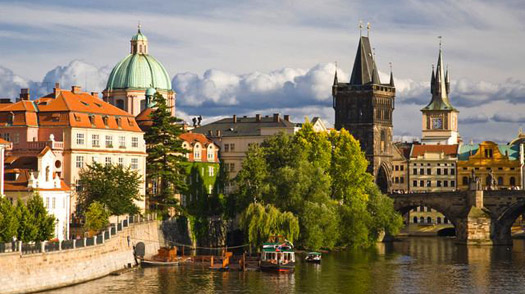 Firstly, the event took place in a beautiful city of Prague. Secondly, it was the 10th anniversary of our university rankings! Finally, it was run alongside the EAIE conference – one of the biggest international education conferences in the world. Ben Sowter, the Head of the Intelligence Unit at QS, revealed the Top QS World Universities on the 16th of September during his annual presentation.
(full presentation can be found here: https://www.qs.com/2014/09/global-release-presentation-qs-world-university-rankings-201415/ )
Sticking with the ethos of QS, we had a very diverse audience – over 200 delegates from 33 countries and over 130 different institutions and organisations. The audience was not only diverse but attentive and inquisitive too! This made for a fruitful Q&A session at the end and a lively interaction during the panel discussion.
So here are the highlights:
The panel discussion: this is something new we tried this year to bring different viewpoints and consider new challenges to rankings and QS in particular. We had a representative from the European Union of Students – Karolina Pietkiewicz, the deputy editor of the PIE – Sara Custer, a representative from Charles University Prague – Václav Hampl, the Executive Director of Deakin University Australia – John Molony and Ben Sowter on the panel. This lent itself to a detailed and necessary discussion about students and how useful rankings are to them! This is especially crucial to QS as the primary purpose of our rankings is to be of use to perspective international students and so it's important to ensure we are still doing that. We've recently released a new app so that reliable information is readily accessible to students and others interested.
2. The number of institutions being considered for the rankings and disclosed is growing each year! There were around 3,500 institutions considered this year and almost 900 disclosed, up from 800 last year.
(download the results and supplements from here: https://www.qs.com/product-category/wur/2014-wur/)
3. The other bit of good news is that response rates to our Academic and Employer Surveys keep growing too! We have gone from 62,000 last year to over 63,500 this year in the Academic Reputation Survey and we have gone up we have gone up by almost a thousand responses on our Employer Reputation Survey from 28,000 last year.
4. Ben's presentation: new insightful elements were added to it this year providing the delegates with insight such as what fastest climbing institutions are doing to compete with well-known giants. He also mentioned the Reimagine-Education conference that QS is hosting with the Wharton business school which is solely focussed on innovation in education.
5. QS party: an annual party hosted by QS that is always incredibly well attended providing a perfect opportunity for networking, getting to know QS staff and simply celebrating achievements within HE worldwide.
QS Stars ceremony:  QS Stars is a global rating system launched a few years ago which now has 225 institutions participating in 46 countries.
So far 177 institutions have received their results; the latest eight recipients were awarded at the QS Stars ceremony organized during the launch event and presented by Jason Newman:
–          Universidad Pontificia Bolivariana (Colombia), represented by Miguel Betancur (Director Office for International Studies), awarded Three Stars.
–          University of Waterloo (Canada), represented by Drew Knight (Director of Global Alliances), awarded Five Stars Plus.
–          University of Huddersfield (United Kingdom), represented by Dave Taylor (Dean of International Development), awarded Four Stars.
–          Tecnologico de Monterrey (Mexico), represented by Francisco Cantu (Dean for Research), awarded Five Stars.
–          CESINE Centro Universitario (Spain), represented by Jorge Gutierrez Brenosa (Head of International Relations), awarded Three Stars.
–          Central Queensland University (Australia), represented by Tamara Crathan (International Recruitment Manager), awarded Three Stars.
–          The University of Western Australia (Australia), represented by Iain Watt (Pro-Vice Chancellor), awarded Five Stars Plus.
–          Bond University (Australia), represented by John McPartland (Director), awarded Five Stars.