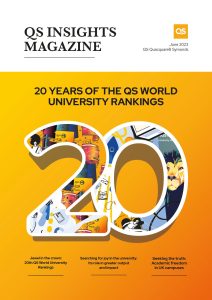 Create your free QS Insights Magazine reader account to access the latest QS Insights Magazine.
The 5th edition of QS Insights Magazine features a detailed analysis of the 2024 QS World University Rankings – our 20th edition!
Discover a wealth of insights in our magazine's thought-provoking articles, spanning from the journey of university rankings to data management, international student recruitment, and the importance of joy in higher education:
20th edition of the World University Rankings: A lookback at the journey in building the QS World University Rankings over the past two decades, including personal reflections from Founder and President Nunzio Quacquarelli.
Public-private ventures in higher ed: Why students are entering universities through pathway programmes.
Higher education in Japan: Japan aims to achieve its target of 400,000 international students by 2033. How will it go about doing so?
Keeping an eye on your data: How organisations should handle their data as the volume and complexity of data grows.
Searching for joy in the university: Why joy is essential for those working in higher education institutions.
Seeking the truth: The development of academic freedom in the UK following a new legislation.
An interview with Freddy Boey: The new President at City University of Hong Kong shares how his learning philosophy has prepared him for real leadership in higher education.