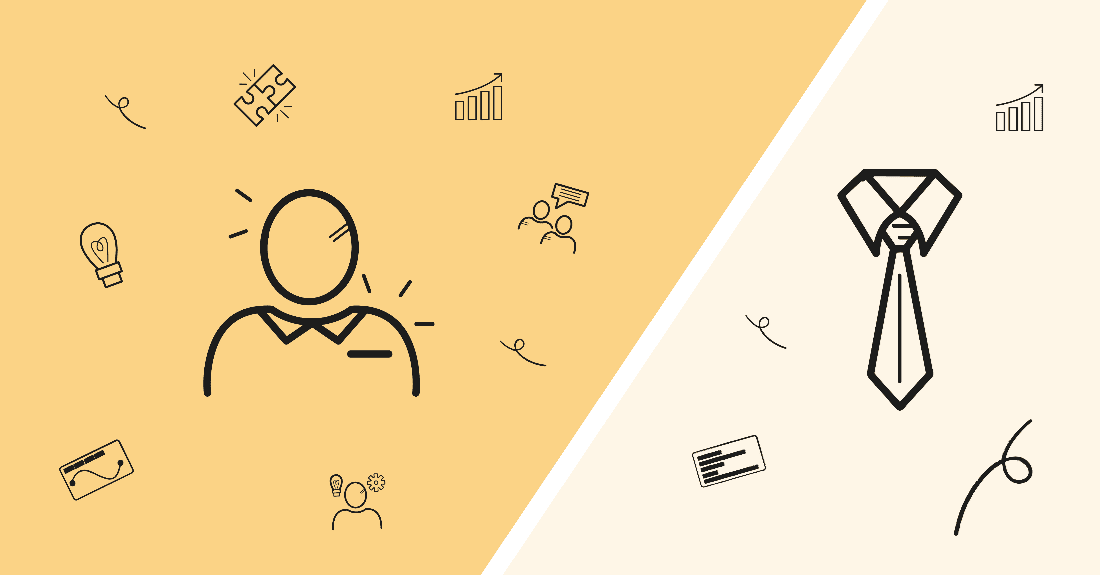 Life after university can feel like a steep learning curve for many students.
While most higher education institutions provide a degree of career support long after completing their studies, graduates must navigate the workplace independently – relying on both the hard and soft skills they have acquired throughout their degree to secure success in the graduate employment market.
However, data from the 2022 QS Global Employer Survey reveals that graduates in hospitality and leisure are outperforming their business and management counterparts in a range of soft skills.
As part of the survey, 26,742 global respondents from a variety of industries were asked to provide their satisfaction levels on the skills possessed by new graduates, with the results exposing slightly greater satisfaction among hospitality graduates in language, negotiation skills, creativity and communication – the biggest differentiation seen in organisation. Business graduates rank equally in problem-solving and perform higher in data skills (see image).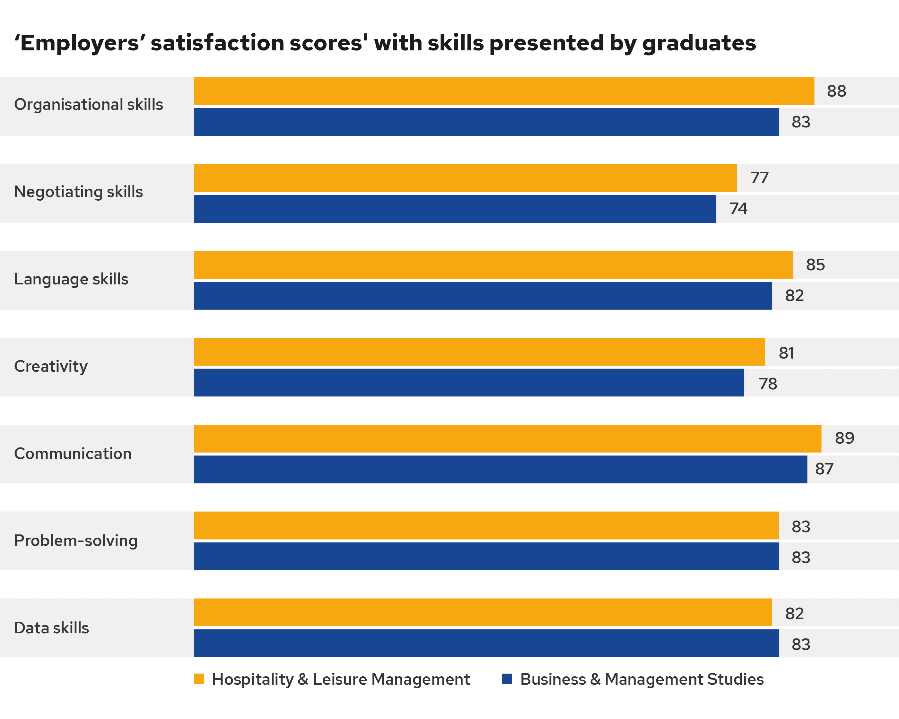 While the data does not reflect a strong degree of dissatisfaction by employers towards business graduates, it does show room for improvement in their development.
So why are hospitality graduates edging out their business counterparts in certain soft skills?
1. Nature of hospitality
Being a social industry, which has a heavy customer-facing element, relationships and social culture are fundamental to hospitality and, in turn, the focus on soft skills is critical to the success of these graduates.
Vice President of Student Services at Swiss Education Group, Ronan Fitzgerald, expands on the nature of hospitality, stating "Hospitality lives where people connect. It's about the friendly and generous reception and entertainment of guests, visitors, or strangers. Hospitality is about people and is at the heart of good business. At the core of hospitality education is the desire to create a unique and unforgettable experience in which people feel valued, welcomed and cared for."
2. Experience-focused learning
Hospitality curriculums place significant emphasis on experience learning, with the goal being to prepare students for real-life situations where they will be required to navigate a vast array of customer and client relationships. Typically, they also require a longer period of work-experience ranging from 6-12 months.
Swiss Education Group, for example, offer a wide range of programmes that include both optional and mandatory internships of six months. Fitzgerald points out that their business, hospitality, and culinary programmes combine academic and practical training to provide students with a solid foundation of knowledge, a positive attitude and the soft skills required to succeed in their careers.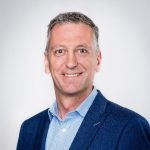 "Our programmes lay a strong hospitality foundation, focused on behaviour, attitude, professional appearance and positive human interaction. We provide students with up to 12 months of international work experience, upon which we layer business and specialised content."
3. Strong industry relationships
Hospitality schools focus on building strong industry partnerships and rely on these partnerships to help shape the curriculum. Groups of industry experts provide feedback and input into the curriculum, ensuring that learning at the school remains current and relevant to the market.
The Executives-in-Residence programme at Cornell School of Hotel Administration, for example, brings on campus hospitality professionals twice a semester during their two-year terms. This means that professionals provide guest lectures in classrooms, complementing the school's theoretical and research-based education by providing practical examples and applications – ensuring that students and faculty are learning and developing professional hospitality standards. Current Executives in Residence include Stan Frankenthaler, award winning innovator and chef at Dunkin' Brands, and Edward McGraw, senior vice president of development at Ignite Restaurant Group.
Why should business schools take note of this data?
As Veronica Omeni, QS Principal Consultant, explains, "Business schools are creating the leaders of future business and so in these contexts there is a responsibility to develop ethical leadership, with the right skills."
With the increased pressure to tackle concerning and complex issues, including climate change, overpopulation, world hunger, access to healthcare and education, the importance of developing well-rounded, organised and empathetic business leaders cannot be ignored. While research in these areas provide the solutions, the business leaders of tomorrow hold significant power and influence when it comes to actioning initiatives for change. Developing revenue without exploiting the planet, paying fair wages, giving back to the local community and advancing sustainable initiatives wouldn't be possible without business leaders with the right soft and communication skills, who can assist in negotiating sensitive issues, and influencing others for impactful change.
The further need for soft skills in all industries becomes even more obvious when we look at the impact of advancing technology. With artificial intelligence now able to take on manual tasks, including data handling, demand for soft social-emotional skills increases.
For a more promising future in new and improved learning, we can look to the London Business School, where the curriculum has been developed and extended in response to today's business practices. Amy Chandler, Student Learning and Development Manager at the school, explains the integration of modules that provide students the chance to build connections and customer-value attitudes between learning various core courses and core concepts: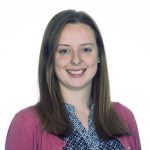 "The selection of sessions on offer to our MBA students known as "Skills for the future" has been built in consultation with the London Business School Career Centre, key employers, feedback from students and by analysing published research into the skills predicted to be vital for successful future careers. Our skills offering focuses around three key areas – cognitive skills, relationship skills and self-management skills and some examples of our specific subject areas include how to influence and persuade through writing, emotional intelligence and embracing ambiguity."
According to Chandler, skills such as these are integral to the learning and development of their students, and are crucial to their development as the well-rounded business leaders of tomorrow.
Manuel Grez, a recent LBS alumnus and now Analytics Manager at Fresha, recalls taking several practical courses and sessions with a strong focus on soft skills. These included 'The Science of People in Organisations', 'Negotiation and Bargaining' and 'Interpersonal Dynamics'.
"As a business school that prepares you to be a global leader," says Grez, "soft skills are the most important aspect to lead a company." He continued: "Companies and organisations are based on people, on the relationship with those individuals and as a leader you must empower them to achieve greatness. The soft skills of a person are what motivates and inspires people, it is not about their technical knowledge/hard skills. The soft skills I learned at LBS gave me confidence and empowered me to believe in myself. I now know that I am valuable and have something to give in any company I decide to work for."
It is widely acknowledged that business schools are actively preparing their students for the corporate world. However, this QS data does spark discussions concerning ways in which business schools can look to improve their curriculums by taking additional approaches to utilising soft skills more intensively in their programmes. Just like hospitality school, Swiss, who have developed practical methods to prepare graduates for success in the "people business". For recruiters, it is now more important than ever to find candidates who possess the necessary attributes and personality traits to resolve conflict, build effective relationships and thrive in a growing organisation. With these skills, future business leaders will have a greater chance of soaring within the employment market.
"Business schools need to look at ways to embed soft skills into their curriculum, as is done with hospitality schools. At hospitality schools – the majority of courses/modules will have the development of soft skills embedded into the learning." Florence Webb, QS consultant.
Want to learn more about what employers are looking for?